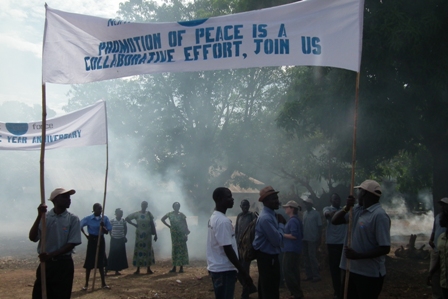 "Today, the 4th anniversary of the independence of South Sudan, I cannot help but reflect back on the 5 years that I have lived here -- all the challenges, the excitement and the extraordinary people I have been nothing short of blessed to have met. Perhaps what stands out most clearly is the way that hope and despair, joy and heartbreak all exist at the same time, in the same place, and in the same people often in equal measure in this country. I will never forget February 9th, 2011, the day of the referendum that allowed the people of what was then southern Sudan to vote to choose to be an independent country.
We, the NP team, spent the day moving between voting stations, and to this day I am moved remembering the pride and joy people had. They lined up in their best clothes, waving their registration cards in the air ready to vote. I remember how they all had tragic stories to share about the struggles to get to that day. I remember speaking with one woman who told me that she was dedicating her vote to her father and her grandfather who had both been killed in the decades long civil war preceding the referendum. She flashed the biggest smile you can imagine and had tears flowing down her cheeks at the same moment.
Now here we are 4 years later with a new civil war, in its 19th month, turning back the clock on the peace that had been struggled for. For South Sudan and for those of us who have grown to love the people here, it has been a year and a half of shock and heartbreak. Two million have been driven from their homes, tens of thousands have been killed and injured, families are once again separated, and progress is interrupted.
This week however, I have once again been reminded of the profound capacity of our South Sudanese friends to live with hope in the most desperate of circumstances. I had the opportunity to spend time with two of our colleagues, Duop Joseph and Elizabeth. They had recently been reported on as being unaccounted for because of the recent escalation of fighting in Unity State. To our enormous relief, they both arrived in the Bentiu Protection of Civilians (PoC) area a few days apart from each other. When they arrived, hungry, tired, sick and with only the clothes on their backs, they learned that for the weeks they had been missing, that the NP team had been searching the faces of the new arrivals everyday for them. Joseph told me that within minutes of passing through the entry gates and giving his name, people around him exclaimed that "those of NP have been looking for you every day!" Within 10 minutes he was reunited with his teammate Jonathan.
Shortly after that, Jonathan messaged the Juba office, and admittedly, several of us found ourselves flooded with tears of relief. A couple of days later, Elizabeth arrived miraculously with her family fully intact, carrying her three-month-old baby girl and in the company of her two older children and husband. She was able to get on the satellite phone with her teammate Shannon. I heard the emotion and relief in her voice, as she just kept repeating "I am ok Shannon, I am ok". Both of them had experienced extraordinary hardship and suffering when they were forced to flee their homes in southern Unity State; as the Sudan People's Liberation Army (SPLA) and affiliated armed groups had swept through their lands.
While the details of their experiences are subject for another day and another story; what I do want to share with you on this day of remembrance is how incredible these two people are. We were able to bring them both to Juba for medical care, a good rest, and to help them replace their lost personal items. Although spending time in our guesthouse in Juba is by far more comfortable and safe, they were both eager to get back to the Bentiu Protection of Civilians area. Back to their families, and most incredibly, what they both insisted on was going back to work.
Elizabeth, tall and too thin from her struggles has a cool, tough girl demeanor softened with an infectious laugh. She sat with us sharing her experience and insisting "I must go back and work. Those are my people arriving in the PoC, I know them all and I know what they have been through. I can help them." Joseph, even taller and so thin you have the urge to bake him a pie when you see him, is an incredibly calm and grounded human being. If you want to learn more about Duop Joseph read this http://bit.ly/1GZdNiC
When we spoke at length about his experiences over those weeks, I noticed him illustrating the times when people would help him; including those from the attacking forces. He was telling stories about how even though many of the soldiers were merciless and savage in their treatment of civilians, some seemed to be finding ways to not hurt him and his people. For example, some soldiers pretended to have them march into the woods and then let them go. When asked why that was the case, he answered some of the most profound words of nonviolence I have ever heard. "They are just human like us. They are not all in the political position. You need to talk to them and see what their heart is and if it is telling them the truth the do the right thing". Joseph who had just spent the last weeks sleeping, in his words, "like an animal in the dirt" and literally running for his life was now sitting across my desk reminding those of us in the relative safety of Juba about the very essence of nonviolence.
So while this day of independence gives cause to ponder, to worry, and for so many, to wonder what the future of South Sudan will be like, our dear friend Joseph's words guide our thoughts. Unprompted, he leaned across the desk and in a voice filled with complete surety of its message, said "We need to pour the love into the South Sudan people. Violence and conflict has pushed the human life into the darkness. The goodness of love brings the light back to us."