By Amy Hansen, Nonviolent Peaceforce Communications and Development Associate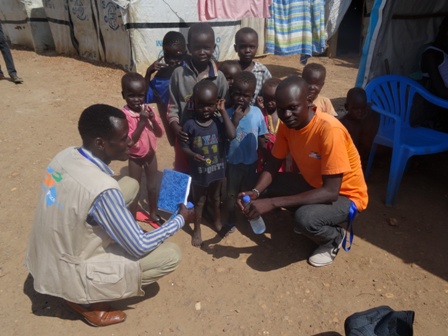 This spring, my colleague Simon Meynsbrughen (Communications Coordinator at Headquarters in Brussels, Belgium) and I visited Nonviolent Peaceforce's program in South Sudan. We had an opportunity to visit our field program in the Protection of Civilian (PoC) site in South Sudan's capital, Juba. At this field site, Simon and I sat in on a community meeting facilitated by Nonviolent Peaceforce (NP) staff.
Attendees of this meeting were unpaid volunteers looking to form a Community Protection Team. NP International Protection Officer, Janet, facilitated the meeting. Although the community members spoke Nuer, with discussion between Janet and the translator, I could make out that child safety was a big concern for the community.
Hundreds of unaccompanied children live in the Protection of Civilians area. As female National Protection Officer Nyakuma pointed out in a video interview, "The children living in the PoC alone... it's very hard for them to live alone without their parents, because some of them, their parents were killed. And they live like street children. And sometimes you get a child who is just sleeping along the roadside and sometimes near the tukul* of those in the PoC. It's really very hard. Unless those who have sympathy on people will see the children and take the child in the room and stay together with them."
Two major concerns that came up during the meeting were: the children playing in a dangerous area and the lack some children may have of a recognized caretaker. As we explored the area later that day, we saw first-hand evidence of this. We saw children playing in roads with high traffic, playing unsupervised in large ditches, and toddlers followed us away from their shelter until we redirected them back.
A solution discussed was to use visuals, such as maps or signs, to direct children towards safe areas to play in. One the safe areas for children to play in, is the Child Friendly Space designed by United Nations Children's Fund (UNICEF). In the Child Friendly Space, children can play supervised by Early Childhood Educators and take part in structured activities, which NP supports. However, it is very difficult to explain to the children the importance of staying the Child Friendly Spaces because it is very crowded.
Another issue is that while schooling is free, many children do not attend. When I ask National Protection Officer Nyakuma about this, she tells me one the reasons the schools have low attendance is that parents in the area grew up without an education. Growing up in conflict themselves means their immediate need for survival trumped the need for education. Nyakuma says the parents do not emphasize the value of education, because it was not useful from them to pursue it while living in conflict.
Issues like children being unaccompanied by caregivers, the chaos of conflict, and a lack of infrastructure for those "temporarily displaced", are other systemic reasons to account for children not attending school or the Child Friendly Spaces.
While the situation is dire, little steps towards peace and stability are being made within the Protection of Civilian area. Through continued education, NP brings people concerned about community safety together, leading task forces to assist in their efforts. Currently, the Program Officer for Communications in South Sudan is constructing a visual map to inform children which areas are safe to play in. The NP field staff continues to work in tandem with other organizations in hopes of protecting and reuniting unaccompanied children with their families. With our partners help, we are proud to know that our capable field staff provides the best programs possible every day.
*Tukul is a traditional structure where people reside.