By Nonviolent Peaceforce Office in South Sudan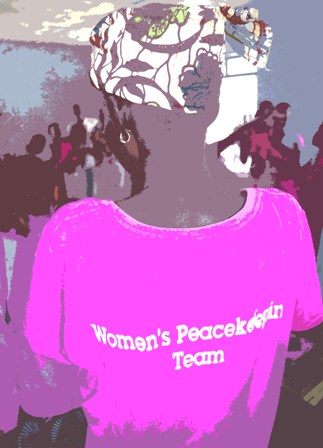 Following the announcement of the closure of the Mingkaman field site at the end of May, the Nonviolent Peaceforce team informed the Women's Protection Team (WPT) of our departure. In doing so, the team asked, "What skills and support do you need to be able to continue your work successfully and confidently after we leave?" Despite the inevitable requests for gumboots, raincoats, office space, vehicles, and radios, the chairlady offered a brilliant response: "We need identity and credibility."
The Nonviolent Peaceforce team explained that they might be able to support the Women's Peacekeeping Teams with uniforms as a key means to building a sense of identity. However, they emphasized the t-shirts would only be successful in that way, if they were used solely while the women were serving in their WPT functions. The team reinforced that the uniforms belonged not to the individuals, but to the Women's Protection Team itself. If the t-shirts were used simply when the women had no clean laundry, they would lose their intended value as identification. The women acknowledged that the uniforms would be like church clothes, which you only wear for a particular occasion.

The Nonviolent Peaceforce team noted the women themselves had to earn credibility from their community. They also stated that the most constructive way to do so would be to respond to and resolve cases of conflicts quickly, effectively, and peacefully. NP offered support in building the women's capacity to do this and shared ideas to allow the WPT to be successful in their case management.
To do this, the team asked, "What are the cases you are still unable to resolve and why?" This led to a fruitful conversation about the ongoing challenges the women face trying to protect women from harassment during firewood collection. The Women's Peacekeeping Team has been able to effectively mobilize women to go out in groups. However, some women who are slower due to age, illness, or other vulnerabilities may be left behind as other women become impatient waiting in the hot sun. The WPT also raised the challenge of resolving conflicts around the communal latrines. They noted that while everyone used the latrines, only a few families were agreeing to help clean them. Some families had gone so far as the hide the keys.
After this occasion, NP set up another meeting with the WPT in order to conduct group brainstorming, develop action plans, and organize opportunities for ongoing mentorship. Engagement with the WPT on these challenging cases offers NP a meaningful occasion for identifying the specific gaps in the skills and approaches. This will hopefully lead to the WPT's improved success in the community; and as a result, better credibility and ultimately, sustainability with NP's departure.