By Nonviolent Peaceforce Office in South Sudan
One aspect of our work in the field that often gets overlooked is the actions that NP field teams take before they leave a site. These actions are taken to ensure that the progress made in the community does not disappear. Recently, one of our field team members reflected on the importance of this sustainability: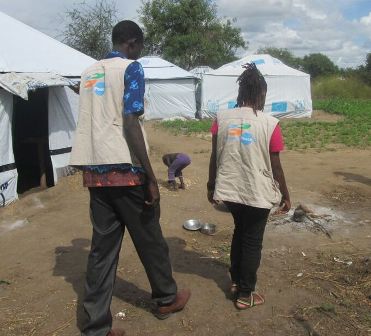 Although we often talk about working to make our Women's Peacekeeping Teams (WPTs), Child Protection Teams (CPTs), and youth groups sustainable, actively planning for sustainability is much more difficult to achieve. Our engagements with these community groups often follow a regular pattern of formation, training, action planning, and follow-up meetings. Once we learn that the groups are conducting activities independently, we may assume that they are sustainable. But how do we know? What does sustainability look like to us, and most importantly, what does sustainability mean to these groups?
Based on the useful experience of the Mingkaman team, described here, I'd like to suggest that the other teams take a similar approach, even if we're not closing the site any time soon. We should be asking our groups on a regular basis, "What skills and support do you need to be able to continue your work successfully and confidently after we leave?" This approach builds on our core principle of the primacy of local actors, placing the responsibility on the groups to define what sustainability means to them, what they need to reach sustainability, and how effective we're being as a team in providing them with the necessary support. Moreover, by planning for sustainability long in advance and through a participatory process, we can ensure that once we do decide to stop our direct support of these groups, both they and we are prepared for a smooth handover and are confident that the outcomes achieved will be sustainable beyond NP's presence.