By Jan Passion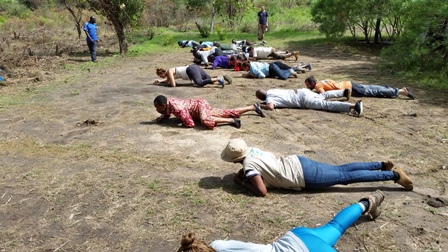 Training, training, training.
A key cornerstone for effective unarmed civilian protection (UCP) is our emphasis on training. Recruiting capable and talented staff and then providing them with the training and support needed to work in volatile, vulnerable and violent conflict regions.
GUNFIRE! GUNFIRE! RUN TO SAFE ZONE ONE! RUN TO SAFE ZONE ONE!
Midway through the training, sometime after the generator was shut down, the trainers woke the 23 participants to the sound of live gun fire, as well as the makeshift imitation cracking of a machine gun. The staff also started two large fires near the participant's tents. We then shouted "GUNFIRE! GUNFIRE! RUN TO SAFE ZONE ONE! RUN TO SAFE ZONE ONE!!!" Some participants, dazed after being torn from sleep, knew exactly where to run and what to bring with them... and some did not. There were simulated injuries, and the slowest two participants were detained and 'interrogated' by a 'local militia.'
A trained nurse (who happens to work for NP in our field staff) was compelled to provide simulated emergency medical care – first to one of the 'soldiers' and then to a participant who had a simulated injury, while the rest of the participants were sheltering in Safe Zone 1 and trying to sort out what to do regarding the situation, and regarding their missing (detained) colleagues.
The simulation ran about 1 hour. Following the exercise, we all debriefed the experience on a spit of sand by the river. What went well? What did not? What would you do differently next time? What did you learn?
In the NP trainings, we often use experiential modalities to internalize the various skills and concepts that underlie our core work. David Kolb developed this four stage method of action (concrete experience), observation, reflection and integration. See diagram below.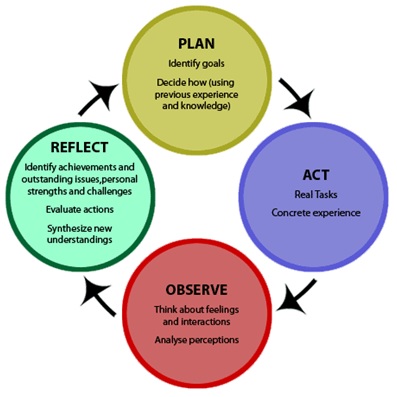 The simulation provided a rather vivid and dramatic exercise... and is an example of one of the key methodologies of NP's training. Unfortunately, this simulation also replicates events that are all too common for our field teams in South Sudan.
The location for the training is a 'training farm' that is about a 7 hour drive from Juba, South Sudan's capital city. From our training room, with open walls, we can hear the sounds of the jungle (bush) resonating from all four directions and integrating with the sounds of the river and the chickens. We led two back-to-back, 24 person, 8-day trainings.
The training center is very much 'off the grid' (like most of NP's field sites). We make our own electricity with a generator from sunset to 10pm each evening. There is no Internet service. All of our water needs (drinking, cooking and bathing) are provided from the river. It is an excellent environment to delve deep into the concepts and practice that the work of NP entails.
I am honored to find myself back in Africa and back with the Nonviolent Peaceforce training team, helping support the amazing and arduous work that is unarmed civilian protection in the world's newest country: South Sudan.
Working with the National and International Protection Officers to help strengthen and support their skills and their work - helping reduce violence and protect civilians, is quite a privilege. We also had NP staff from the Belgian and US offices, to help them better understand the practices they work so hard to support. The network of supporters of NP and UCP continues to grow and our impact increases even as the overall situation continues to deteriorate.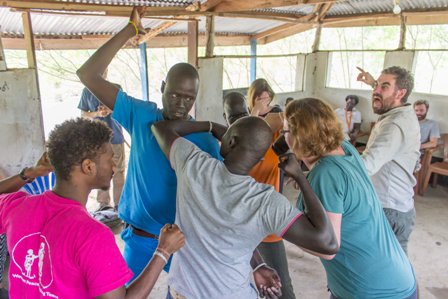 1. Conflict sculpting - Analyzing conflicts through dramatic re-enactment - 2. Group picture.
Jan Passion was among the founding members of Nonviolent Peaceforce and served as the Deputy Director of NP's project in Sri Lanka, and later worked in NP's Human Resource Department. He is now a member of NP's training Team. He resides in California, USA.