Location: Juba, South Sudan
By Nonviolent Peaceforce Office in South Sudan
Background/Context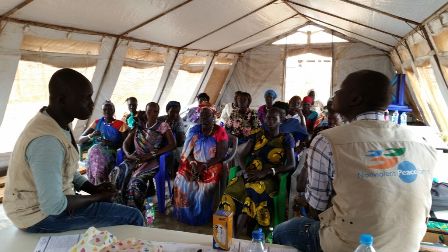 The establishment of Community Protection Teams (CPTs) in a Juba's Protection of Civilians sites stems from a "community engagement strategy." Nonviolent Peaceforce (NP) began implementing this strategy last year in the Juba Protection of Civilians site. Our contacts with both women and youth leadership were established through different activities, following the framework of the community engagement strategy. This included activities such as recreational and sports activities, workshops, focus group discussions and so forth.
We acknowledged that both youth, including children, and women were among the groups most affected by violence and insecurity (either as victims/survivors or perpetrators). We were also aware that these specific community members perceived that they were poorly represented in the community-led management of the camp affairs. Additionally, they felt they had minimal participation in the local structures of power and decision-making processes.
This gap unfortunately also translates into uninformed and non-representative community-led responses to security issues and violence affecting the area. That is, if these issues are addressed at all. As a result, extended discussions with the youth groups and women leadership took place. NP also committed to facilitate the establishment of both a Women Peacekeeping Team (WPT) and a Youth Peacekeeping Team (YPT).
NP will conduct a full Civilian Protection Training for these two Community Protection Teams, over the next couple of months. The learning objectives of the training will be divided according to the following modules:

• MODULE 1: DRIVERS OF CONFLICT/PROTECTION ISSUES
Learning objective: Build Community Protection Teams' capacity to understand concepts such as Gender-Based Violence, child protection issues, and violence affecting vulnerable people; define their roots causes and some of their consequences.

• MODULE 2: ADDRESS CONFLICT/PROTECTION ISSUES
Learning objective: Build Community Protection Teams' capacity on how to prevent and address conflict/protection issues through nonviolent mechanisms; understand the importance of Early Warning/Early Response strategies; understand processes of conflict mediation; define nonviolent communications; provide tools to improve leadership skills; define strategies for reconciliation and healing.

• MODULE 3: UNARMED CIVILIAN PROTECTION (UCP)
Learning objective: This final module intends to provide Community Protection Teams with an understanding of UCP as a tool for reducing violence and, identifying, preventing, and addressing security issues affecting their own community.
Each module will entail different trainings tailored to the Community Protection Teams needs, amounting to a timeline of six to nine trainings, depending on the community teams' needs and availability. For instance, Module 1 currently entails two introductory trainings on Gender-Based Violence (GBV) and Child Protection in Emergencies. It is important to leave some space for the teams to express their needs, and adjust accordingly before stepping in the following module.
The Juba PoC 3 team has worked tirelessly to structure the training modules with interesting topics and material to engage the participants. Marco Gonçalves Dias International Protection Officer at NP Juba PoC3 gives us an insight into setting up the training:
"Our main concern is to fully dedicate ourselves to create and facilitate a timeline of trainings that fit into the complex dynamics of the PoC and support the community in addressing its specific challenges. We have a very strong team in PoC3 consisting of national and international staff members with an extensive training experience who are very eager to share their knowledge and skills with the different CPTs "