Women have a key role to play in creating peace that lasts. A recent study of 182 agreements showed that peace accords are 35 percent more likely to last at least 15 years if women are at the table during the negotiations. [1] Given their central role in the community and family, women are best poised to recognize and respond to conflict at the grassroots level. In fact, Nonviolent Peaceforce's Women Peacekeeping Teams were initiated by women in South Sudan, who asked to take part in resolving the conflicts in their communities. They recognized that they were the ones who know what is going on because they were there every day caring for their homes, families and one another, while the men are often leaving for work and sometimes, to engage in armed conflict.
(Published March 3, 2016)
Women also have tremendous power to shape the future of humankind. NP Middle East Regional Director recently reported that some women in the Middle East have threatened to stop having babies, not wanting to bring children into a world of pain and violence. Using their reproductive power should serve as a significant message to leaders around the globe that violence should not be used to resolve conflict. Women's voices need to be heard — that is why NP ensures at least 40% of our peacekeepers are women and why we advocate for women's full participation in all levels of society.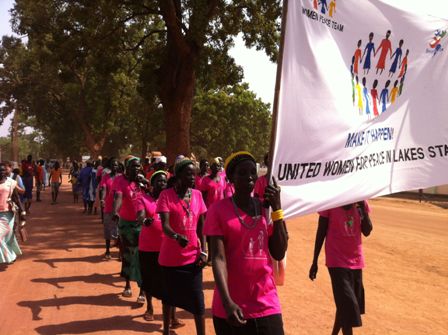 In less than a week, three of NP's South Sudan women peacekeepers will be sharing their experience with using unarmed civilian protection (UCP) at a workshop during the annual meetings of the UN's Commission on the Status of Women (CSW). They will also have private meetings with several representatives to the UN, providing them with on-the-ground realities of how UCP is working to protect women and children. These opportunities provide Nonviolent Peaceforce and the Women's Peacekeeping Teams a critical opportunity to share their expertise with attendees at CSW from around the world, and with UN policy makers and to help shape women's participation in peacemaking.
[1] Statistical analysis by Laurel Stone, as featured in O'Reilly, Ó Súilleabháin, and Paffenholz, "Reimagining Peacemaking," 12-13.