By Jiro O'Kada, International Protection Officer for Nonviolent Peaceforce in South Sudan.
The current chapter of my life in South Sudan began with the Nonviolent Peaceforce's global partnership, a precursor to the current NP Alliance, which connected me through a member group in Japan.
I found an internship opportunity with NP headquarters in Brussels in 2012 through one of NP's member organizations* in Japan. Before joining the team I had an opportunity to visit Nonviolent Peaceforce's program in South Sudan, where I learned the practice of unarmed civilian protection (UCP) in the field. This experience provided me with valuable exposure to the many dedicated individuals who are striving for peace.
After this trip, I joined the program management team in Brussels, which supports the operation of country programs worldwide. As a program assistant intern, I learned about NP's global-scale humanitarian mission first-hand by assisting in tasks such as field to headquarters communication, grant management, and training development for new field staff.
After completing the internship, I flew back to Japan to complete my undergraduate degree in International Relations. My experiences with NP motivated me to continue contributing my efforts towards Nonviolent Peaceforce's mission and to pursue academic and practical skills in various intercultural environments. I moved to the United States to get my Masters in International Peace and Conflict Resolution at American University.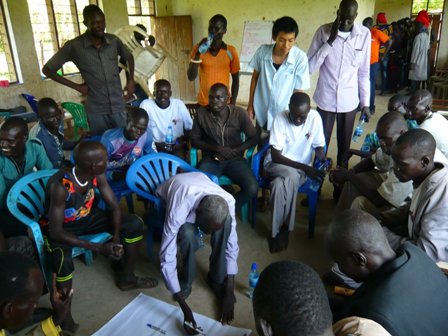 During my Master's program, I learned a wide range of peacebuilding practices. This included government and grassroots level peace processes, intergroup dialogue, training design, and intercultural communication. I also had many professional development opportunities—I interned with the diplomatic mission from Japan in Washington D.C., and with an international NGO as an aid to its youth peacebuilding program.
Four years after my internship in Brussels, I got a chance to join the NP team again. My biggest motivation to work in the field was the memory of the dedicated peacebuilders I met during an initial research trip in South Sudan. I wanted to join Nonviolent Peaceforce because my research trip showed me how NP works through building relationships within a community. I am now a newly deployed international protection officer in South Sudan, implementing civilian protection programs by supporting local infrastructures of peace.
Every day, I experience the culture of the South Sudanese and learn from and about them. I try to talk with the locals, eat local dishes and drink tea with community members as much as my routine allows. My experience in South Sudan has just started, and I hope that in serving these communities and people, I will contribute in a positive way. After all, people and sound relationships are the key ingredients that lead to the success of unarmed civilian protection
* Since 2013 the former structure of Nonviolent Peaceforce "member organizations" was merged into a new global "Alliance" of organizations.