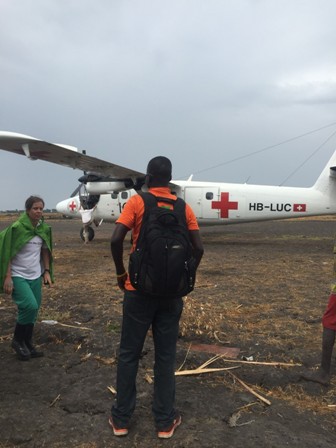 By Laura, Nonviolent Peaceforce Child Protection Officer
One late evening in April, two young men arrived at the gate of the compound we were staying at in South Sudan. They'd walked 16 hours to get medical care after being shot at the cattle camp they worked in. They'd been caught in a revenge attack between sub-clans. One was shot in the abdomen and the other had a bullet graze his head. While the head wound appeared to be superficial, a chip of bone chip came loose, causing him to lose his vision. With limited medical supplies, the doctors and nurse rushed to treat these young men.
It was obvious they needed a higher level of care than the emergency response health care unit could provide. Since they couldn't be evacuated immediately, we asked them if there was somewhere they could stay for the night. One of the boys had a relative in town who volunteered to take them in. Before we accompanied them to town, we thoroughly explored the possible risks of accompanying these young men into an area controlled by the government.
Over the next 24 hours, our NP team coordinated with the International Red Cross Red Crescent (ICRC) to get the boys to a hospital with surgical capacity. Initially plans were made to take them to the Juba military hospital. Their relatives were supportive of this plan because they wanted them to get immediate medical care. However, NP recognized no one had asked the boys their opinion, so we talked to them to see if they felt safe and comfortable going to the Juba hospital. One of the boys said he knew he was in very bad shape and needed medical intervention, but he didn't want to go to a military hospital where his life would be at risk. If it was his choice, he would stay without medical treatment. The other echoed a similar sentiment.
Due to this discussion, the families reflected on security risks the young men might encounter in Juba. As young Nuer man involved in cattle keeping, the families realized the boys wouldn't be safe in a government military hospital as they would be presumed associates of the opposition forces in the conflict. The medical evacuation was cancelled. In the absence of other possibilities, NP reached out to other partners to see if there were other places they could be taken since the boys still needed urgent medical care. By the following day, the boy with the head wound's state was deteriorating significantly. Fluids leaking from his head wound were increasing the pressure on his brain. The other boy, with three broken ribs and his abdominal bullet wound, was finding breathing very painful.
ICRC called our NP team back and offered to re-route a flight to take the two boys to another hospital with a full surgical team. Immediately, we headed where the boys were staying. We discussed with them and their family the details and relative safety of this option. Both young men instantly agreed to go. The family requested that a caregiver be allowed to accompany them, especially since the one with the head injury could not see. There was some back and forth, but after careful planning, the medical evacuation was scheduled for the next morning.
As we watched the plane take off with the two boys, the family expressed appreciation for NP's approach to organizing the evacuation. One of the boy's relatives said, "You could have just told us to send them to Juba, but you wanted to ensure their safety." Another relative said, "We appreciate that you also reminded us to focus on their needs and wants, not just getting them medical attention." This embodies NP's principle to focus on the primacy of local actors. We support and empower people to make their own decisions about their safety and wellbeing. Our job is to provide informed options to people for them to make those decisions. A month and a half later, NP received news that both young men had been successfully treated and released from the hospital. They are currently en route to their home villages.