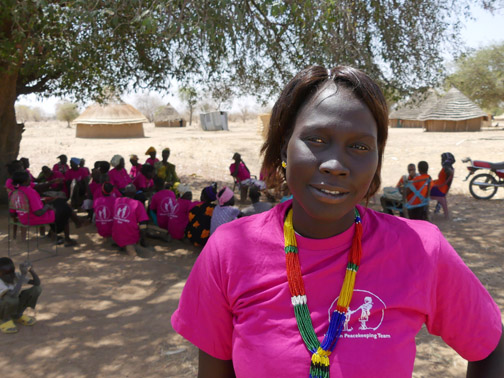 A Women's Peacekeeping Team Gathering
Scars from rebels and the government fighting mark the city of Malakal in South Sudan. Once a bustling city, only second in size to the capital, Malakal has since been ravaged by violence, looting and vandalism. Largely deserted, it has now become a ghost town.
Josephina is a survivor of the attacks on Malakal. Among the thousands of people forced to flee, 46-year-old Josephina fled the city with her children to a village in the Upper Nile state of South Sudan. Living conditions in the village were grim. Most residents had been internally displaced. They struggled with problems of flooding and poor housing, and the threat of severe malnutrition. This is where you come in.
Josephina Takes Action
Your support helps Nonviolent Peaceforce train locals to develop strategies in the event of an attack. That's how Josephina found out about NP. She attended a training to learn how to consider the various threats the community might face and how to best respond to them. She learned to pick up early warning signs: when certain vendors are not present at the market, when rumors of attack circulated and when streets were vacant of children playing.
During the training, Josephina and her fellow community members also worked together to create an action plan in the event of different scenarios. They discussed potential risks and ways to avoid them. You helped to create this safe space to have these critical discussions.
For Josephina, her biggest take-away from the training was the importance of taking time to create a well-designed plan. As an individual, each person should prepare a quick "run bag." For the community as a whole, however, it was crucial to create an action plan that would include ways to support the most vulnerable segments of the population, should a threat reach the area.
Following the training, Josephina became a member of the Women's Protection Team in the village. They campaigned in the community to prepare fellow community members in the event of conflict and created a plan of action in face of external conflict.
Reaching a Safe Haven
Fighting reached the village in February 2017. Josephina now faced the challenge of putting her plan into action. She took her quick-run bag, and her important documents; which she always stored together; as well as her stock of food, water and cash. This advanced preparation allowed herself and others to quickly escape the fighting. After days of walking, Josephina reached a safe haven where she still resides today.
Josephina's harrowing experience has taught her and others in the community the importance of being united and proactive in the face of potential threats. She does not see any end in sight to the fighting in South Sudan, but will continue to encourage the community to prepare for potential risks ahead.
Thank you for the support you give to people like Josephina to stay safe even when under attack. As a result, Josephina and her children are safe and she is now a leader in her community. You help local communities come together and create leaders of change.


*NP no longer works in this location; however this story and type of work reflects the engagement we have with other women in South Sudan.