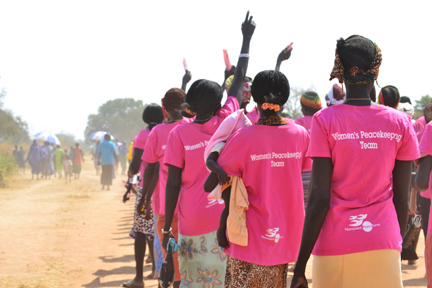 Ending Gender Based Violence
An NP team arrived in a village shortly after it was attacked. As they were talking to a group of village women, an older woman walked up to them, raised her blue cotton dress and said to the full group, "My vagina hurts." In that village, on that day, she broke the taboo of silence and other women started opening up and telling their stories. Sexual violence is used as a weapon of war and women have had enough.
Tandiwe Ngwenya, NP's Deputy Head of Mission in South Sudan, described this scene at a workshop, "Preventing Gender Based Violence in Rural South Sudan," offered by NP and co-sponsored by Women Graduates USA last month during the United Nations Commission on the Status of Women.* Tandi along with Sarah Nyathiang, a South Sudanese Unarmed Civilian Protector, and Tiffany Easthom, NP's Executive Director, told moving stories and gave examples of how gender based violence can be prevented.
You've had a part in giving women a voice. You've helped train 1,900 women in South Sudan who've formed 44 Women's Peacekeeping Teams. They are leading the way to bring an end to rape and gender based violence. In just one example, a group of Women Peacekeeping Team members walked for three hours to meet with the general of one of the armed groups. They knew it would be dangerous to start off as a big group. Thus, a few women began the trek with groups of four or five women joining them along the way. They numbered 150 by the time they reached the military camp. They told the general that, "We are tired! Tired of our children being killed! Tired of being raped!" The general listened and then told them his men would not engage in such activities. After the meeting he arranged transportation and gave them a bull as a token of respect.
Who knows if the general was sincere? Only time will tell but for now we know there has been an impact. And across the country, we are seeing many more women organizing across ethnic lines and advocating for their own safety and for an end to the war. These actions are remarkable in such a male dominated society where gender based violence is rampant.
Here lies the hope in a brutal and bleak landscape. If sustainable peace is to come to South Sudan, these brave women bringing the demand from the ground up will lead the way.
As Sarah, Tandi and Tiffany shared their stories with the women who had come from around the world to the meetings at the UN, you could hear and see tears of hope to learn that women can be strong and make a difference even where there is so much violence.
*Each year the official commission convenes in March to assess progress on gender equality and chart future actions. They are joined by thousands of women from around the world who hold parallel events to amplify the voice of women. Every space within a mile of the UN is jammed for two weeks.