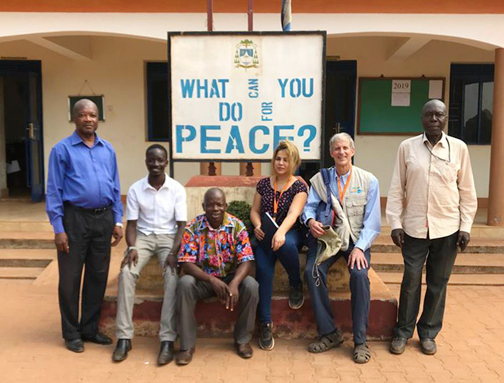 John Reuwer works with Nonviolent Peaceforce as an International Protection Officer in South Sudan. Here are his reflections from the past few weeks. 
Feb 17, 2019
I am a former emergency physician who has been a student and teacher of nonviolent conflict management for over 30 years. For the past six years I taught nonviolent conflict resolution courses at St. Michael's College in Burlington, Vermont. So, when I told people I was going to Africa to work for a few months, many assumed it would be to do medical work. But I find conflict work and peacemaking more rewarding. I connect with Nonviolent Peaceforce's mission to challenge the violence with something other than more violence, to highlight and reinforce the innate peacemaking capability of ordinary people, and to empower them to resist the next round of violence.
With retirement from clinical medicine, I have the ability to devote myself primarily to this work, so I was very excited to get this opportunity to serve with Nonviolent Peaceforce, the first all-professional organization to implement Unarmed Civilian Protection.
Over the past few weeks, I've transitioned from the hustle and bustle of Juba and the national Nonviolent Peaceforce office to the field office in Yambio, about 275 miles west of the capital.
After the relative isolation in Juba, the more open atmosphere and friendliness here is most welcome. Much to my delight, folks from the neighboring United Nations compound come to our compound to play badminton, one of my all-time favorite activities. We talked about our work afterwards. A Pakistani player and Indian player told me how in their home country they are supposed to be enemies, but how easy it was to be friends here.
The compound where Nonviolent Peaceforce and several other groups are based is full of trees with avocados, mangoes, and jackfruit hanging from them. My private hut is hot, but has running water and a commode. I am trying to figure out why my toilet and sink are half the height I am used to, but in any case I am grateful for both the convenience and good knees. The mosquitoes seem regimented here, rarely coming out before dark at 7:15 p.m., and seeming to mostly go back to sleep by 7:15 in the morning. Curfew is at 8 p.m.
Since the UN and NGOs are bountiful around the relatively safe Yambio region, Nonviolent Peaceforce decided we would be working primarily in the outlying areas to help people deal with the fear of recurrent violence, and to provide an incremental margin of protection to build more confidence for the NGOs that can help with the basic needs. Many areas are unsafe because armed groups remain in the countryside not able or willing to participate in the peace process. Excursions are planned in advance and in between we meet with as many local actors as possible to create the relationships and trust necessary to deal safely with the inevitable crises.
So far, the Nonviolent Peaceforce team has held workshops introducing people to the concepts of personal agency, resource availability, and personal and group safety. Here is an example from a personal account shared with me of how their work differs from other NGOs. When a serious fight broke out between groups in a UN camp housing displaced people, with injuries from stones, clubs, and knives, the UN evacuated all NGO staffs, including Nonviolent Peaceforce's international staff. A few national staff who were from the community stayed behind to dispell any rumors as well as youth leaders who helped ease any tension. They did not return to render services for almost two weeks, except for Nonviolent Peaceforce, which was back at work within 48 hours mediating and engaging the aggrieved parties. They were able to do this because they had built trust among some of those involved in the fighting. They have this unique approach they call leaning into the conflict rather than running from it, and do it with reasonable precautions. I look forward being part of that.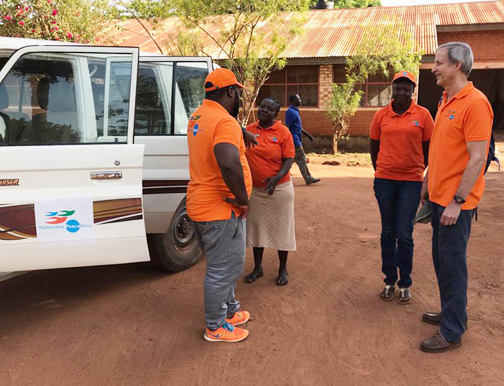 Preparing to leave for a village visit
March 3, 2019
Life is simple—sleep, work, and a little play when one can. I actually enjoy hand-washing my clothes in a basin some of the time. We hang them up to dry. There is a cook five days a week who prepares breakfast, usually an egg and chapati (flat bread), sometimes with fresh papaya or pineapple. When we get chicken, it is so tough that I can guarantee that not only is it free-range, but likely came from a champion runner. I am still playing badminton when I can.
The work at this field site is centered on women's empowerment and the prevention of gender based violence (GBV). Nonviolent Peaceforce implements Women Empowerment and Peacebuilding projects because most organizations and researchers studying the things that make for peace believe that peace agreements are much more likely to be successful when women and civil society groups are involved. 
These last few weeks have included meeting with South Sudanese community members, from principals of well-run schools to outlying villages where many people are illiterate. There seems to be universal agreement that war should end. Most think this can only happen at the highest levels of government. One of Nonviolent Peaceforce's ideas is that civil society knows best how to protect itself, but often is not aware of that, so our mission becomes walking alongside local actors as they learn how to speak up and stand up for themselves. The ultimate expression of this is Unarmed Civilian Protection, which is the result of applying a specific set of skills in an effective manner to maximize safety in a given situation without adding more violence to the conflict.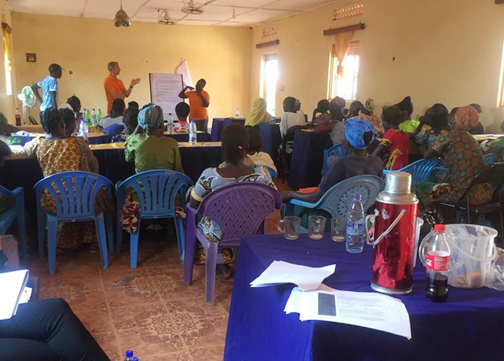 Facilitating an introduction to UCP for women
March 17, 2019
I continue to meet new people from South Asia playing badminton with the folks from the UN Mission. One of the great benefits is getting so many perspectives on world affairs from so many different countries. This benefit is augmented by the TV in the common room that plays whatever the locals are interested in at the time—mostly really bad American horror and action films, some soccer ("real" football), and news stations with European, Arab, Indian, and Chinese anchors and viewpoints. Even CNN is focused on the rest of the world.
Our team efforts have been centered on what Nonviolent Peaceforce prides itself in the most—building of relationships and trust that create networks, strength, and coordination that provide protection when the next crisis strikes. Our time is spent exploring villages to make people aware of our presence, assessing levels of fear of conflict and other challenges, meeting local peacebuilding partners, and training those who are interested in Unarmed Civilian Protection, with a focus on women.
Our first training to develop a Women's Protection Team exceeded my expectations. The 16 women who had attended our introduction to the training arrived on the first day with 20 more, with 32 of the 36 completing the two day training. The basic messages we conveyed through interactive presentations, questions, discussion, and mental and physical exercises were that conflict is inevitable, that everyone has the choice to use violence or nonviolence when managing difficult conflicts and that nonviolence has many advantages over violence.
The participants liked learning the specific skills like working together, looking out for each other, creating networks of support, situational awareness, proactive engagement of potential problems and actors, and nonviolent discipline. This is an easy sell for them, because unlike in the US, where violence is glorified in entertainment and adoration of all things military, these women all have first-hand experience with the death, personal injury, displacement, and economic devastation that violence and war are actually about.
They told us no one told them about peace like this before, and they loved learning skills they can share with their communities.
Our visits to various villages with potential conflicts have been eye-opening. The basic needs for water, medical care, schools, occupational training, jobs, and pay when employed are unmet to any decent standard, yet the fear of war returning looms over the hope for eventually meeting these needs. What we hear over and over again are people desperately hungry for peace, but almost afraid to hope that it will last because of their 65-year history of broken peace agreements.
The reactions we get when we talk about peacemaking in ways people have never heard before are surprisingly strong and positive. For example, last week we helped facilitate a community meeting at an outlying payam (large collection of villages), where we spoke of the ability of ordinary people to contribute to peace and recognize the power of nonviolent action as manifested by the many forms of Unarmed Civilian Protection, and then let people express their fears and concerns and discuss solutions. At the end of this three-hour meeting consisting of 200 people, 30 women came forth singing and bringing us gifts of fruit and produce, and couldn't thank us enough for sharing with them. When I asked our local partner why such gratitude, especially when we don't bring, food and supplies, or dig much-needed wells like other NGOs, replied "Because we really LISTEN to them." Perhaps human dignity is what people want the most.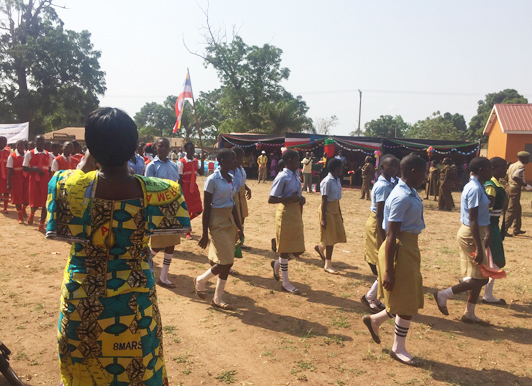 International Women's Day in Yambio