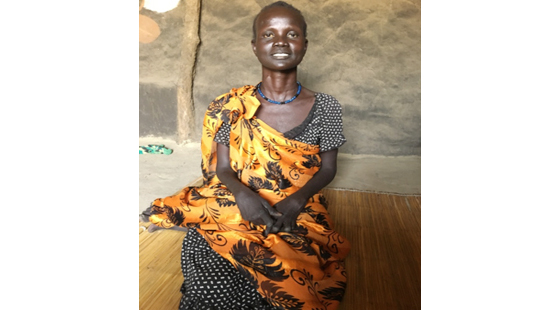 Meet community peacebuilder Nyadeep, who refers to herself as an "ambassador of peace." Because of your support, she learned how to increase her family and community's safety.
This wasn't always the case for Nyadeep. Women with physical disabilities like Nyadeep are often stigmatized and overlooked in South Sudan.
Nyadeep uses a wheelchair to get around Bentiu's camp for people displaced because of violence. It's hard. Ramps are non-existent. The dirt roads are uneven and the public bathrooms and water collection areas are sparse and far apart. Nyadeep is also a widowed mother of six. Her husband died 15 years ago during a conflict in another part of South Sudan.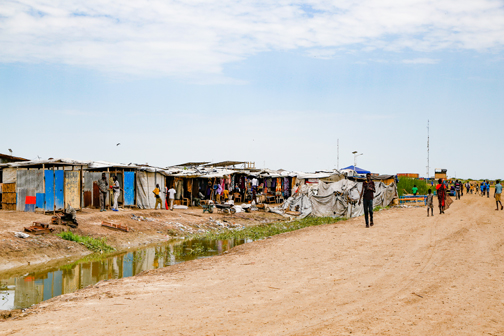 Bentiu's internally displaced persons camp, where Nyadeep resides.
You Give Women a Seat at the Table
Women are often left out of peace processes, and South Sudan is no exception. Nonviolent Peaceforce (NP) works with communities to change that reality. Women's contributions to conflict prevention and resolution has been shown to reduce conflict and improve stability, according to the Council on Foreign Relations.
One solution has been to train women who were willing and interested in promoting peace in their communities. This gives them a seat at the table.
Putting Nonviolent Training into Practice
In the three years Nyadeep has lived in Bentiu's camp, she's become a member of "Unity of Women," a Women's Protection Team. As a member of the team, Nyadeep regularly participates in NP trainings. One training focused on using communication tools to resolve conflicts without violence.
Once, Nyadeep helped to resolve a situation in which her daughter was involved. Her daughter had gotten in a fight with their neighbors. Some of Nyadeep's friends encouraged her to resolve the dispute with violence. But Nyadeep wanted to find another way. She remembered countless incidents when simple quarrels turned into tribal conflict with many deaths.
Nyadeep was able to resolve the conflict peacefully because of supporters like you. "Nonviolent Peaceforce taught us the value of peace, we preach love, respect, and to value one another, and above all we support each other," she said.
Making Connections with Other Emerging Leaders
From the start, Nyadeep was an active member of the Women's Protection Team and the most outspoken advocate for resolving conflicts nonviolently. She became heavily involved with protecting the community, particularly survivors of sexual assault and rape.
In 2017, the Women's Protection Team elected Nyadeep as a chairperson. Now, she's a team leader.
"The disability I have does not hinder me from protecting my own community," Nyadeep said.
Her team's desire is to meet with other women who represent different groups and churches and hold community leadership positions to exchange ideas and support.
You Promote Independence
The support she gets from her team has built up her resilience to meet the challenges of daily life in the camp. This has extended to financial self-sufficiency.
Providing for her family was a challenge for Nyadeep before she became a part of the Women's Protection Team. But now, Nyadeep has taken on the role as her family's provider. She sells food such as dried okra and sugar in the market.
And because of Nyadeep's involvement with NP, she can make connections with other organizations that enable women to participate in income-generating activities.
Now, in addition to nonviolence, Nyadeep advocates for employment opportunities for women living in the camp.
You've helped make these changes in Nyadeep's life. Thanks to supporters like you, Nyadeep has overcome significant challenges to lead her community and improve the lives of her neighbors.