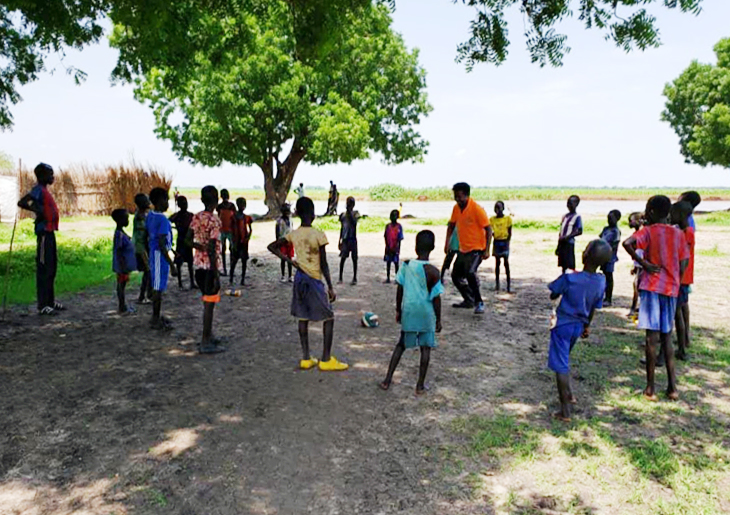 Playing a ball game at the Child Safe Space.
In armed conflicts around the world, children are directly impacted by violence. Their schooling is interrupted as their families are often displaced. They lose contact with family members, friends and often suffer psychologically from living in an environment of fear and instability. Nonviolent Peaceforce (NP) works with community members and other organizations to address the unique needs of children. Often, it is creating a safe place for children to play.
The child safe space in Ulang serves as the first and only line of defense to protect the community's children. Your support gives these children a safe place to play and learn peaceful ways to resolve conflict.
Years of violence has plagued the communities of greater Ulang in South Sudan. Many families continue to be displaced following the civil war, communal conflict is still prevalent and there is a lack of access to basic services. There is one school in Ulang center that only serves primary-aged children, so a limited number of children attend. Prior to the center opening, children would end up playing in unsafe areas—by the large river that flows alongside the town or in the forest. In 2017, three children drowned in the river and several children were reported to have been abducted by rival cattle keepers.
With your support, NP established a safe space for children in Ulang in 2017. Not only does this space protect children from violence, but it also reestablishes a sense of normalcy and promotes healthy child development. Its goal is to support children temporarily as the community organizes itself to protect its children. Within a few months of opening, the center regularly had children attending and participating in its activities.
These spaces allow children to play and learn without fear of violence. Activities offered include sports, arts, music, reading and writing and lessons on health and safety. Children and youth are taught to protect themselves and their friends from different forms of violence. By November of this year, Nonviolent Peaceforce protected 7,149 children at the Child Safe Space in Ulang and 34,358 children in South Sudan.
At first, there were several children who behaved aggressively. They would fight with each other and create mock pistols and guns out of sticks and other materials they found on the ground. The children were acting out the violence that had become so normalized. In the child safe space, NP-trained volunteers identify children with particularly aggressive or depressive to provide them with more support. Because you allowed NP to train these community volunteers in child development and protection, they are able to provide psychological first aid, anger management training, conflict management training, and when appropriate, engage with the children's parents.
Your support helps the children of Ulang. Fewer children are going to play by the river or in the bush now. Less children are abducted. Parents are telling other parents to send their children to the safe space. The number of children attending is on the rise.
Over the past year, NP has heard from community members that there has been a visible shift in the behavior of children who regularly show up. Children are no longer brandishing their stick guns or engaging in as many fights. Instead, they are more interested in playing dominos or singing the traditional songs they learned.
NP staff continues to provide regular training to the volunteers working with the children to increase their knowledge of child protection and improve services to the children attendees. At the same time, NP organizes community members to ensure the rights of children are being respected and there is long-term support for vulnerable children.
Thank you for helping to protect these children. All children have the right to play, and you're providing a safe space for that to happen.