What is the Project?
To protect civilians from violence and vulnerabilities as result of or exacerbated by COVID-19, NP has launched a project funded by USAID's Office of Foreign Disaster Assistance (OFDA) in Juba, South Sudan.
To improve awareness on COVID-19 and related protection concerns, NP is working with four outreach workers to reach even deeper into Juba internally displaced persons (IDP) camps. Project outreach workers in each site will lead this effort by patrolling and raising awareness on COVID-19 and related protection concerns, including gender-based violence (GBV), as well as gathering information to plan for further activities on specific protections issues created or enhanced by the current pandemic. Juba is South Sudan's highest densely populated urban area. In spite the fact that many partners engaging in the area, awareness on COVID-19 has been very low in the city, resulting in lack of attention to preventive measures such as social distancing. >>> Read more about the project launch >>>
You can follow the outreach workers on this new project by keeping up with their monthly diary entries!
September - October Diaires *NEW*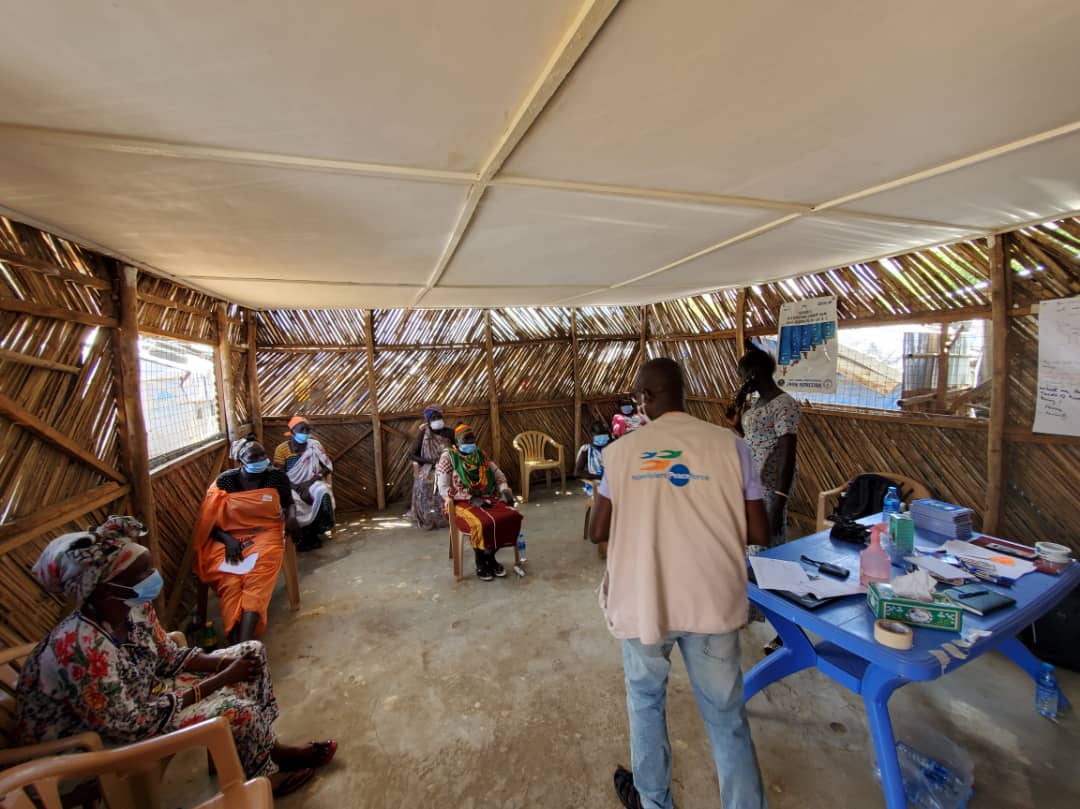 Women Leaders in Mahad Camp Participate in a peacebuilding session with Nonviolent Peaceforce outreach workers | NP 2020


Simon** (Mangaten IDP Camp):
My day was difficult. I met with a lot of vulnerable people who were weeping because they are not registered in the camp. They told me that during the registration, the people in charge did not reach everybody. It made me really sad to know that people need to be registered to access material support, but the majority of the disabled people were not registered because the people in charge did not reach the entire camp.
On the bright side, I observed a discussion about abolishing violence against women and girls and promoting gender equality. The majority of the community is agreeing to leave violence and promote peace. I really feel very happy because the community is longing for peace.
Akur* (Mahad IDP Camp): "
The most memorable thing that happened to me was the reaction of the community towards NP and how open everyone is to speaking with me. Today I met with youth leaders and discussed many things concerning how the pandemic outbreak is impacting youth, especially in terms of unexpected marriages and pregnancies among school-going girls. The discussion of the leaders and the community was exciting to me because it really helped me to understand the community and the challenges facing them in full detail. I observed that the community needs changes in the form of awareness raising, especially among men. Unfortunately, they are not found in their homes during the day hours, so they are more difficult to reach and build relationships with.
Outside of conversations, I spent a lot of time on patrols getting to know people in the camp and their needs better. I observed that the community really needs change in the form of facilities, clean waterpoints, learning facilities, suitable space for the youth to learn and sufficient food for the IDPs and the new arrivals as well. All of these changes can help support people who are especially vulnerable to COVID-19 and help build peace.
August - September Diaires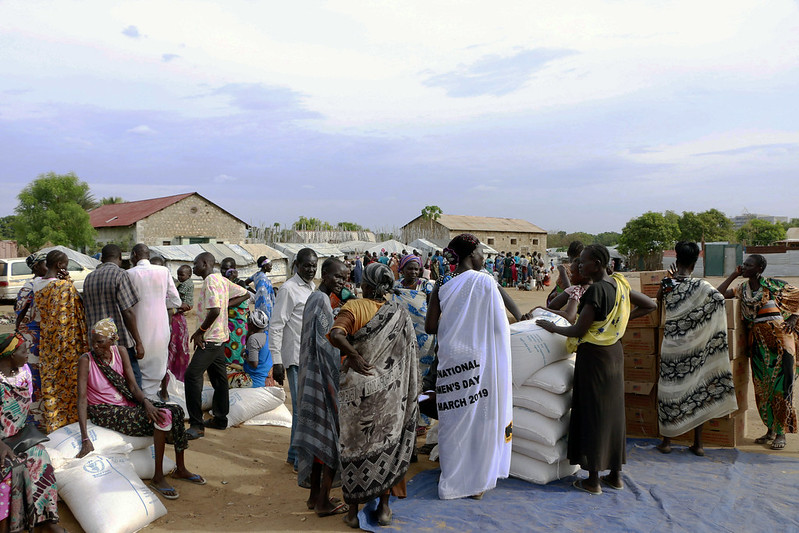 Mahad IDP centre in Juba, South Sudan. Photo: The Niles | Bullen Chol
Peter (Mahad IDP Camp):
August was my first month as an outreach worker in an IDP Camp right in Juba—the capital—of South Sudan. My job is to go out into the Mahad IDP Camp and make sure everyone understands ways to prevent COVID-19. Immediately, I understood that there is a spirit of outstanding respect of human rights at Nonviolent Peaceforce, just as the name suggests.
Already on my first day, I enjoyed working in Camp. I met with more than 20 households that day, sharing COVID-19 safety information. After I shared information with them, they were able to share with me some of the things that they needed: plastic sheets, food for their animals, medication for things like T.B. and hepatitis B—necessities. Without these basics, I understood how vulnerable they are and how COVID-19 has heightened their vulnerability.
Over the next few days, I continued to meet with more established residents in the camp, as well as new arrivals of displaced persons. Each day, speaking with more than 100 people, I am making my way around the camp with a population of around 5,000 – 7,000 people (or more).
Rose* (New Site):
Starting this new program as an outreach worker in an IDP camp in August has been going well so far. I am pleased to see that many leaders in the Camp are requesting washing tanks and face masks to pass along to their families. The conversations I am having such as these are what is allowing us to get the proper information and resources to the people that need them the most.
This work is rewarding, because I can help my community, but there are also some really tough moments. For example, I intervened in a case of gender-based violence at my neighbors': a husband had beaten his wife because she was not taking care of the children, and the elder child has become the caretaker for the four siblings. Such violence might seem like an isolated event, but this violence is connected to the continued trauma and violence that has been a part of our country for years—and countering violence is how we can move towards a peaceful future.

Meet the Outreach Workers
Akur* (Mahad IDP Camp): "I want to change cultural norms in my community, from young children to adults. NP's work has been very successful and I am so glad to work with NP, so I wanted to join in this position. I hope to be able to support young girls to be the leaders of tomorrow. We cannot be mothers without having an impact in politics, without having an impact in our communities; we hope to make girls leaders and to change our lives to be more positive."
Peter (Mahad IDP Camp): "COVID-19 has brought challenges such as an increase in school dropouts, more people in the streets, and negative effects on the economy—shops are closed and people don't have enough resources. If fathers are not working, they have no income, facing several protection-related and other challenges. People cannot move around either. I will try to allow NP to get into the community and reach areas impacted by COVID-19 and raise awareness, share information and GBV, child protection, and other challenges."
Simon** (Mangaten IDP Camp): "I live in the community, so I wanted to work and help my community. I want to get more information to the people in the community and help them to bring solutions together. COVID-19 has affected Mangaten and the whole of South Sudan: No facilities available, no awareness, no information reaching directly the local community and working together. I hope to promote a link between the community and NP, giving them [my community] more information about protection and promote gender equality. I hope to reflect hard and get more protection for my community."
Rose* (New Site): "When I heard that NP works with protection and GBV, I wanted to work with them to make a change in my community. I hope to change the lives of young girls and the lifestlyle of my community, as well as improve child protection and strengthen parents' abilities to protect their children."
*Outreach worker is also a part of Community Taskforce
**Outreach worker is also a part of Community Leadership