Nonviolent Peaceforce is to wind down its work in sri lanka by the end of 2011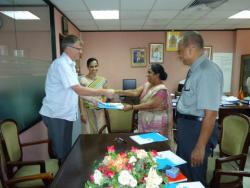 In its January 2011 meeting, the International Governing Council of Nonviolent Peaceforce (NP) expressed its deep recognition of the important and valuable work done by its staff in Sri Lanka for almost a decade. This has demonstrated the continued viability of NP's vision of unarmed civilian peacekeeping. Whilst recognizing and appreciating the courage, commitment and initiative shown by staff, the Council has decided that NP's presence in the country should draw to a close by the end of 2011.
Since the end of the war, NP's core work of reducing violence and protecting civilians in situations of violent conflict has focused on the protection of individual rights advocates and the groups with whom they work. This has had a particular emphasis on the protection needs of children/youth and former child soldiers, and on helping local communities in areas where there has been violent conflict and where self-protection mechanisms need strengthening.
Nonviolent Peaceforce in Sri Lanka (NPSL) currently conducts two major programs: Child Protection and Capacity Building (basic negotiation skills and threat mitigation). Some work continues in helping local rights advocates to protect themselves. With a newly mandated National Human Rights Commission (NHRC) NPSL hopes to increasingly engage the NHRC in training and assistance for local rights advocates. The war may be over but deep wounds remain. Local tensions can very easily overflow into open conflict again. During the exit phase, NPSL will put more resources into mainstreaming the training in Basic Negotiation Skills and Mitigation of Threats. These will no longer be given directly to the community, but through key local partner organisations, strengthening them to take on the training when NPSL finally leaves.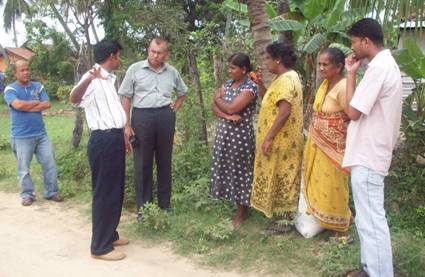 NPSL developed a particular program focus on Child Protection and is pleased and greatly encouraged that on 29th April 2011 it signed a Memorandum Of Understanding (MOU) with the Ministry of Children's Development and Women's Affairs. This ensures a jointly organised 6 month programme of training and capacity building during the latter half of 2011 and forms a central element in NP's process of withdrawal from Sri Lanka. The agreement includes facilitating the provision of two multi-purpose child/youth care centers in Batticaloa and Vavuniya. These will fulfil the government requirement for a 'hardware' contribution which in turns enables NPSL to remain in the country until the end of the year and complete a process of strategic exit. The good relationship established with ministerial officials means it is still possible for NPSL to deliver a programme, and in a context of greater security and staff confidence.
In order to reach a common understanding in relation to the way forward beyond 2011, NPSL staff, with the assistance of the International Programme Director and new Country Representative, held an evaluative meeting and discussion in February 2011 in Colombo. The main focus was NPSL's exit strategy and various alternatives for dealing with the current situation were examined. District planning was conducted in order to have a clear direction in programme activities geared towards a strategic exit from Sri Lanka. Monthly plans were drawn up which identified local actors and partners for possible future limited collaboration who could support NPSL's exit as well as build for the future.
Some programme activities will continue until the end of the year, but there will be a winding down of activities in the last quarter of 2011 to ensure that all offices will be closed and fully vacated by the end of December and that there will be an effective handing on of skills and responsibilities and local staff, former staff and key stakeholders will feel confident in their skills. Following a careful assessment, it is NPSL's view that most tasks undertaken by them in the past can now be effectively continued and accomplished by local organisations. A need for continued support and solidarity from international organisations will clearly remain until key political and constitutional issues in the country are addressed in a way which meets theA vital part of our last months in Sri Lanka will be the preparation of a final programme evaluation and write-up of nine years of history of NPSL. This will provide valuable documentation on NP's learning and achievements in their first field project and a valuable resource for the future.
In mid-May NP's Exit Action Plan for 2011 will be reviewed and budget adjustments made to accurately reflect the developing plan. Continuous discussion and dialogue with local partners is central to achieving a constructive and smooth transition to a programme in Sri Lanka owned by Sri Lankans, designed and managed by them, which meets their needs for civilian protection and non-violent means of resolving conflicts. NPSL would see this as the best possible result of their 9 years presence.
NP may be leaving Sri Lanka but will not forget. There will be assessment of how best NP can offer continued support and oversight of their Sri Lankan partners once the international presence has been withdrawn and local offices closed. needs of all sections of the community.