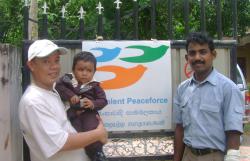 After the violent conflict that took the life of a young Sri Lankan wife and mother, her husband and baby son were separated for many months. I was one of a team of peacekeepers involved in the long and ultimately successful effort to reunite father and son.
There is never anything routine about providing protective presence and accompaniment for someone. But some cases stay in your heart forever: like the moment Nagamuthu cuddled Sajanthan to him the day they were finally reunited. Months of grief, agony and uncertainty were finally over. Our whole team was very quiet as Nagamuthu held Sajanthan. We looked and whispered among ourselves. … "This day, a new episode of life begins, and we are so lucky to be a part of it. …"
During the long months spent waiting in uncertainty, there were times Nagamuthu feared for his sanity. But as I sat and listened to him, what I saw was a man of great courage. He was determined to persevere and hold on to hope. I felt his heavy burdens and felt the separation from my own wife and son.
But when that day came and Sajanthan cuddled against his father's chest, it was an unforgettable reminder of peacekeeping in action. Our work penetrates people's lives at the most profound level. It is my joy and consolation that — though I am away from my own family — Sajanthan will grow up with a father. I am proud and eager to continue my work as a peacekeeper. There are lots of families and communities still in need of civilian protection.