The interview, which was conducted by Irene Hunter, Co-Chair of the Edmonton Chapter of CDPI (Canadian Department of Peace Initiative), originally appeared in CDPI's May/June 2010 newsletter.
Zahra Ismail served as the Program Coordinator, for Community Mediation for the Mediation and Restorative Justice Centre in 2008, an Edmonton (Canada)-based Mediation and Restorative Justice Centre offering mediation services, public education workshops and training on conflict resolution skills, and community development programs in conflict resolution for immigrant communities in Edmonton.
Additionally, Zahra served as the first chair of the Edmonton chapter of the Canadian Department of Peace initiative. Irene Hunter took over as co-chair for the Edmonton Chapter of CDPI. It is my pleasure to share an interview with Zahra Ismail in her current position on the other side of the world from us in Canada.
IH: Zahra, where are you now?
ZI: I am currently based on the small island of Sri Lanka, which is in South Asia
IH: An image whizzes by of an island paradise floating in the Indian Ocean where men fish, women serve aromatic teas, boys surf, and young girls wear flowers in their hair. However, another image closely follows of a country fractured by decades of civil war. Zahra, what do you do there?
ZI: Position: Capacity Building Project Coordinator with Nonviolent Peaceforce (NP) As project coordinator I design, manage, and evaluate our work in capacity building country wide. Our capacity building program focuses on developing the capacities of vulnerable populations to independently engage in Unarmed Civilian Peacekeeping (UCP). The goal is to take the skills that Nonviolent Peace force Sri Lanka implements daily to deter violence and increase safety, and share these with Sri Lankan communities, so that they themselves are able to effectively and non-violently increase the security of their own people.
UCP is the organized and strategic use of various nonviolent tactics by civilians themselves - to deter violence, influence key actors in their community, and create safe space where people feel encouraged to transform their own conflicts constructively.
IH: Zahra, tell me more about NP.
ZI: NP was founded in 2002 as an international NGO, which recruits, trains and deploys unarmed civilians as peacekeepers around the world to reduce violence and protect civilians. Currently, NP operates projects in Sri Lanka, the Philippines and Southern Sudan. Trained peacekeepers are sent to conflict areas to prevent, or reduce violence, thus creating the space for local groups to enter into dialogue and to seek peaceful resolution to local conflicts. NP sends internationals when peacekeeping by local people may be impossible and the conditions are right for internationals to provide a minimum level of safety and security to civilian populations. Additionally, when the context is appropriate, NP empowers vulnerable communities in developing their UCP skills so that they can independently keep themselves safe.
IH: What does NP do in Sri Lanka?
ZI: NP began working in Sri Lanka in 2003. NPSL provides what it calls "direct protection" to unarmed civilians under threat. This includes international peacekeepers accompanying them as they conduct their day-to-day work, visit places or meet with people with whom they feel uncomfortable or unable to visit alone, as well as being in their homes and/or offices as appropriate. Protection strategies such as these are designed to enable civilians to continue their work despite threats to their personal security. Research on these techniques has shown that accompaniment and protective presence demonstrably saves lives and sustains organizations and communities.
In our Capacity-Building program, as mentioned above, NPSL trains civilians from the local population, empowering them in developing the skills and tactics of UCP so that they can effectively increase their own security. Some of tactics include proactively developing networks and relationships with people who are positioned to help increase their security, and creating personal safety protocols and contingency plans to prepare themselves to respond effectively to situations of conflict or insecurity.
NPSL also carries out Child Protection work in Sri Lanka. During the war, much of this work focused on preventing children from being abducted or recruited as armed soldiers, as well as helping child-combatants to be released from armed groups. In the current post-war context, NPSL's child protection work centres around ensuring that former child soldiers are safely reintegrated into their communities, and are not re-recruited by paramilitary groups.
IH: Zahra, in your work who do you predominantly interact with?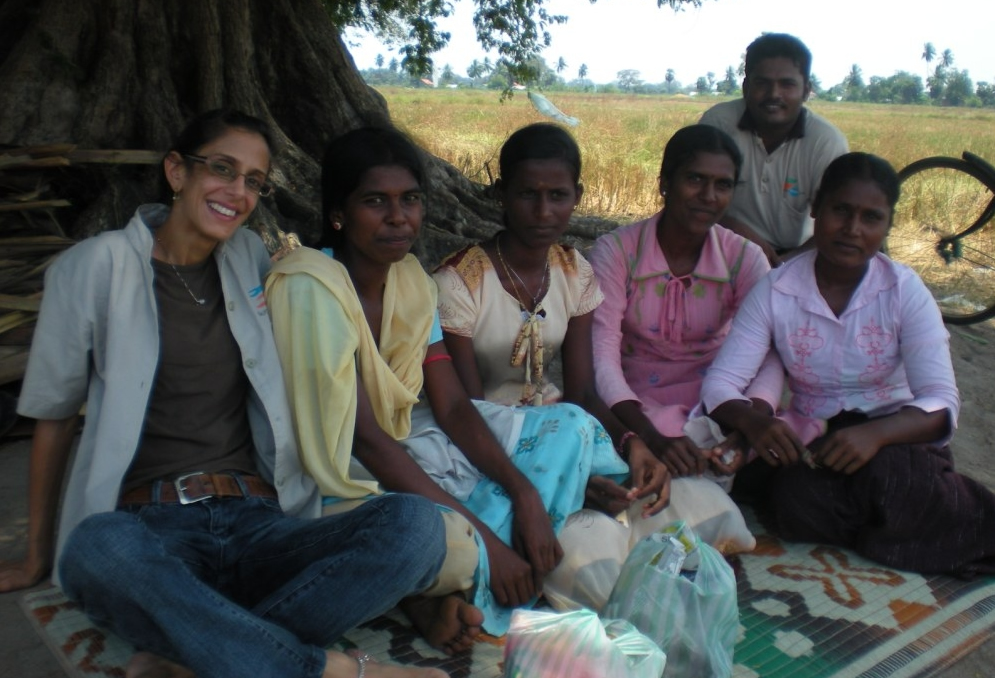 ZI: NP works primarily with civil society, nevertheless we also seek to support all those in positions of authority and influence, who are promoting the same universal, humanitarian values which we uphold. Therefore, we also engage with local government and civil authorities to support them in upholding the rule of law and those basic democratic and humanitarian values essential for protecting their own citizens.
NPSL currently has offices in Colombo, Batticaloa, Valaichchenai and Vavuniya as well as staff based in Ampara, Mannar and Trincomalee.
NP employs staff from across the globe in order to carry out protection work, and at the moment we have in Sri Lanka staff from Africa, Asia, North America, and Europe.
IH: And on occasion what do you do for fun?
As much as I can, on weekends and when I have a break from work, I try to get away and explore parts of the Island that I have not yet been exposed to. I enjoy discovering and learning about all of the gorgeous nooks and crannies of Sri Lanka, from the vast tea plantations in hill country to the caves and ruins of centuries past to the breathtaking beaches which surround the entire island.
IH: Zahra, how can we support you; chocolates or cash?
ZI: NP greatly relies on donations from private individuals and any contribution you can make is greatly appreciated. If you would like to donate directly to NP's project in Sri Lanka, please contact Aseervatham Florington at This email address is being protected from spambots. You need JavaScript enabled to view it. or Lisa Fuller at This email address is being protected from spambots. You need JavaScript enabled to view it.
Read more about Zahra Ismail: www.internationalpeaceandconflict.org/profile/zismail
Zahra, CDPI Edmonton Chapter are proud of you!