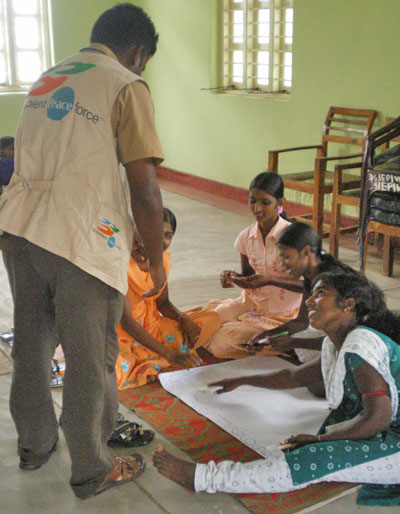 In November 2009, NPSL commenced a pilot project in partnership with the UNDP in the Eastern district of Batticaloa, to share the skills of Unarmed Civilian Peacekeeping (UCP) with Sri Lankan communities so that they can effectively and nonviolently increase the security of their own people. 
Five remote villages were targeted, and with the help of village-level government agents in each area, twenty community leaders were identified to take part in the introductory training programme held in February 2010.  The training was met with resoundingly positive feedback from participants, all of whom shared a desire to be a part of UCP teams in their villages, and to train others in the skills and knowledge to which they had been exposed.
"You have taught us to work with confidence," one woman stated following the training, while other women shared how practical it had been for them, and requested that in the future the project be implemented in other vulnerable areas, particularly border villages.
A group of women utilised their newly acquired skills to advocate through the Sri Lankan Human Rights Commission (HRC) for the release of two young men from their community who have been arrested without charge and are being held in a local prison.  The HRC is now advocating for their release to national authorities.  Another group of young women who participated in the training are using what they learned to post safety and security messages throughout their villages aimed at reducing violence and harassment. 
NPSL also facilitated a four-day training-of-trainers (ToT) in March 2010, for ten of the initial participants (8 female and 2 male) self-selected by fellow community members from the five villages to give them the ability to sustain this work by training others in their communities.  As such, this was followed by the commencement of two community-led trainings in April 2010 with more to follow throughout June and July.
The aim of this project to assist in the implementation and creation of the space and capacity needed to enable local community leaders, such as the women mentioned above, to together play an active role in determining their futures.
Due to the success of the pilot project, we were able to secure additional funding to continue working with the communities we are already working with, begin implementation in another division in Batticaloa District, and expand the project to Vavuniya District, located in the North of the country.