As many of you know, on May 25, 2020 George Floyd was murdered by a Minneapolis police officer in the city adjacent to our US headquarters.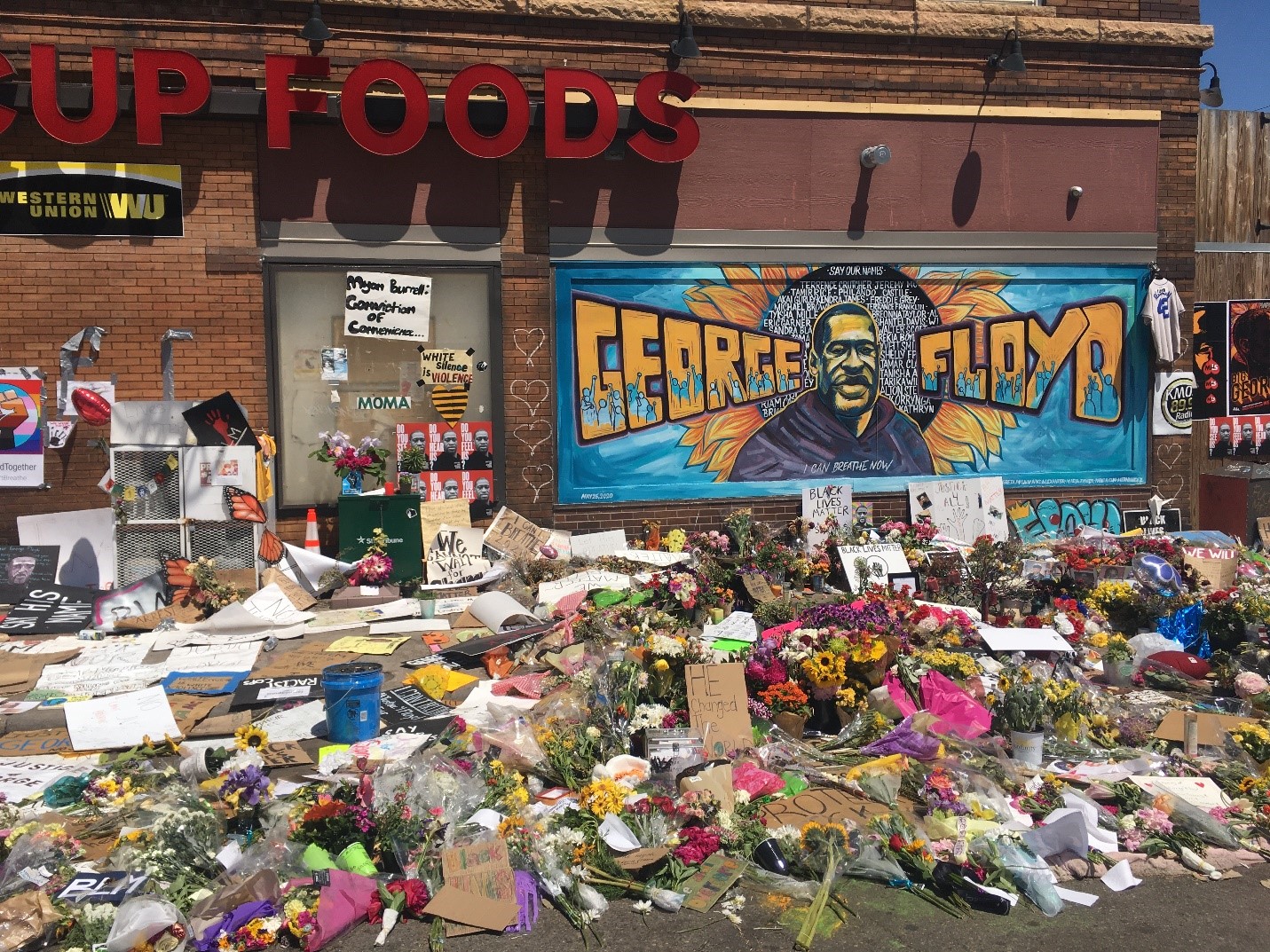 Memorial at the corner of 38th and Chicago at the site of the murder
Photo: Marna Anderson (NP)

As members of the Twin Cities community confront their grief and the conditions that led to Floyd's murder, now is a time for all of us to be actively anti-racist.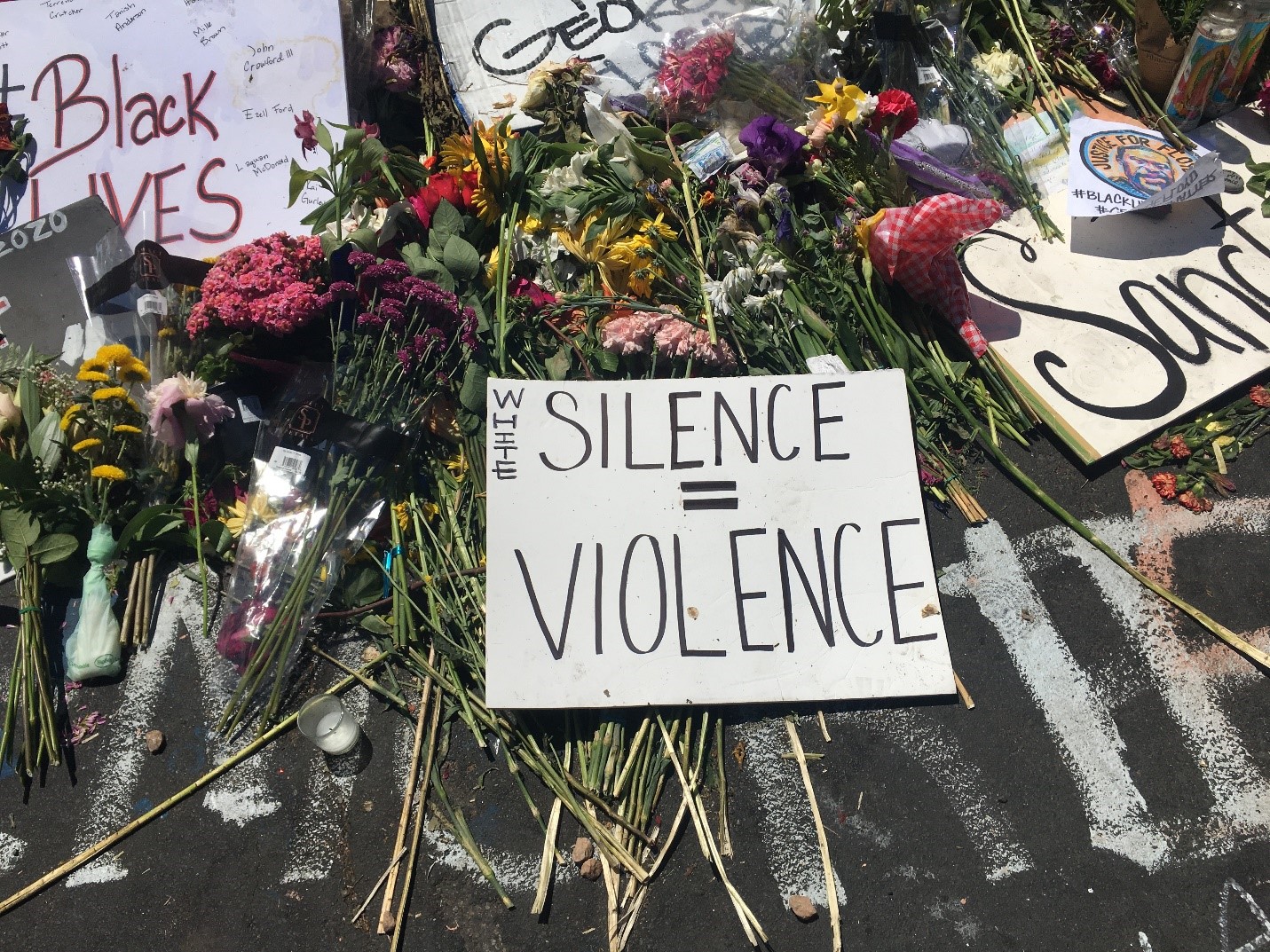 Thousands of people are leaving flowers and signs to express their anger and pain
Photo: Marna Anderson (NP)
In keeping with one of our guiding principles of Primacy of the Local Actor, Nonviolent Peaceforce staff is in conversation with city and community leaders about how we can best be a resource.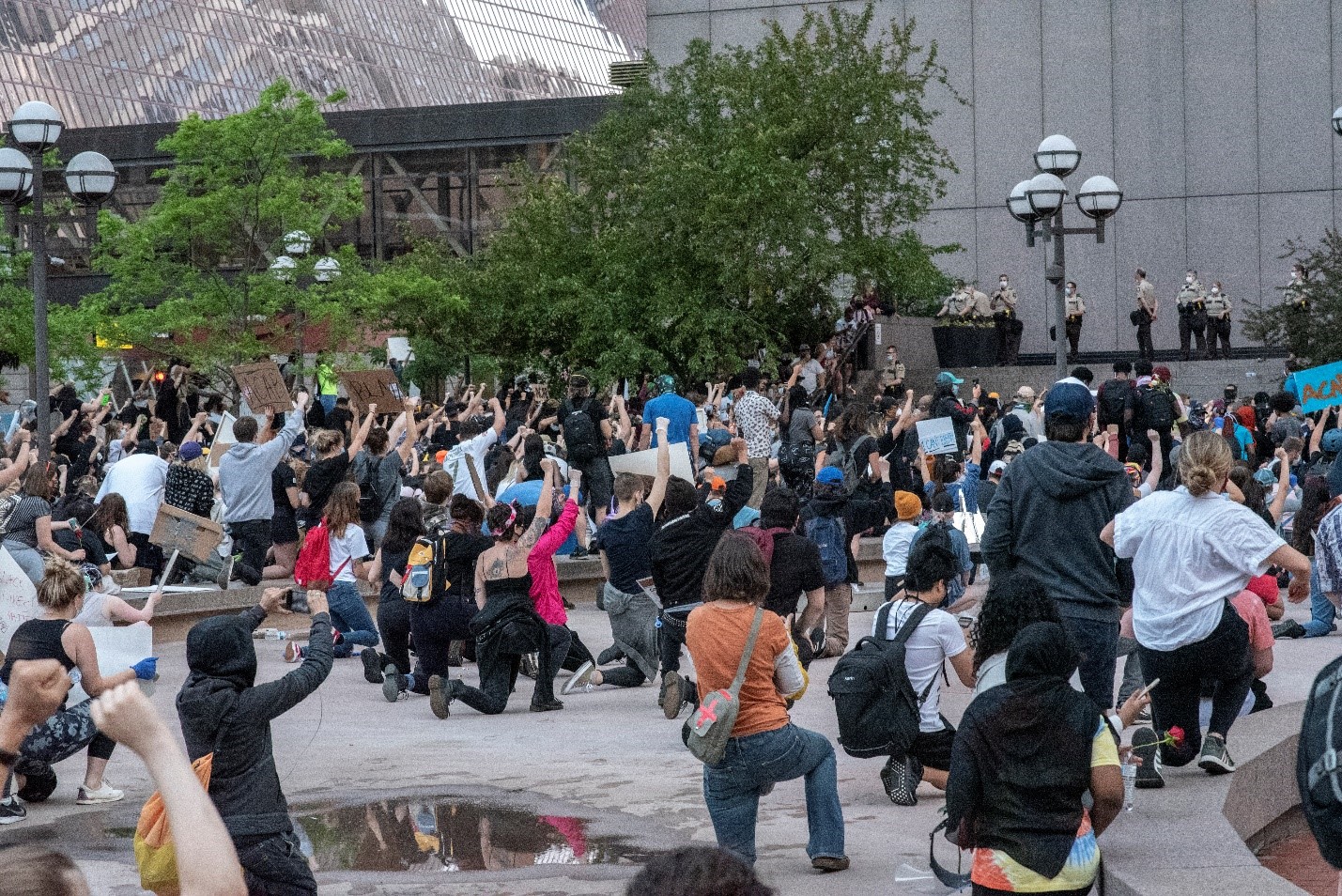 Moment of silence at a protest in front of the Hennepin County Government Center in downtown Minneapolis on May 28
Photo: Karen Kraco
We have seen police employ tear gas, rubber bullets, and force on peaceful demonstrators. The use and encouragement of police force against civilians highlights the need for civilian protection at protests.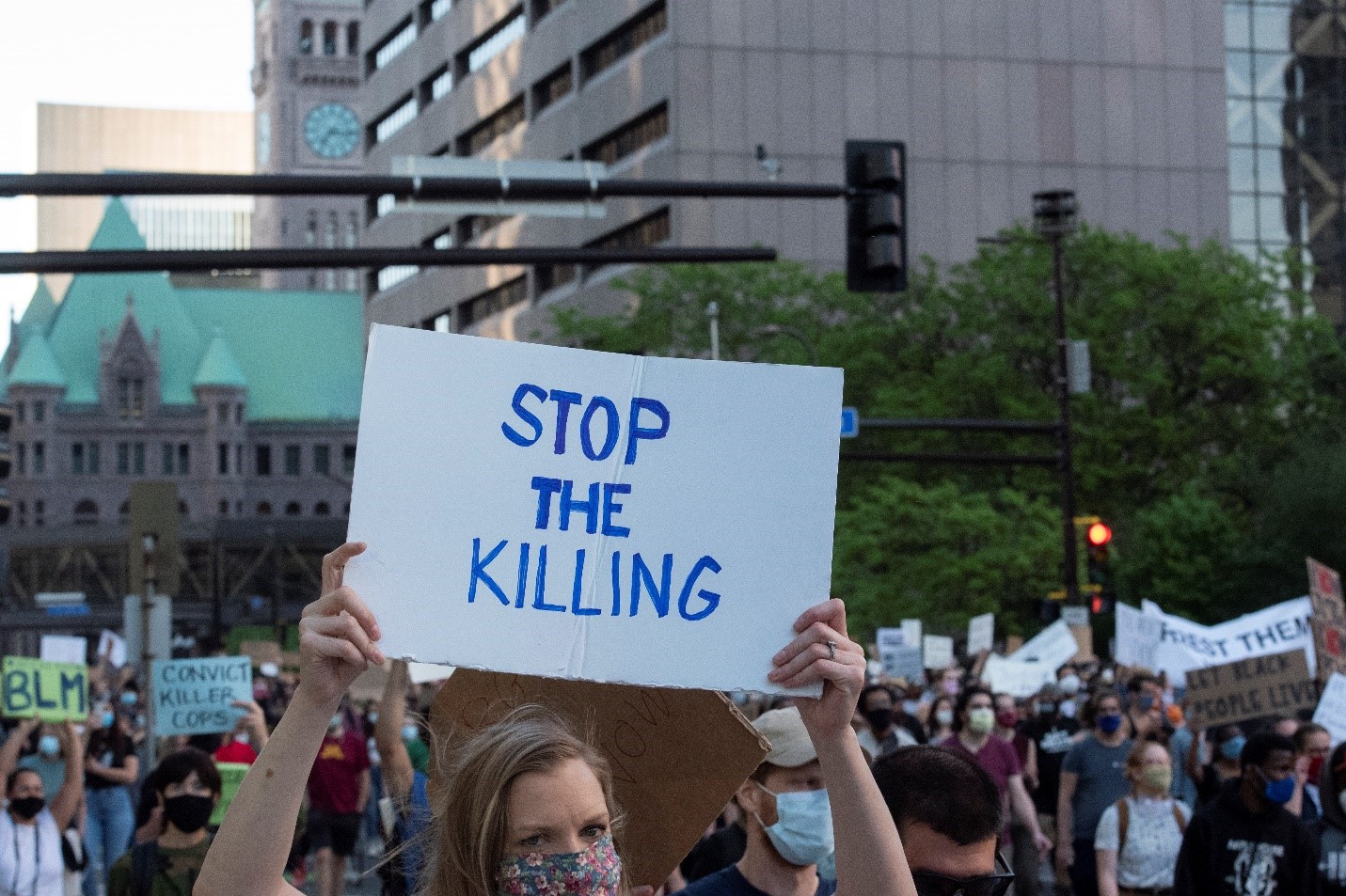 Protester in downtown Minneapolis
Photo: Karen Kraco
So many are questioning the status quo. "What might it look like if we addressed our communities' needs as neighbors and creative problem solvers instead of relying on force and imprisonment?" The need for nonviolent community protection is clear.
One of the many community organizations or small businesses offering food to protesters at the intersection of 38th and Chicago
Photo: Marna Anderson (NP)
In the face of a militarized police force, we remain grounded in active nonviolence and anti-racism as we continue to protect and advocate for civilians in our communities.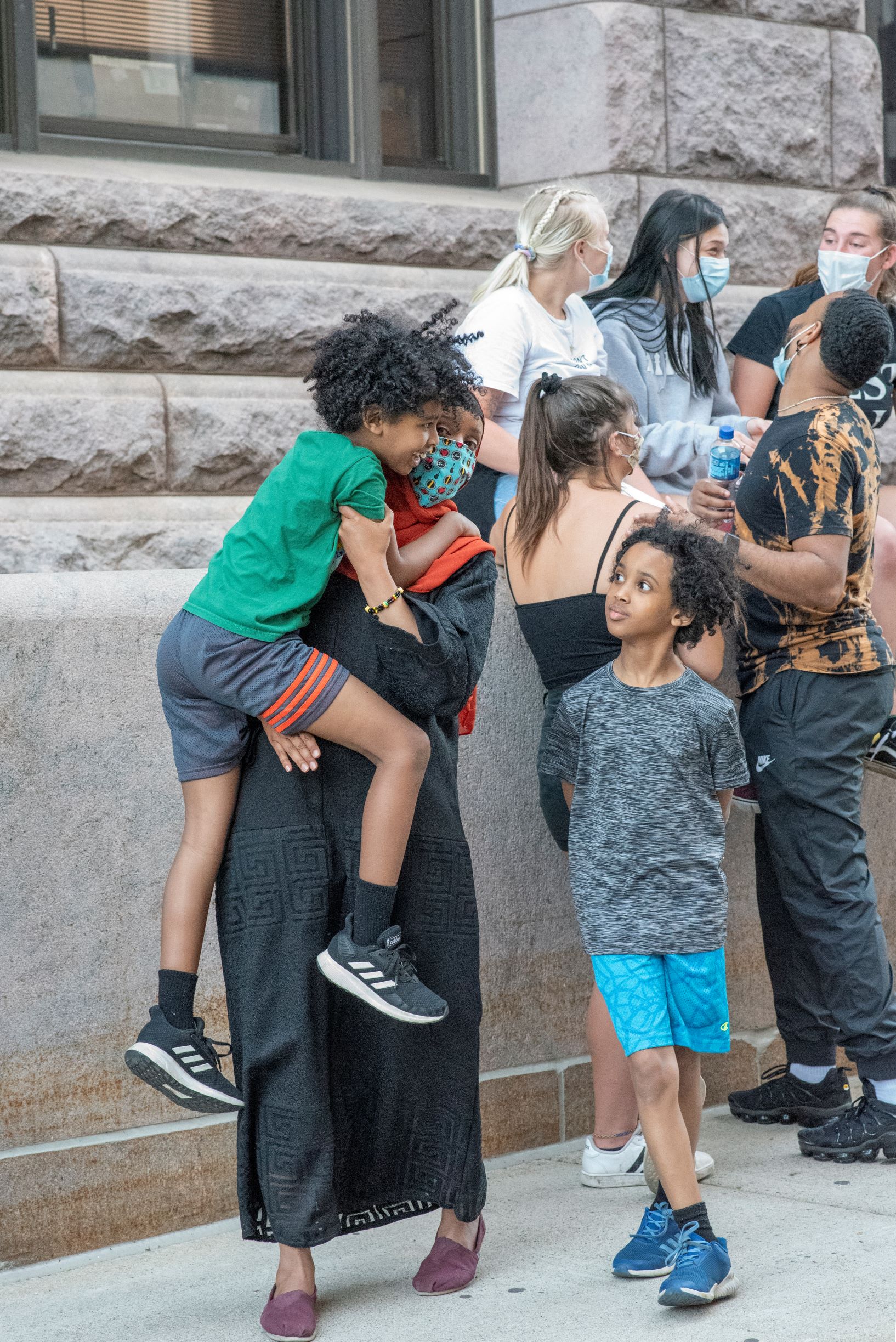 Protesters at a march downtown Minneapolis
Photo: Karen Kraco
We stand for peace, not just for quiet.
We stand for local, civilian voices.
We stand against violence in its many forms.
These are tough times for our community in Minnesota, across the US, and around the world. As always, we are committed to listening and finding where we can best put our resources. We look forward to sharing more with you all as we continue to work with the Minneapolis community.