Art, Peace and Taking Action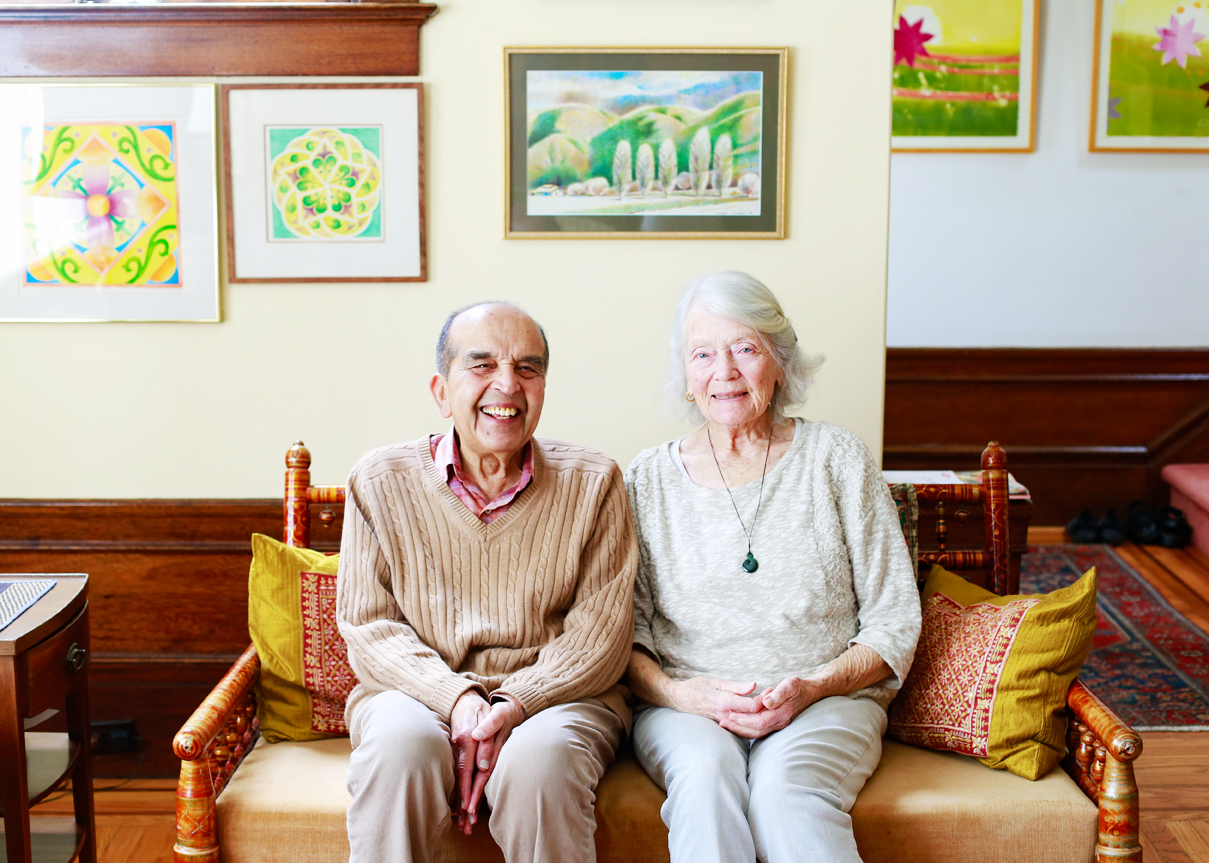 Helen and Raj Desai
Helen and Raj Desai are Nonviolent Peaceforce monthly sustaining supporters and members of our Legacy Circle, a group of generous people committed to protecting civilians for generations to come.
Helen was an art history professor and docent of the Asian Art Museum of San Francisco. Art and peace are both important to Helen. In addition to giving to peace efforts, Helen believes in taking action herself. She believes that peace means being a good steward of the earth.
"When you say peace, it's related to Mother Earth," says Helen.
Helen and Raj started a recycling program in their San Francisco neighborhood in 1970. They opened up their garage every month and people brought recyclables to them. Later, they started the recycling system at apartment buildings and Raj's office building.
Over the next few years, the Desai's decided to join anti-nuclear protests against the construction of Diablo Canyon, a nuclear power plant. They were trained by David Hartsough, who later co-founded Nonviolent Peaceforce. Helen was arrested three times for nonviolent civil disobedience.
"I don't separate nonviolence and peace. They go together. Every time I went to jail, I took a biography of Mahatma Gandhi, the premier founder of Satyagraha (nonviolent action), with me. That was always important to me."
Nowadays, Helen calls herself a couch activist. She keeps up on her knowledge of global events and support of different organizations, including Nonviolent Peaceforce.
Helen's vision for the world is that women will do well, "if we keep on rallying and doing it from our homeland or our house or our couch even." She would say, "To help people is to make yourself happy. We have to go on educating others. Women are rising up all over the world and they're asking for their voice to be heard. And Nonviolent Peaceforce helps very, very much with this."
"Naturally, we started giving because we were friends with David," Helen says, but "Nonviolent Peaceforce is doing very wonderful work with people who are on the very edge of war or violence. You're still going."
Every gift counts. Generous donors like Helen and Raj Desai give power to Nonviolent Peaceforce's work.
Thank you Helen and Raj!
You can protect civilians who are living in or fleeing violent conflict. Your contribution will transform the world's response to conflict.