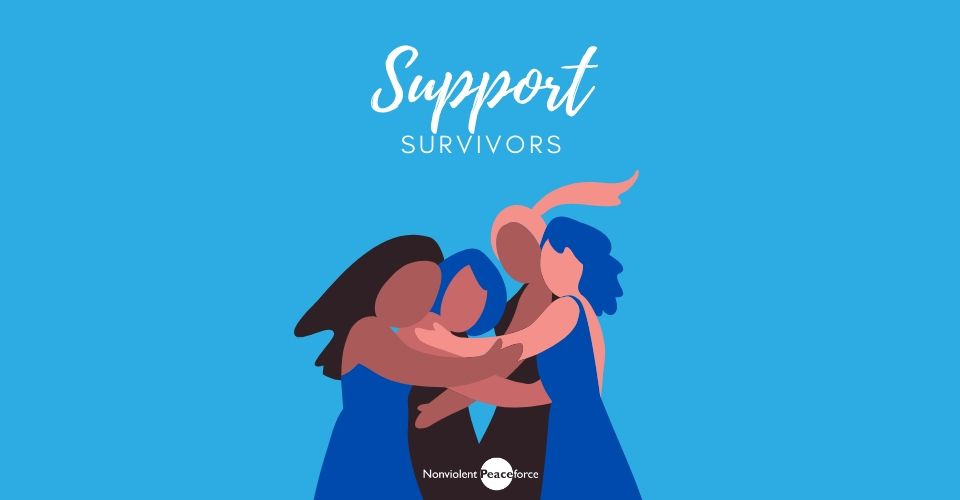 International Day for the Elimination of Sexual Violence in Conflict
June 19 is the International Day for the Elimination of Sexual Violence in Conflict. On this day, we raise awareness of the need to put an end to conflict-related sexual violence, and honor the victims and survivors of sexual violence around the world.
In areas affected by conflict, sexual and gender-based violence is oftentimes used as a tool of war. Confronting it is a tool of peace.
Nonviolent Peaceforce confronts this violence by helping create a space for survivors to break their silence, improving access to life-saving services and justice, and prevention through behavioral change. In many communities, support has enabled community members to confront this violence nonviolently, deescalate violent situations, protect the most vulnerable, assist survivors in accessing lifesaving treatment, and advocate for the next generation of girls.
Read below for more on how Nonviolent Peaceforce has recently supported communities in the elimination of sexual violence in conflict.
Yodita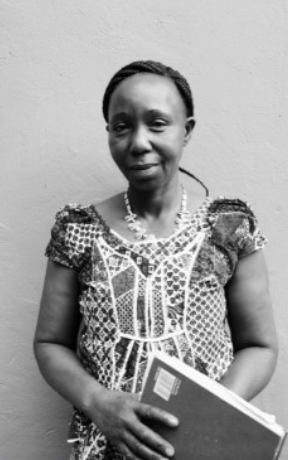 "Every day you could hear about rape cases—old women, young girls", says Yodita, one of the forty female members of the Women Protection Team in Yambio, South Sudan. "I joined the Women's Protection Team because I want to help people to understand what peace is," says Yodita.
As Yasmin Sooka, Chair of the UN Commission on Human Rights in South Sudan has previously stated: "These are not random incidents of sexual violence but a systematic widespread pattern and characteristic of the conflict in South Sudan, where rape and sexual violence are used as a tactic of warfare against women and girls by all of the warring parties to sow terror and fear amongst the civilian population." Some 65 percent of South Sudanese women have experienced sexual or physical violence, twice the global average (some reports even higher).
The Women's Protection Team that Yodita is a part of has played a crucial role in preventing sexual violence and supporting survivors in Yambio. Yodita's protection team has raised awareness in her community on sexual and gender-based violence, resulting in a reduction of cases and an increase in reporting. Survivors are now aware of and feel more comfortable accessing post-incident services and seeking justice without stigmatization from their communities.
"Just a few weeks ago, we encountered a girl who is only about 7 years old who was sexually assaulted. We took her to the hospital where she gets treatment and counseling," Yodita recounted. "She is traumatized, but she is making progress. Before, if you talked to her, she would just keep quiet and look at you. Now, she is talking again. We are so proud of how strong she has been. This is a living example: because of the help of Nonviolent Peaceforce, we can say we are the peace implementers."
Even with progress towards reducing sexual and gender-based violence, Yodita noted that more work needs to be done, particularly in hard-to-reach places. Transportation constraints restrict her Women's Protection Team access to such areas where sexual and gender-based violence needs to be addressed. Nonviolent Peaceforce has covered transportation expenses for travel to places where people are particularly vulnerable and worked with humanitarian partners to provide bikes for the women.
South Sudan: Healing from Pervasive Sexual Violence
(Excerpt from our latest publication)
On May 25, our staff in South Sudan received a call that three women had been sexually assaulted, beaten, and robbed in their homes in Unity State by a group of armed men and needed protective accompaniment to a safe place. Concerned that there could be another attack the following day, our team immediately went to the location.
"When NP arrived in the place of the attack, it became apparent to our Protection Officers that there were more than three survivors who had not sought medical support in fear of being stigmatized by the community," said Thiago Wolfer, the Interim Head of Mission of Nonviolent Peaceforce (NP) in South Sudan. Wolfer added, "NP encourages survivors to seek critical post-incident service ensuring that survivors know his/her options and can make informed decisions. Whatever the survivor chooses to do, NP is available to support, treating each case with confidentiality and respect."
After our teams spoke to the community on post-incident services available in the area and assisted the first three survivors, other survivors felt comfortable coming forward and seeking help. From May 25 to June 17, 2020, NP helped 16 women and one minor from a single village access critical post-incident support. On average, the team supported four survivors at a time...
The term "conflict-related sexual violence" refers to rape, sexual slavery, forced prostitution, forced pregnancy, forced abortion, enforced sterilization, forced marriage and any other form of sexual violence of comparable gravity perpetrated against women, men, girls or boys that is directly or indirectly linked to a conflict. The term also encompasses trafficking in persons when committed in situations of conflict for the purpose of sexual violence or exploitation.

A consistent concern is that fear and cultural stigma converge to prevent the vast majority of survivors of conflict-related sexual violence from coming forward to report such violence. Practitioners in the field estimate that for each rape reported in connection with a conflict, 10 to 20 cases go undocumented.

While many settings are affected by the threat, occurrence or legacy of conflict-related sexual violence, the Secretary-General's latest report is focused on 19 country situations for which credible information is available.