Democracy Defenders in the Twin Cities, MN, USA
For general inquiries: [email protected]
For press inquiries: [email protected] and [email protected]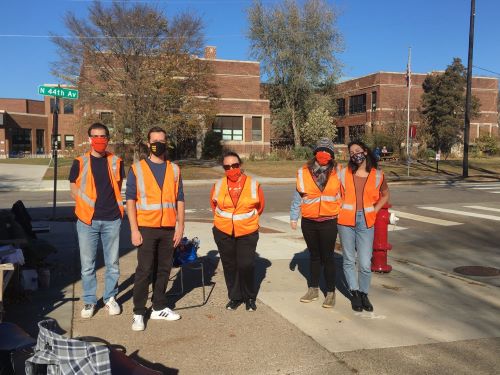 Nonviolent Peaceforce is working with a broad coalition of organizations to mobilize nonpartisan teams of "Democracy Defenders" for the U.S. elections in Minneapolis and St. Paul, MN. Over the past few weeks, Nonviolent Peaceforce has trained 100 poll captains in deescalation, nonviolence, and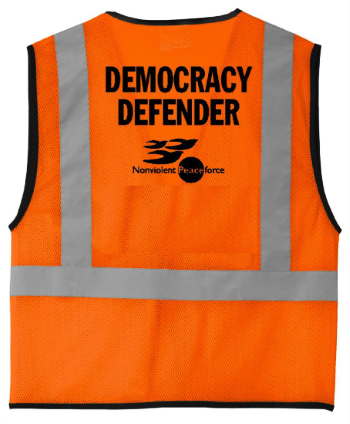 unarmed civilian protection. On November 3, there will be 250 total volunteers who will be mobilized across the Twin Cities, MN to have a proactive and deescalatory violence and ensure that there is no harm or threat of harm to voters.
The Democracy Defenders will be wearing orange vests and staying 100 ft away from the polling locations, as required by Minnesota law. Below, you can find the list of polling locations where we will be located.
Some of our Democracy Defenders on why they are volunteering on November 3:
"I am here because every voter has the right to vote free of harrassment and intimidation. As a community, we get to refuse the erosion of norms and denying people's rights." - Emily Oliver


"I am here to protect every individual's right to vote." -Victoria Nelson
FOLWELL COMMUNITY CENTER
LORING COMMUNITY SCHOOL (4-6)
LUCY CRAFT LANEY SCHOOL
CITYVIEW SCHOOL
FARVIEW PARK RECREATION CENTER (5-2)
NORTH HIGH SCHOOL GYM (5-1)
NORTH COMMONS PARK RECREATION CENTER
FRANKLIN MIDDLE SCHOOL
HARRISON PARK RECREATION CENTER (5-6C)
PHYLLIS WHEATLEY COMM CENTER
MATTHEWS PARK (6-2)
COYLE COMMUNITY CENTER
BETHLEHEM BAPTIST CHURCH
PHILLIPS COMMUNITY CENTER (6-5)
ST. MARY'S UNIVERSITY CENTER
Lyndale Community School
St. Joan of Arc
EAST PHILLIPS PARK (9-4)
CENTRAL GYM PARK RECREATION CENTER (9-1)
POWDERHORN PARK RECREATION CENTER (9-2)
ANDERSEN SCHOOL
WALKER COMMUNITY CHURCH
SPRING HOUSE MINISTRY CENTER
MAXFIELD SCHOOL (W-1 P-5)
JIMMY LEE RECREATION CENTER (W-1 P-6)
ST. STEPHANUS LUTHERAN CHURCH
WASHINGTON TECHNOLOGY SCHOOL (W-5 P-4)
RAVOUX HIGH RISE
JACKSON SCHOOL
HOUSE OF PRAYER LUTHERAN CHURCH
HOUSE OF PRAYER LUTHERAN CHURCH
HOUSE OF HOPE LUTHERN CHURCH
PLYMOUTH CONGREGATIONAL CHURCH
You can protect civilians who are living in or fleeing violent conflict. Your contribution will transform the world's response to conflict.