Embracing Community Amidst Struggle and Transformation 
By Kelly Mielke
Special thanks to Jeanelle Austin, Executive Director at George Floyd Global Memorial for contributing to this piece!
In a world that often feels divided, separated, and disconnected, noticing moments of togetherness and connection provides much-needed relief.
This is one of the biggest lessons I have carried with me through my community work—which has grown stronger in my time as a volunteer, and later as a staff member with Nonviolent Peaceforce (NP).
I was new to Minnesota when I noticed so much of the community coming together after the murder of George Floyd in 2020. That fall, one of the ways I found that sense of togetherness and connection was through mutual safety work when I became a volunteer with NP during the elections. Later, I volunteered again with NP to cultivate safety in the community leading up to Derek Chauvin's trial the following spring.
It only felt right that when I was able to join NP as a staff member earlier this year, one of the first things I worked on was the annual George Floyd memorial events, hosted by the George Floyd Global Memorial, a George Floyd family and Black-led nonprofit. I had been invited to serve on the planning team for the events, which serve to honor and remember George Floyd's life, as well as all lives lost to racism and police/state violence.
NP's (and my) perspective is to be aware of whose leadership is centered. As Ayanna Pressley has often said, "Those closest to the pain should be closest to the power." As a white person, it is important for me to follow Black leadership in the movement for Black liberation. This meant that I set my own decision-making aside, supported coordinating efforts and logistics with the planning team, and aided in finding resources to fulfill the needs of the festival.
Every year, the events include a vigil, a gala, and a festival. This year, for the first time, a two-day conference was added with a focus on pursuing racial justice and equity by sharing tools for Black liberation.
Every day of the year, the community carefully and lovingly tends to the memorial, where people from around the world come to visit and leave offerings. There are gardens to tend, free clothing to offer in the former bus shelter now called "People's Closet," and free books in the People's Library. People show up for each other every day here, under the former Speedway gas station, even in the winter. All of the work done to care for people and space at George Floyd Square, where George Floyd took his last breath, is a part of the Black-led movement for Black liberation.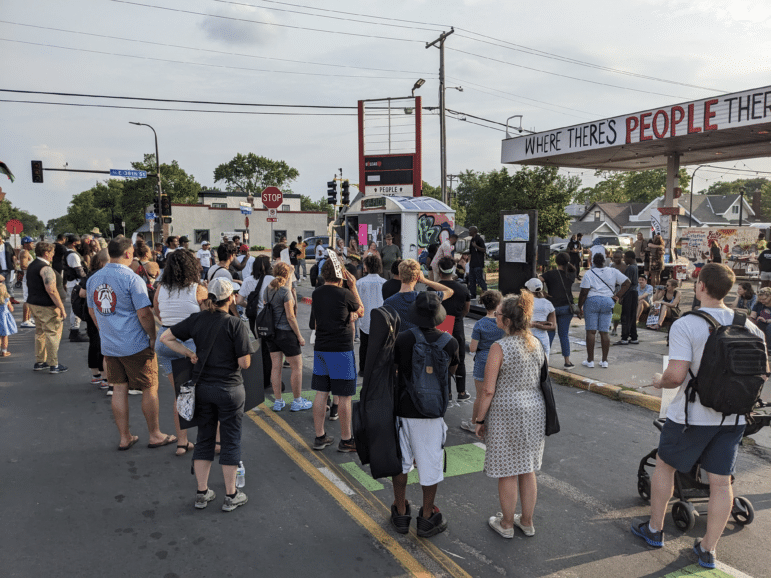 This is what community looks like: a space for connection and listening. For reimagining safety. For strengthening the movement for Black liberation.
I have experienced the space as a place of healing as a community, but also a place for challenging and uncomfortable calls to action to end racism and state violence. George Floyd Square has become a grounding and anchoring place for me, as it has for so many others. Finding spaces where I can come to feel anchored in community, centering those most impacted by unjust systems, has been important in my journey to be a part of change.
Just like everywhere in the United States, there are differing opinions about how to reimagine safety here in Minneapolis. I've experienced first-hand the importance of non-partisanship when people come together with differing ideas of what building a safe future means to them. I am a natural people-connector and community-builder, but I believe NP's training has deepened my understanding of the importance of non-partisanship in community-led work. In order for everyone to feel safe in reimagining safety together, everyone needs to feel equally seen and heard as a part of the conversation/community. Achieving this requires intentional effort from all community members, and recognition that this work is—and must continue to be—Black-led.
The beauty of this work is that it's messy and downright hard, but we get to co-create it together. And when we come together, as we did this past May for the vigil and festival, we are reminded that although the work of justice and reimagining safety remains unfinished, we can wrestle with it as we support each other.
You can protect civilians who are living in or fleeing violent conflict. Your contribution will transform the world's response to conflict.