First Look: Reaching Out to Lelo
"I am glad that NP is here to listen." In January, NP started working alongside Lelo Payam, South Sudan—a community faced with violent conflict, devastating floods, and a lack of humanitarian assistance.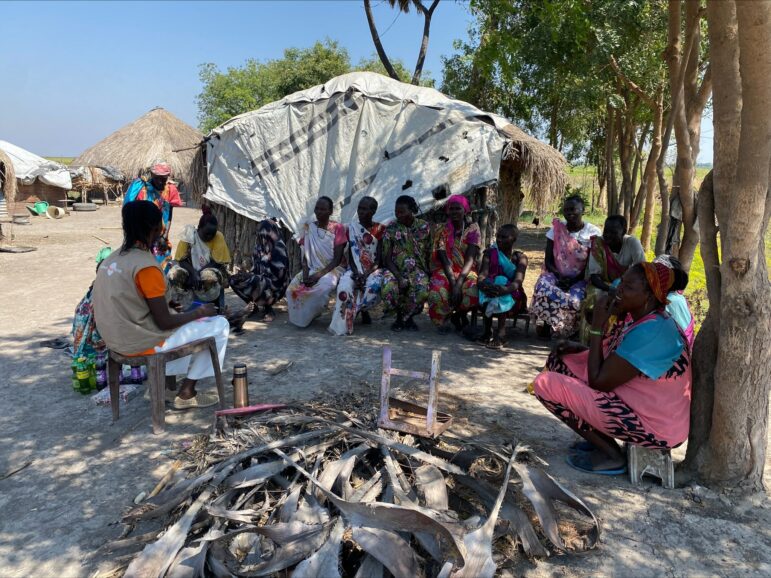 Holding space to address conflict & concerns
NP's first step is always listening to the community. Sometimes that is by talking over tea or coffee, and sometimes that is by gathering in a circle under the shade of a tree.
No matter the setting, NP holds "community protection meetings" as safe spaces for community representatives to discuss the safety and security concerns they are facing together.
During a community protection meeting with NP and key community leaders—including chiefs and the local administrator—attendees recognized their shared fear of attack by the armed groups just outside Lelo. They highlighted how this fear restricts community members from travelling outside the village, preventing them from engaging in essential tasks, including gathering firewood, producing charcoal, and daily agricultural activities.
The space to do these livelihood tasks has shrunk due to climate factors as well. Seasonal floods have devastated Lelo, leaving the community vulnerable to food insecurity and more susceptible to conditions that fuel violent conflicts.
"Farming and charcoal making has been our major sources of livelihood, but due to the flooding and fear of being killed/attacked by the gunmen outside Lelo payam, we cannot do that."

—local man, Community Protection Meeting, Lelo Payam
Through dialogue and reflective listening, they start to explore ways to collectively address issues. By starting with the building blocks of the community protection meetings, NP moves forward with the community in the driver's seat.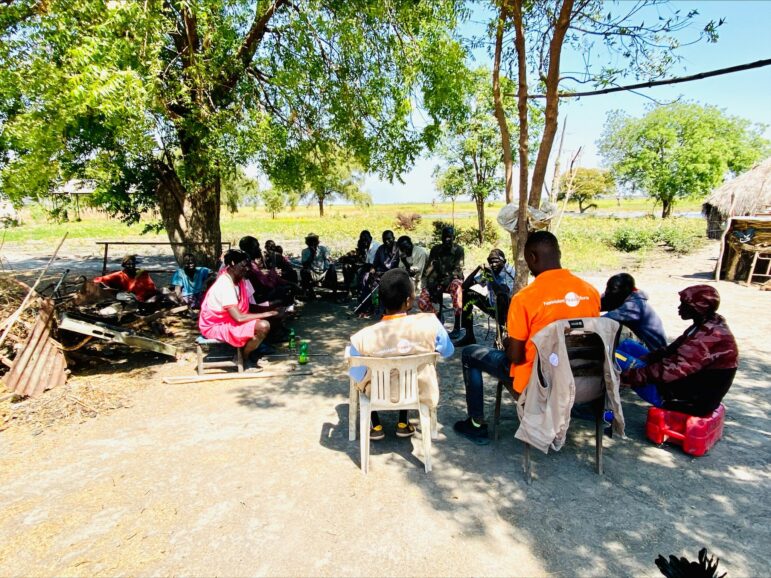 Creating space for humanitarian support
Despite worsening violent conflict and climate change, almost no humanitarians have visited the area to address issues like healthcare, water, farming, and education. Each of these components are connected to NP's mission of enhancing protection, safety, and security concerns alongside communities.
At the latest community protection meeting, community leaders went on to express disappointment over the fact that humanitarian aid organizations have not reached out to Lelo, with the exception of International Medical Corps (IMC). The IMC previously visited Lelo, conducted assessments, and trained a group of local health workers in the area. While Lelo now has community health workers, they lack medical supplies to provide aid. The attendees stressed the community's need for further support.
"I am glad that NP is here to listen to our concerns even though you don't provide material aid. This alone is a hope to us that our concerns will reach the right NGOs to support us with the right skills and aid."

— Chief from Lelo Payam
While visiting, NP's team only observed one water point that is shared by all six communities that live in Lelo Payam. The local administrator shared this concern:
"We only have one generator water pump to support our dry season irrigation and gardening. This sometimes causes conflict between individuals who want to use it at the same time. We urge and request that NGOs support us with additional farming tools and generators."
The community members also discussed the failing state of Lelo's education system and concerns for their children. Currently, there aren't any incentives for the few available teachers or local volunteers that have offered to help their community by teaching the children.
One former volunteer teacher shared, "I was a volunteer teacher in Obua, the neighbouring village under Lelo Payam, but due to the unavailability of teaching aids, I cannot support the children in this community, which is why they are mostly playing in the water and it is also dangerous." 
Between drowning, risks of a snake or other animal attacks, diseases, and violence, the floodwaters are not a safe place for anyone—let alone children—to be in.
But with your support, NP is optimistic about this new work alongside Lelo Payam. Together, we will work to decrease incidents of violence and connect the community with humanitarian organizations that can meet essential needs. From accompanying medical humanitarian workers, to facilitating mediations at the shared water pump, to hosting child-safe spaces so kids stay out of the water, there are endless possibilities for co-creating a safe and resilient community in Lelo. We look forward to sharing more updates on this work as it continues.
* * *
This activity is a part of our project with Solidarités International (SI) to support community resilience and nonviolent conflict management in conflict and flood-affected areas of Upper Nile and Jonglei States, South Sudan, which is funded by the European Union and supporters like you.
You can protect civilians who are living in or fleeing violent conflict. Your contribution will transform the world's response to conflict.