Good news from Washington! Appropriations Bill passes and includes Unarmed Civilian Protection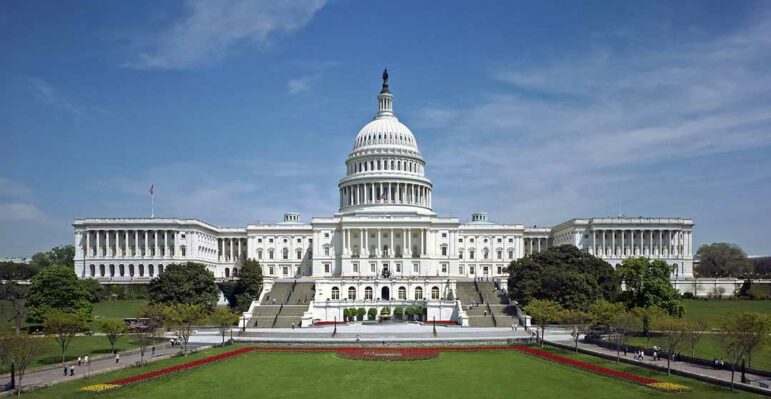 In great news from Washington D.C., the – very delayed – Appropriations Bills for 2022 have passed, once again with recognition of the importance of Unarmed Civilian Protection, and for funding that supports sustainable peace. At this critical time in global affairs, this acknowledgement is something to be celebrated.
Congress and President Biden signaled strong support for the essential work of Unarmed Civilian Protection in the Fiscal Year 2022 Appropriations Bills through the following language, contained in the report that accompanies the bill:
Unarmed civilian protection.—The Committee directs the Secretary of State, in consultation with the USAID Administrator, to provide funds for use of unarmed civilian protection organizations and evaluate the potential use of such organizations to provide direct physical protection to civilian populations, to strengthen the local non-violent peacekeeping capacity of communities currently experiencing or at risk of violent conflict, and to assist United States-funded stabilization efforts. The Secretary shall consult with the Committees on Appropriations on such programs.
It is fantastic to see Congress and President Biden emphasise the importance of Unarmed Civilian Protection in this way, and we will be closely monitoring how the Secretary of State and USAID work to implement this consideration.
In addition, Nonviolent Peaceforce works closely with other protection and peacebuilding organizations to advocate for support for policies and programs for sustainable peace. Alongside our coalition colleagues in the Prevention and Protection Working Group and Alliance for Peacebuilding, we've achieved some big wins in the FY22 Appropriations Bills, including:
A doubling of funding for the Complex Crises Fund to $60M, to prevent and respond to early warning signs of mass atrocities and escalating conflicts
Increases in funding for key bureaus that focus specifically on preventing and resolving violent conflicts, including Bureau of Conflict and Stabilization Operations, the Human Rights and Democracy Fund (State), and the Prevention and Stabilization Fund
Additional funds to support civil society and peacebuilding in key areas that Nonviolent Peaceforce works, including South Sudan and Myanmar
Hundreds of you wrote and called your Members of Congress and Senators about supporting Unarmed Civilian Protection, and we thank you so much for your ongoing support.
Our work is not yet done – we're now straight into advocating for even more support in for Financial Year 2023. At this critical time for civilians around the world, we're asking Congress to build on their support of Unarmed Civilian Protection with a specific appropriation of $25 million.
You can help! Please reach out to your Members of Congress and Senators, and share why funding for Unarmed Civilian Protection is something you care about! Constituent Appropriations requests can be submitted via Member websites, or you reach out to them and ask to submit a request.
With all our thanks!
Felicity Gray
Advocacy Lead – Washington D.C.
You can protect civilians who are living in or fleeing violent conflict. Your contribution will transform the world's response to conflict.