NP Philippines Quarterly Newsletter - July-August 2013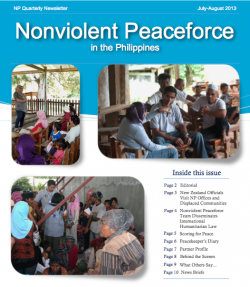 Welcome to the fourth issue of Nonviolent Peaceforce (NP) in the Philippines' Quarterly Newsletter.
July 18 has been declared by the United Nations as the Nelson Mandela International Day to "acknowledge his contribution to the struggle for democracy and the promotion of a culture of peace throughout the world."
August 12 marked the 64th anniversary of the ratification of the Geneva Conventions, the cornerstone of International Humanitarian Law. The Conventions, comprising four treaties, focus on the humanitarian treatment of wounded and sick soldiers, shipwrecked military personnel, prisoners of war and civilians in time of war.
In light of these milestones, we share stories from the field to illustrate our commitment to peace and the promotion of human rights.
Our first story features the visit of New Zealand officials which included partners and affected communities in Maguindanao.
Next we report on how one of our teams disseminated International Humanitarian Law to a base command of the Moro Islamic Liberation Front (MILF).
Another story is about the Olympeace basketball tournament in which our team participated, and won. The tournament aimed at bringing together peace stakeholders, espousing sportsmanship between teams and fostering camaraderie.
Also in this issue, Rocelyn Labalan, one of our National Civilian Peacekeepers, shares her thoughts on why the vocation she has chosen can be considered a "road less travelled."
Completing the round-up of stories are a thanksgiving to one of our partners whose program has just ended, a look at how some of our staff members work behind the scenes, as well as NP's recent signing with the Code of Conduct of the International Red Cross and Red Crescent Movement and NGOs in Disaster Relief.
A lot has happened since we last went to press, and NP will continue to do its best to contribute to the protection of civilians affected by armed clashes of which, unfortunately, there has been an increasing number as of late.
Paul Mettler Country Director
You can protect civilians who are living in or fleeing violent conflict. Your contribution will transform the world's response to conflict.