Reflections of a Peacekeeper: Kingsley Ayettey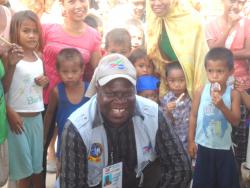 Relationships are vital in order to be an effective Unarmed Civilian Peacekeeper (UCP)*. They must first be established and more importantly they must then be cultivated so that trust is established. Trust allows us to work with a variety of actors, including civilians who after experiencing decades of violent conflict are often hesitant to take proactive steps towards peace due to security concerns and disillusionment. Trust also ensures our security along with our neutrality, independence and nonpartisanship. We are unarmed and we work within a conflict environment. Our security does not come from weapons but from acceptance.
I come from Ghana and joined NP in the Philippines in October 2010. I also served as a UCP for NP in Sri Lanka for 3 years and 9 months (July 2005 to April 2009). I am quite a big fellow in comparison to the average Filipino, who has a rather quiet demeanor, at least in comparison to my own. I'm often described as "gregarious".
Prior to going out in the field, I always practice my basic Tagalog, Visayas and Maranao languages. Lanao province where I work is ethnically and linguistically diverse. I find the use of local greetings before a meeting or a community orientation on NP's work creates a relaxed atmosphere and always elicits the same reaction – a smile, be they on the face of a Moro Islamic Liberation Front member, a soldier, a police officer or a civilian.
The last month has been a busy one. My colleagues and myself have visited ten municipalities in four different provinces. We have been conducting community orientations on the Framework Agreement on the Bangsamoro, signed between the MILF and the GPH in October 2012, which is not a final peace agreement but constitutes a major step towards one. It envisions a new government for the Muslim south that would raise its own revenues and have its own police and judiciary. I am deeply impressed by the enthusiasm, patience and optimism of the people of Mindanao towards the recent development. Our support as UCPs is still vital despite the new optimism and sense of expectation surrounding Mindanao. Protection needs remain persistent and acute.
After every day, back in the office, the team will always debrief the day's activities. Sometimes some contentious interactions occur during debriefing, but it is all in the quest for lessons learnt. We are a diverse group. Here in Lanao, our team offers something just by being together – our presence in the field offers an example of coexistence in diversity. We come from nations large and small, rich and poor. We are Muslim, Christian and Hindu. We vary in age, ethnicity and experience. Some excel in writing, others have acute analytical or diplomatic skills, while others are acutely empathetic. And some even shine by dint of their humour, but we are united in our quest and determination to foster peace for Kapayapaan, Kalinaw and Kalilintad in Tagalog, Visayas and Maranao, respectively.
By Kingsley Ayettey
* An Unarmed Civilian Peacekeper, is a person that have successfully conducted the 10 days Preparedness training on Unarmed Civilian Peacekeeping, and are deployed to the field as either International or National Civilian peacekeeping and protection officer (ICP or NCP)
You can protect civilians who are living in or fleeing violent conflict. Your contribution will transform the world's response to conflict.