Remembering Bosco Kwori 
Remembering Bosco Kwori, Senior Logistics Officer NPSS-Juba.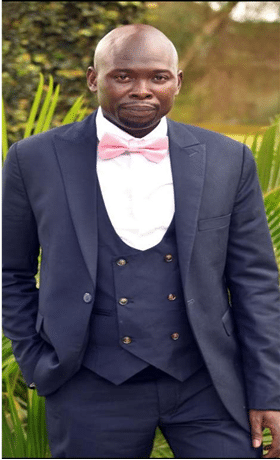 Kwori Bosco Yugu Jansuk joined Nonviolent Peaceforce South Sudan on 2nd of September 2019 as Senior Logistics officer, a position he held until his demise on 27th April 2023.
At the work place, Bosco - as he was affectionately known, provided crucial operations support to all NP staff including those at Juba main office and NP field sites i.e. Malakal, Ulang, Lankien, Walgak, Mundri, Ganyliel, Bentiu POC, Juba POC, Yei, Tonj and Pibor. Bosco was natural, he had a unique and yet special nick name for almost everyone at the office. He constantly brought laughter, commitment, openness and individual connections to all his workmates, which made him a unique and special team player.
It was with heartbreaking sadness that NPSS staff woke up to a message of sadness from Boco's family that stated:
"The family of Hon. James Janka Duku of Kasurak Lototom Kinyi'ba Boma with deep sorrow announces the untimely death of Kwori Bosco (the son of his late brother Mr. Chaplin Yuggu Janka, also known as Jukalu), who passed away in Kampala at Mulago Hospital this morning (on 27th April 2023) at 7am EAT.
Despite complaining of health problems in the past few months, Bosco celebrated his wedding on 16th March 2023, an event that that demonstrated his commitment to family. Bosco leaves behind a wife and 4 young children.
Bosco's body will be laid to rest on 5th May 2023. Nonviolent Peaceforce Globally and South Sudan Team in particular have lost a colleague, friend and a family member who will be dearly missed and irreplaceable. 
---
A Celebration of Bosco's Life
Special Memories & Messages from NP South Sudan Staff
Riaz Faiza, Deputy Head of Mission/ Director of Operation: Kwori Bosco was a kind and compassionate person who always went above and beyond to help others. His smile and positive attitude always brightened our workplace, and his dedication to his work was an inspiration to us all. We are going to miss Kwori Bosco presence, smile and jokes every day at work. Our thoughts and prayers are with Kwori Bosco's family during this difficult time. We hope that they find comfort in knowing how much Kwori Bosco was loved and respected by his colleagues and friends.
Akuei Alphayo, previous Logistic Intern: The few months I spent at Nonviolent Peaceforce in Juba South Sudan, you stood with me, coached and mentored me in my professional paths, and above all, you served a great duty of being senior Logistician (Senior Logistics officer), Now you left a young family behind and their lives would be very difficult. Your love for people within the Organization and beyond was not associated with the current tribal ethnicity in the country. Though you are no more today, you have seeds planted. They will be looked after for they are people of tomorrow. The entire family of Nonviolent Peaceforce, and that of your family, will surely miss your great service! RIP my brother Senior Logistics officer
Sokiri Victor, casual driver of NP: My Former Line Manager, A Line Manager who has never been selfish to me when I needed his help at Nonviolent Peaceforce, from 2019 to 2020. When you arrived at NP, you were a gift from God to me that is why I kept checking on you whenever I was passing by the former place of work. Indeed, people with good hearts don't live longer!
Odong Joseph Okech, IT Officer: A person who possesses the qualities of being remarkable, highly intelligent, amiable, encouraging, and dedicated is truly admirable. They have the ability to inspire and motivate others with their positive attitude and unwavering commitment towards their goals. Their intelligence and amiable nature make them approachable and easy to work with, while their encouragement and dedication help others to achieve their own goals. Such a person is a valuable asset to any team or community, and their presence can make a significant difference in the lives of those around them. Our late brother, Kwori Bosco Jansuk happened to bear it all! We will indeed miss him in all aspects. May God bless the family of our late brother!
Mori Sam Duku, former Program Assistant of NP: If we are fortunate, we are given a warning. If not, there is only the sudden horror, the wrench of being torn apart; of being reminded that nothing is permanent, not even the ones we love, the ones our lives revolve around. Life is a fragile affair, we are all dancing on the edge of a precipice, a dizzying cliff so high we can't see the bottom. One by one, we lose those we love most into the dark ravine. So, we must cherish them without reservation. Now. Today. This minute. We will lose the more they will lose us someday. This is certain. There is no time for bickering. And their loss will leave a great pit in our hearts; a pit we struggle to avoid during the day and fall into at night. Some, unable to accept this loss, unable to determine the worth of life without them, jump into that black pit spiritually or physically, hoping to find them there. And some survive the shock, the denial, the horror, the bargaining, the barren, empty aching, the unanswered prayers, the sleepless nights when their breath is crushed under the weight of silence and all that it means. Somehow, some survive all that and, like a flower opening after a storm, they slowly begin to remember the one they lost in a different way... The laughter, the irrepressible spirit, the generous heart, the way their smile made them feel, the encouragement they gave even as their own dreams were dying. We will still cry. We will always cry. But with loving reflection more than hopeless longing. And that is how we survive. That is how the story should end. That is how they would want it to be. And in time, they fill the pit with other memories. The only memories that really matter. Rest in eternity.
Jeeva, Program Manager: Bosco is a person who always has smile on his face. He is committed to his work and Tasks. Who manage stressful environments gently without hurting anyone. We missed Bosco and who cannot be replaced to his family any more.
Civic Engagement Team: We were disheartened to learn of the passing of our colleague Bosco, a very personable, jovial and all-embracing colleague. Whenever there was an issue regarding logistics for the Civic Engagement team and it was brought to the attention of Bosco, he always saw to it that it was resolved and endeavored to communicate to us at all times. He always told us his colleagues to calm down in the midst of pressure; reassuring us that everything would be done well. In midst of tension, he offered peace-what a UCPeer.....! We found him very solution oriented in the midst of crisis and he was dedicated to his work often working up to late in the night. He had a special way of addressing everyone distinctly with concern and compassion. We will deeply miss his ever-present character. He'll always be in our hearts!
Khemis Benjamin, Logistic Assistant: Kwori Bosco was patient and polity with excellency characteristics and ready to give support to anyone who needs support from him.
Joan Alice, Admin Officer: Bosco is known as a great advisor and a positive thinker. He praises one in all aspects like conduct, dressing, speech, etc as such he nick named all staff accordingly and he always calls me "minister of gender, good material"!!! Bosco is a loving, friendly and more than a brother to me. He has never had problem with me or with a staff and if a staff has problem he will advise and support morally. He is a very hard-working person, a mentor for hard work. Late Bosco is a prayerful person with much trust in God with prayer & fasting. To mention but a few, may his soul rejoice with the angles in heaven. Amen
Lemi Clement Peterson, Program Assistant: Late Bosco was really more than just a colleague to me because of his compassion to people, willingness to participate, courageousness and boldness to overcome. He is really Lionhearted and true definition of a brother not just a colleague. May Almighty God grant his soul Peace Amen
Bakata Henry, Human Resource Officer: We often say that the hour of death cannot be forecast. When we say this, we imagine this hour would be in a distant future. We never thought Kwori Bosco Could depart us so easily. Bosco was a unique individual with unique character and passion for everyone, the way he relates himself with other colleagues was very special, he was such an Amusing individual who could give nicknames to everyone who work closely with him. Bosco was not only a colleague to me but also brother where we share so many stories together. Bosco was a devoted and dedicated worker who commits all his time for the work of the organization. Bosco would not pass anyone without been greeted. We will profoundly miss him. May his Soul rest in eternal peace!!
Lomira John, Fleet Assistant: I started knowing Kwori Bosco when he joined NPSS in September 2019 as senior logistic officer. So, I started studying Kwori Bosco whether he is a nice person to work with or not, Then I started realizing that Kwori Bosco is the person of the people and he loves his employees. In terms of work, Kwori Bosco is a hard-working person whereby I enjoyed working with him as my supervisor, I am going to miss him for good but his words are going to remain with me, I did not get any challenges from him. he taught me in my logistics work even how to do some Microsoft excel, how to prepare fuel reports. Now Kwori Bosco is no more with me. Kwori Bosco, you used to be like an elderly brother to me, you encouraged me to work hard, now you are no more who will encourage me like you were doing to me! my heart is broken bro. Kwori Bosco used to call me (MONYOMIJI), The meaning of Monyomiji is YOUTHS whereby if he calls me MONYOMIJI I feel like I have someone who speaks my language in NP office, I felt proud of him and now you are no more with me anymore. I am going to miss you my hero brother, you left me lonely in the office Monyomiji. Kwori Bosco May almighty father receive your whole spirit at his right hand and until we meet a gain my hero brother Amen.
Apai Dorothy, Finance Office: The Late Bosco was a Soul that was Everybody's Person. Very Peaceful at all times, Cheerful Heart, Genuinely Smiles to everyone any time. Moving around every office to greet everyone and see how they are doing and brighten up the environment, this was his Uniqueness. May the Almighty Rest his humble soul in Peace.
Sugar Jany, Pathot M&E officer: Bostilisitc, the pet name I called the late, it's been a blessing working with Bosco. He taught me how to cope with life and he offered thousands of advices to pray and praise Almighty when facing difficult situations. Everyone is grieving along with his family; the social media tells me more that Bosco is a man for all and his friends are devastated. Bosco was an inspiration to us all, and the memory of his courage, kind words, and constant compassion will always be treasured among us who knew him. I feel empty without him.
Mel Duncan, Founding Director: I am deeply saddened to hear today of Bosco's death. I have known him and respected him for several years. I just saw him a few weeks ago. He was a man of talent and integrity who contributed much to creating peace in South Sudan. His legacy will live on, I will keep your family in my prayers. In grief and hope.
Rosemary Kabaki, Head of Mission: I will miss the presence of Bosco in the office daily. One could tell where Bosco was, the place to find Bosco was the place where there was laughter, or the place where there was an ongoing animated discussions about how to best resolve an ongoing challenge that has cropped up, or the place where a person needed an ear to discuss a concern they had. It is encouraging to be surrounded by UCPeers on a daily basis, especially when they are in the logistics department. And Kwori Bosco had internalized UCP principles and values to such an extent that we saw them daily in NPSS. Bosco reminded us all that Building relationships, is something we do everyday, as he daily went around the office touching each and everyone of us, personally and professionally.
You can protect civilians who are living in or fleeing violent conflict. Your contribution will transform the world's response to conflict.