Working together to keep Ukrainians safe  
"Each of us is a human, a personality. Only after that are we a procurement officer or a protection officer."
Bella Khanameryan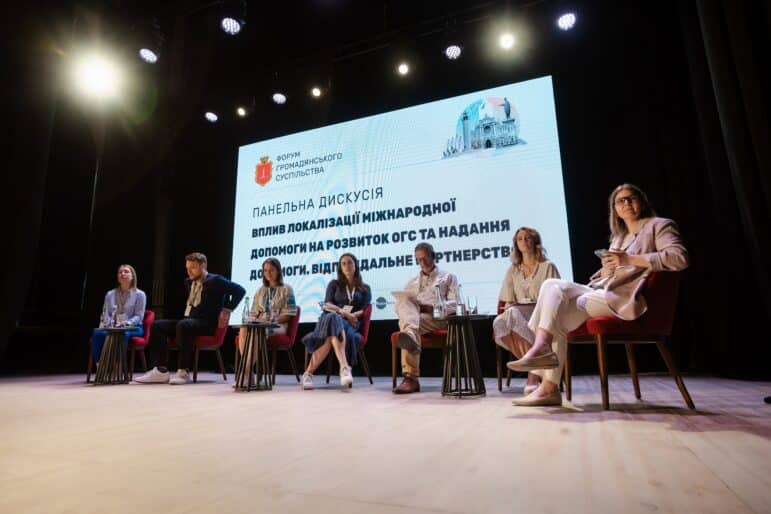 It was six months into the war and the international humanitarian organizations had delivered millions of dollars of aid to Ukraine. But only aid. The local volunteer organizations distributing aid were never asked if they had the cars they needed to distribute the aid or fuel for those cars. Did they have the personal protective equipment (PPE) to stay safe while they worked near the front lines? Did they have medical and psychological first-aid training to take care of their bodies and minds?
Since we began working in Ukraine, Nonviolent Peaceforce (NP) has been working as a bridge between the local organizations doing the on-the-ground work and the international humanitarian organizations with the resources to fund this work. We've consistently raised the alarm about the disconnect among them, despite calls for "localization" in the humanitarian sector.
One of the challenges is that the organizations and people working in a crisis setting don't all share the same meaning or understanding of what localization means, or whether it is a useful principle at all. At Nonviolent Peaceforce, we have seen how localization can mean internationals outsourcing the greatest risk of protection work to locals. At NP, we focus instead on the simple tactic of being locally centered and led.
When the Odesa City Council approached us to co-create a forum for civil society actors we knew this would be an important opportunity for relationship-building among all those that work together in extremely challenging situations. The goal of the June forum, titled "Development and partnership - the way to build peace in Ukraine," was to create a safe and open space to discuss sensitive issues like "localization" and to promote networking and cooperation with government authorities, volunteers, civil society and international organizations.
The first part of the forum was an open discussion with the mayor where local actors and volunteers could ask him anything. Then we worked with local organizations to discuss how to improve their internal capacity, so their work is sustainable. Finally, we had a panel discussion on the topic of localization. While it is an ongoing challenge to develop a shared understanding of localization, the panel successfully brought together staff from the Ukraine Humanitarian Fund (a fund of the United Nations) with local volunteer groups to discuss how they could all work better together.
NP invited our local partners from Odesa, Kharkiv, Kherson, and Mykolaiv. 160 people registered for the forum, but 260 people showed up! The forum met so that people directly working for peace and safety received reliable and understandable information – about how they could reduce their risks and how they could connect to the resources they needed most. The forum also provided an opportunity for these local groups to have a direct connection with authorities and donors, whether that is the City Council or the staff at the Ukraine Humanitarian Fund. The decisions of the authorities have a lot of impact on local volunteers and a strong relationship means that their work is carried out more effectively and safely.  
Each of us is a human, a personality. Only after that are we a procurement officer or a protection officer. The forum gave time for the local volunteers, the international humanitarian agency staff, and the government officials to have time to speak with one another, not only about their work, but about their dreams. When we are on the same page mentally and spiritually … only after that can we create something together.
And we've already seen that co-creation working. Since the forum in June, the Ukraine Humanitarian Fund organized a working group. The participants are local organizations, volunteers, and international organizations funded by Fund grants. They are working together to provide recommendations on how the Fund can make changes to work more closely and efficiently with local groups.
Forums like the one NP co-organized support this ongoing process of shifting engagement with local communities as leaders in their own protection and action. It makes it possible for Ukrainian local volunteers, humanitarian agencies, and authorities to keep more people safe amidst an ongoing war.
You can protect civilians who are living in or fleeing violent conflict. Your contribution will transform the world's response to conflict.