We sat down with Hannan Mahamoon, one of the two members of the Women Protection Teams (WPT) who are now serving on South Sudan's Covid Prevention Task Force, providing leadership to the national response.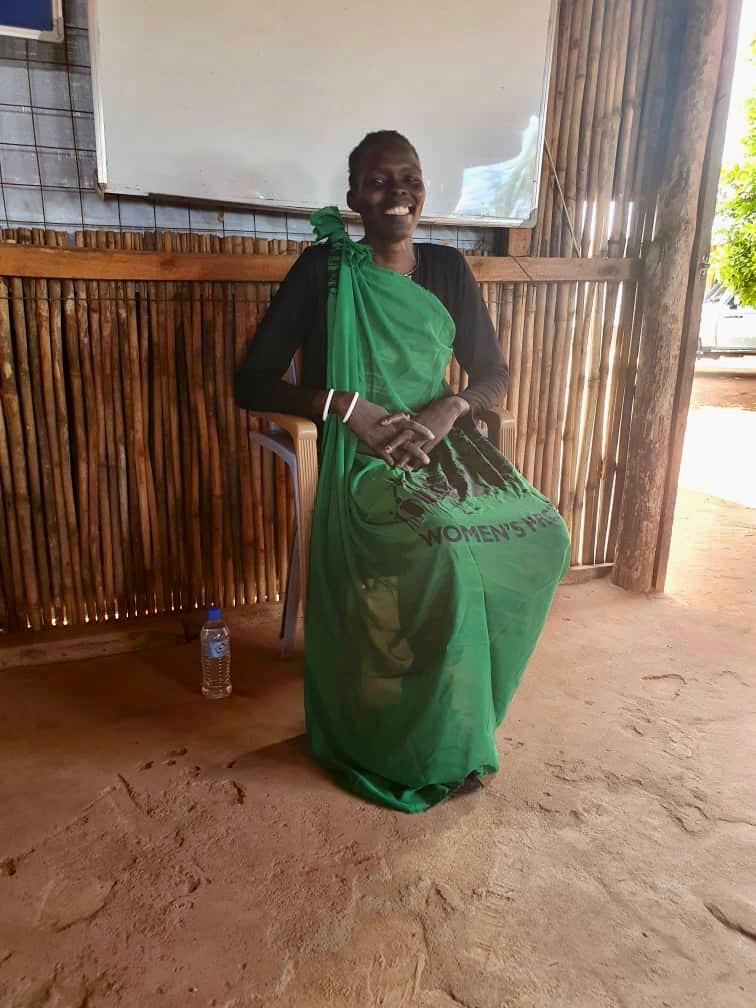 Pivoting to a new role and responding to COVID-19
After training with Nonviolent Peaceforce, Hannan Mahamoon has been serving her community as a Women's Protection Team member since 2015, acting in various leadership roles. She lives in a camp for internally displaced persons (IDPs) just outside of Juba, the capitol of South Sudan, where she also serves on the camp management committee as a Human Rights Coordinator for the IDP community.
Hannan is now also a member of a taskforce she didn't see coming: the 'established community task force for prevention of Covid-19' in the camp.
"We are raising awareness in the community every day by going door-to-door to houses and stopping by popular gathering places, such as water points, restaurants, hospitals, and resource distribution sites," assured Hannon.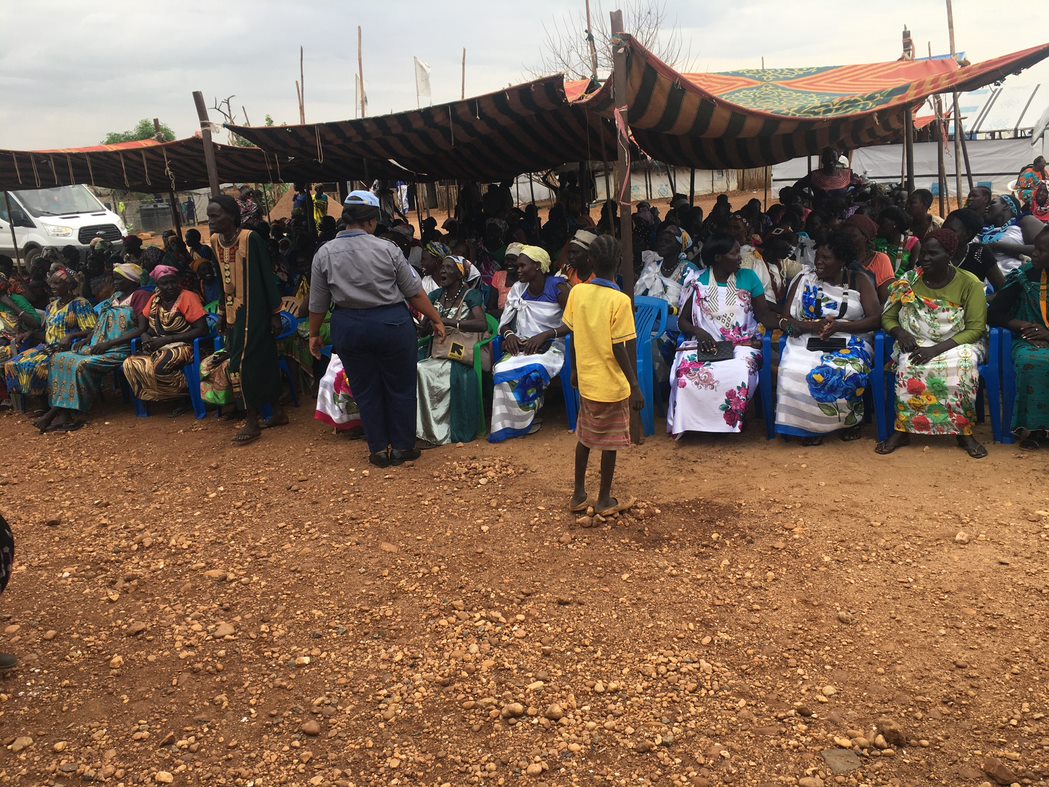 Celebrating International Women's Day at the Camp March 2020,
before Covid-19 reached South Sudan
Dispelling Deadly Rumors
"However, our community hasn't taken the preventive measures very seriously. They strongly believe that Covid-19 will not reach the camps due to either the heat in South Sudan, or other rumors."
Around the world, we are seeing how rumors can be deadly in a pandemic. But even before Covid-19, Hannon had seen how rumors have the potential to lead to deadly violence—and how dispelling rumors can save lives. So, transitioning to the Covid-19 taskforce was a natural move for her. Through training with Nonviolent Peaceforce and years of experience on her Women's Protection Team, Hannon is well-versed in explaining difficult topics to others in order to protect her community.
"Because of how the community has reacted to the rumors, we are increasing our awareness-raising sessions and putting more effort into controlling any Covid-19 rumors that are spreading in the camps."
Hannon stressed the incredible urgency of community buy-in for prevention. As of May 8, there were 90 confirmed cases of Covid-19 in South Sudan. But there are only 4 ventilators for the country of 11 million people. "In the camp, we do not have any kind of health facilities that are focusing on prevention and treatment of Covid-19, and the new arrivals are not tested, nor isolated for fourteen days upon their arrival as a preventive measure to protect others from getting infected. The risk of the spread and getting infected by Covid-19 is high."
Hannon and the taskforce are working closely with the camp leaders to promote proper hygiene practices. In particular, people still greet each other with handshakes—although greeting without handshake is culturally assumed to be disrespectful, Hannon is working to make her community aware of the current health risks.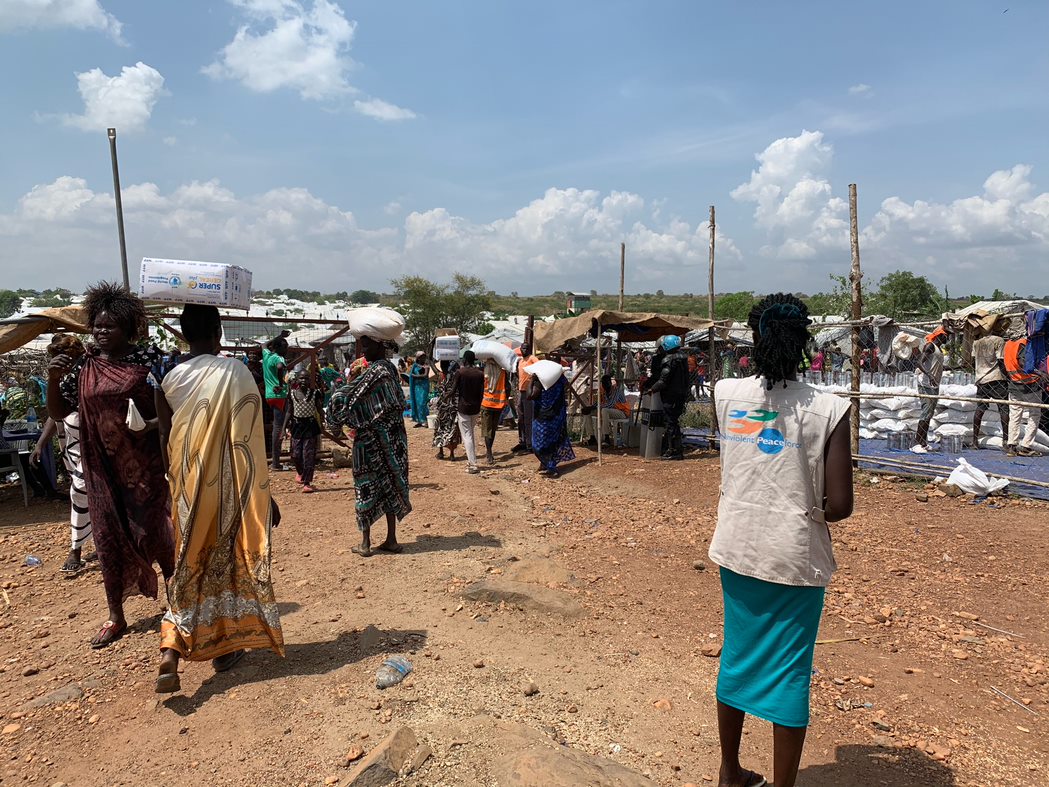 Nonviolent Peaceforce staff at the camp,
before Covid-19 reached South Sudan
Facing Additional Challenges
Sharing life-saving information is only part of the challenge for Hannon.
The limitations in the camp can make it difficult for the community to adhere to safety guidelines. The water points are overcrowded. And, the shelters are made of plastic sheets that get very hot during the daytime, making it challenging for adults and children to remain in their shelters and practice social distancing.
Another difficulty? Managing the children. "The schools have closed down to prevent the spread of Covid-19, but now the children are moving around looking for food and charcoal. I have 4 girls and 2 boys of my own, so I know it isn't easy to manage children," Hannon acknowledged.
Concerns are also raised about the high incidents of gender-based violence and domestic violence cases. And, some of the most vulnerable women and girls in the camp were not registered to receive the two months' food rations from humanitarian groups. Hannon worries about female-headed households and unaccompanied girls who were already more vulnerable to sexual exploitation—even more so now.
The entire globe is experiencing Covid-19, but the most vulnerable are hit the hardest. "It is very important for our community to accept the WHO standards of preventive measures and we as community leaders are trying to convince the IDPs to apply the recommended preventive measures," Hannon emphasized.
Nonviolent Peaceforce has been engaging and empowering Women's Protection Groups in various capacity building activities—Hannan is one of the beneficiaries of these ongoing engagements. "Thank you for standing with us during these unprecedented times. You support Hannon and other leaders like her throughout the pandemic," from Interim Head of Mission in South Sudan, Thiago Wolfer.