Creating Safer Space launches Database
The Creating Safer Space research network (Aberystwyth University) has launched its UCP Research Database, making it easier to share and access Unarmed Civilian Protection resources.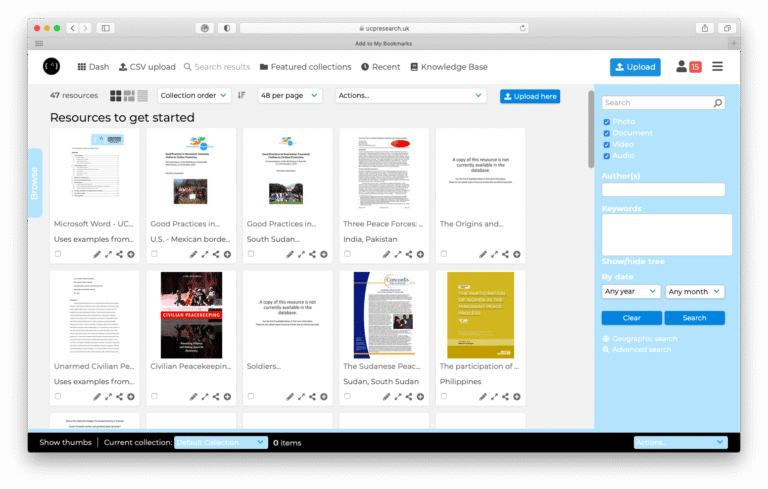 Although communities have used UCP for generations, there is an urgent need to research and document the initiatives on the ground. There are now more than 70 known groups that practice UCP. However, this does not account for the vast range of community-level UCP initiatives, of which there are countless examples.
In addition to funding 21 research projects around the world (including in 10 countries in the Global South), the Creating Safer Space research network has compiled existing research—making it easier for others to join to conversation.
"The UCP Research Database is a user-friendly way of finding the latest research on unarmed civilian protection, community self-protection and related topics. It contains information on academic research publications, working papers and NGO documents, which you can easily search using keywords or specific regions and countries. Users can also contribute to the database by uploading information not yet featuring in it."
Principal Investigator of Creating Safer Space, Berit Bliesemann de Guevara, has worked on funded research projects with Nonviolent Peaceforce in Myanmar and the Philippines. Berit worked on these projects with Creating Safer Space Co-Investigator, Rachel Julian, who facilitated the UCP course through NP's partnership with UNITAR and serves as NP's Board Secretary.
NP is working with the network to develop new materials together and contribute to its research initiatives.
You can protect civilians who are living in or fleeing violent conflict. Your contribution will transform the world's response to conflict.