Emerging Women Leaders Observe Myanmar Elections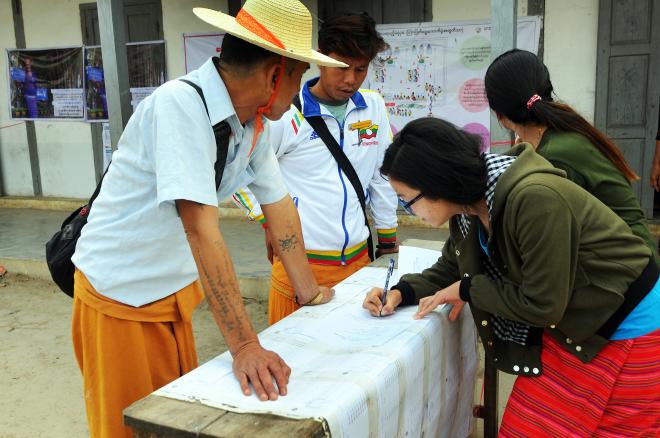 Voters checking off their names at polling booths at Wan Hai High School, Shan State / Photo credit Steve Tickner
You Support Emerging Women Leaders
When you support Nonviolent Peaceforce's mission in Myanmar to build peace side-by-side with local communities, you support efforts to increase women's participation in the decision-making process for peace and reconciliation.
"If women are at the table, there will be less tension, and the dynamic will surely change," shared an Emerging Woman Leader in 2019. "I believe that in the Myanmar context, women are the best mediators."
With your support, NP hones the skills of Emerging Women Leaders so they can respond to issues of conflict and violence in their communities. Through NP, these women are increasing women's participation for peace and reconciliation, establishing protection and peace teams of local women, and are advocating to increase safety in their communities and homes.
"What I want to acheive in the future is to make sure that at least one or two women will have a seat at the decision-making table. ... I will advocate to all levels of authority," shared an Emerging Woman Leader in 2019. "There were only four women elected in Chin State as Members of Parliament in the 2015 election. I want to make sure that in the 2020 election, there will be more women Members of Parliament."
When the Myanmar General Elections were held on November 8th, 2020, Emerging Women Leaders across the country used the organizing skills they learned with Nonviolent Peaceforce to observe their local elections.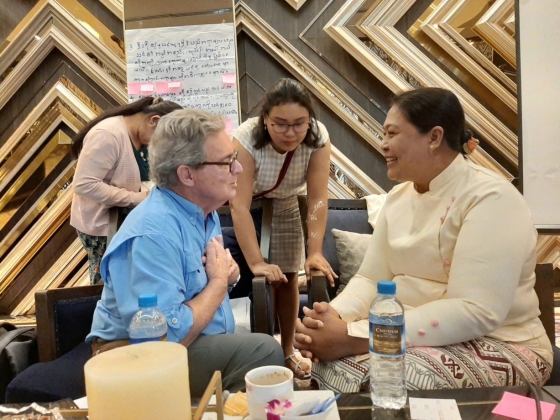 Supporter Nevin Harwood meeting Emerging Woman Leaders in 2019 / Nonviolent Peaceforce
Emerging Women Leaders and Election Day
Three of the Emerging Women Leaders—Nang, Chewa, and Gawa—observed the election in their villages. Your support means that Emerging Women Leaders like Nang, Chewa, and Gawa can make sure their communities can access the resources and education they need during elections. For example, in the months leading up to the election, Nang trained 25 villages in voter education and voter registration.
However, these women leaders know that much work remains to educate their communities. As a part of the observation team, Nang still found that a lot of the voters for different ethnic groups did not get voter education. "A common challenge experienced across Kachin and Northern Shan is that many votes were lost because of invalid ballot-papers, or confusion over special identity cards," Nang shared. "Many people did not know how to vote properly nor did they know the difference between a valid and invalid ballot." 
Emerging Women Leaders from Myitkyina are proud of their work so far, but know that they have a lot of work left to do. The Emerging Women Leaders observed and compared the number of women representatives in political parties, and they noticed that ethnic parties are still relatively weak in including women in leadership roles. They shared that, although "only women with good backgrounds got selected to enter the election as a candidate," they are working to change this in the future.
And since it is the harvest season, and, according to Gawa, "people care more about their business than election," the women encouraged getting in line early for voting (as early as 4:00 or 5:00 in the morning!). Chewa shared that only about half of the list of the eligible voters were able to come to the ballot station. Even still, the women leaders kept an eye on how the crowds at the polls were keeping safe during the pandemic. "Voters tended to follow COVID-19 prevention measures and rules early in the election day," Chewa noticed.
"Women are the future," said Kyaw*, Nonviolent Peaceforce Myanmar National Project Coordinator. "It is important that we continue working with the Emerging Women Leaders in Myanmar so that they can keep strengthening their skills to nonviolently increase women's participation in the decision-making process and initiatives for peace and reconciliation."
In a country where women and ethnic minorities have been historically excluded from political participation, representation and participation is critical to building peace. With your support, Nonviolent Peaceforce can continue to support the Emerging Women Leaders and their work to make sure all voices are heard as Myanmar works for peace. 
*Name changed
You can protect civilians who are living in or fleeing violent conflict. Your contribution will transform the world's response to conflict.