"Let us raise our voices so that we can be heard." Reflections from National Protection Officer Sunday Steven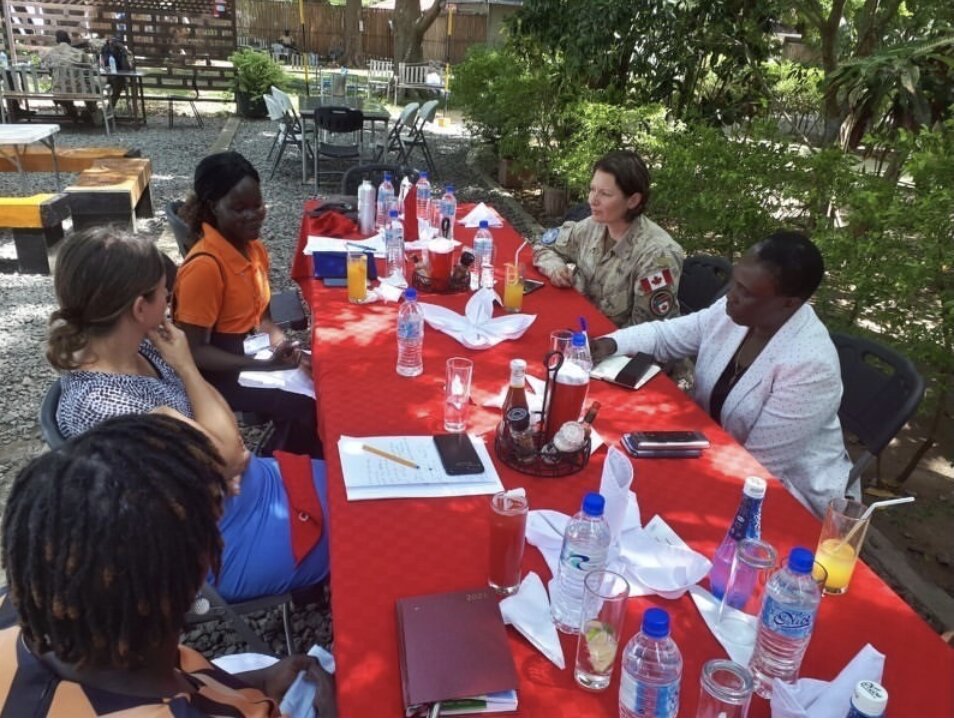 National Protection Officer, Sunday, engaged in a meeting with the Canadian ambassador and the minister of defense on the role and challenges of women peacebuilders in South Sudan.
"I am so happy that I, from the protection of civilians camp, was able to find a platform to talk directly to Minister of Defence about the challenges affecting the peace and security of women from the amp and the grassroots level. They attentively listened to me!"
On June 21, Sunday was invited to a High-level Ministerial Lunch, an event attended by the Canadian Ambassador to South Sudan, the Minister of Defence of South Sudan, and UN peacekeepers.
"When I got the invitation, I was nervous because I knew I was going to meet with the Minister of Defence, the Canadian Ambassador to South Sudan and the other high-profile people for the first time in my life—I had only read about them in newspapers," reflected Sunday Steven, one of NP's Protection Officers from South Sudan.
But the nerves did not last for long, as Sunday recognized her familiarity with the topic and the power of this platform.
"I became comfortable when I realized the issue bringing us together was women peace and security—and that I was there as a representative for women from the grassroots."
Sunday is based in an internally placed persons camp in Juba, South Sudan, where she works closely with Women Protection Teams by promoting their leadership roles in the community through trainings, coaching and mentoring.
Sunday shared her experience of the lunch and its importance to NP.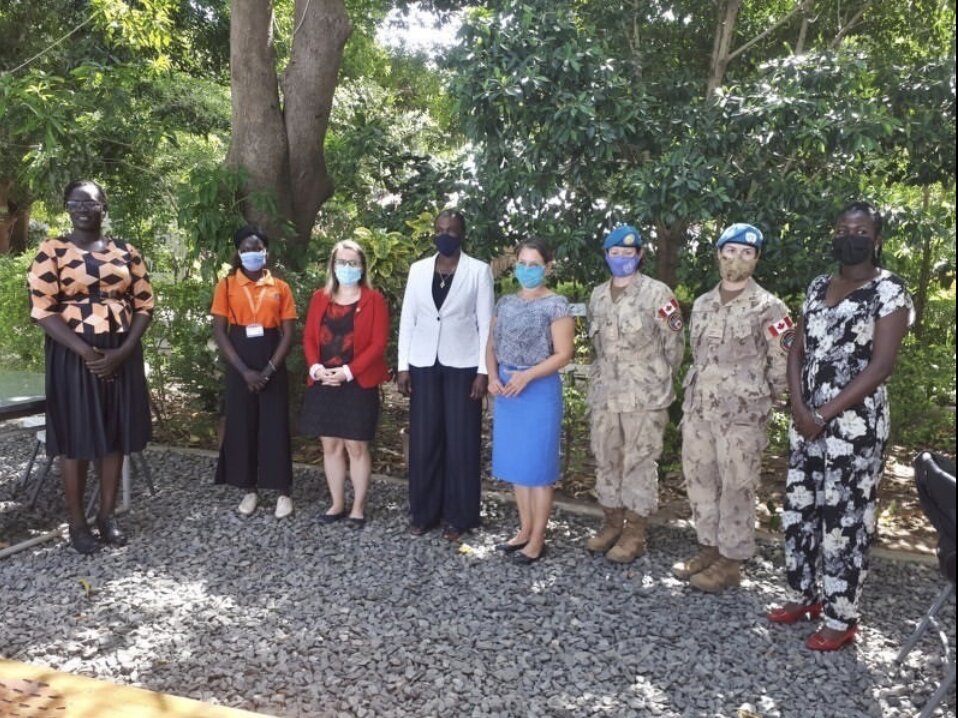 NPs National Protection Officer, Sunday, after a meeting with the Canadian Ambassador and the Minister of Defense on the role and challenges of women peacebuilders in South Sudan.
Sunday took this opportunity to share about peace and security for women and its connection to respect for women's dignity and easy access to social services. Sunday explained that lack of clean, sanitary wash facilities often lead women to go further distances by themselves, presenting an additional security concern.
As a supporter of NP, you know that the importance of local actors is always the foundation for our work. We believe that local communities have the right to self-determination and ultimately know best how to assess their needs and drive change.
"My message to the organisers of the High-level Ministerial Lunch is that it should not end here," Sunday reflected. "Let this forum go to the grassroots level to see what is hindering women's participation and bringing insecurity to women, so that solutions can be found jointly and permanently."
The invitation of NP to the lunch shows that the work we are doing to enhance women's participation in decision-making processes is being recognised highly. "NP is giving a front seat for women in South Sudan like me to voice their experiences," shared Sunday.
Thanks to generous supporters like you, NP is addressing protection and security concerns in communities around the world and breaking barriers by facilitating women's representation in leadership roles.
Sunday offers one final thought: "I urge us women of South Sudan to raise our voices so that we can be heard."
You can protect civilians who are living in or fleeing violent conflict. Your contribution will transform the world's response to conflict.