NP Operational Update: Darfur
"As civilians living around this facility, we took an initiative voluntarily and reopened [Redacted Health Center] from last week. Now it's working by the efforts of the community."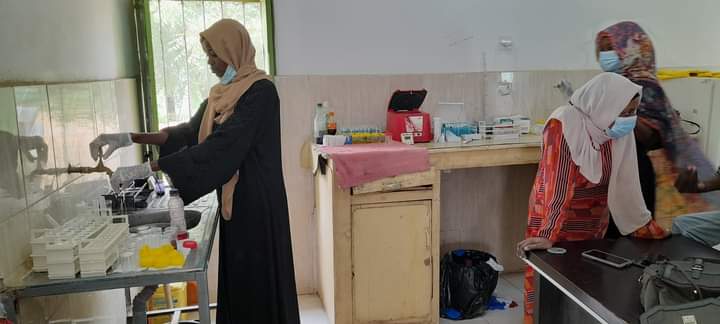 While many civilians have been able to leave Sudan amid ongoing fighting, the vast majority – 45 million people – remain and are facing the ongoing threat of active violence.
All NP staff are accounted for, with 30 staff currently in country, with others – most of whom were outside the country at the time of the escalation in mid-April – supporting remotely from South Sudan. Our staff in North and West Darfur continue to monitor and respond to the protection needs of civilians on the ground at this difficult time.
The ways that unarmed civilian protection can be an effective strategy in this kind of environment are many and varied. Our teams have been creative and proactive, working alongside communities with whom we have long standing relationships to respond to the escalating needs of civilians in the Darfur region. NP is also monitoring the situation in South Sudan closely and is readying to provide a direct response for those Sudanese and South Sudanese nationals who have been displaced across the southern border. NP has teams in cities close to the border, including Bentiu and Malakal, and is working to respond to the needs of those arriving daily.
Ongoing Protection Monitoring and Context Analysis
A core part of an effective protection response is understanding the needs of communities. Continuous context analysis, monitoring of protection concerns – such as the use of weapons, the presence of unexploded ordnance (UXO), child recruitment, or sexual and gender-based violence – is core to unarmed civilian protection, and essential to a context- and conflict-sensitive response in Sudan. This ongoing monitoring means we can share and advocate for the needs of civilians and appropriate responses, not only in relation to protection but also regards humanitarian services more broadly. It also means that we can monitor and verify rumours, and make sure that the information civilians have is accurate. This has direct impact on the safety of civilians, and on preventing and de-escalating potential violent conflict that can spiral based on false information. The communities that we work alongside have also been trained to understand conflict conditions, monitor and control rumours, and de-escalate conflict. Working together, we gain a holistic picture of community needs. This also relies on communicating with key parties to the conflict, with whom teams have pre-existing relationships, and that can also be used to push for protection of civilians.  
Providing Direct Protection
NP staff are on the ground providing direct physical protection. Over the last two weeks since the escalation in mid-April, this has centred on facilitating access to emergency medical facilities and providing protective presence for patients at the centers. The presence of staff in humanitarian visibility can deter targeted violence on the way and at the health centers, and leveraging conflict sensitive context analysis can enable teams to anticipate safe times and routes for moving patients. This also ensures that those injured as a result of violent acts, including sexual and gender based violence, get much needed immediate help.
The physical accompaniment and presence also positions NP staff to be able to provide psychosocial support to people harmed in the recent escalation. Our presence also enables NP staff to advocate for people—especially people exposed to increased vulnerabilities, such as internally displaced persons (IDPs), the disabled, children, and the elderly—to access medical attention when there are very limited service providers available.
Child Protection and Protective Presence
Child protection is a major concern across Sudan. In addition to advocacy on these risks and needs, NP staff have been supporting child protection through protective presence at pediatric medical centres. In one instance, approximately 400 children displaced from other facilities due to proximity to armed actors and ongoing fighting were relocated to a safer area, and are being supported by NP staff and other volunteers to receive ongoing assistance (despite major shortages in essential medical and nutrition resources). NP worked alongside community members to reopen a health centre to support these needs: "As civilians living around this facility, we took an initiative voluntarily and reopened [Health Center] from last week. Now it's working by the efforts of the community," shared one of our staff members.
There are health centers around El Fashir with the same pattern: civilian-led initiatives for protection. NP staff, local community members themselves, are providing protection mainstreaming, managing crowd surges, facilitating language interpretation, and providing direct protection.
In addition, NP staff have begun to hold space for Child Friendly Spaces. This is an opportunity for children to come together in an area identified as safe, spend time together and express themselves despite the ongoing disruption to their lives. These spaces are also an opportunity to monitor the needs of children, and to share important safety information with them in accessible ways. For example, we are focusing on sharing information about UXOs with children, who are particularly vulnerable to picking up or playing with undetonated mortars, without understanding the risks these pose.
Coordinating & Advocating for Protection Needs
NP teams have begun to coordinate and advocate with a range of stakeholders on the needs of civilians, based on their ongoing context analysis. For example, teams have met with government emergency health coordinators and the Humanitarian Aid Commission (HAC) emergency team during their visit to a local health center, which is currently run by civilians. In order to kickstart information sharing and collaboration with various duty bearers, NP provided a briefing to officials on protection gaps and concerns, as well as an update on NP's direct physical protection and protection mainstreaming operational activities.
Notably, NP alerted the officials to the fact that IDP Camp residents in the region could not access health care, as the medical facilities in the local area had been closed due to the escalation of violence. As a result of the NP team's advocacy, the Ministry of Health immediately approved the request to reopen a health center. Now, NP is coordinating with a local partner and youth in the area to clean and prepare the facility for medical services, as well as coordinating with humanitarian service providers and the Ministry of Health to obtain cleaning and medical supplies.
NP has also been advocating with stakeholders globally, highlighting the needs identified by our teams on the ground to key governments around the world. We have highlighted these needs in a rapid Protection Snapshot, and are calling for a humanitarian corridor to facilitate safe movement for civilians from the hard-hit El Geneina area of West Darfur.
Training in Psychological First Aid
In response to the acute stress and trauma related to the escalation of violence, NP is providing our teams with psychological first aid training to better equip themselves and in turn support and train our community partners and the broader community. Making sure our staff feel supported and safe, so they can assist others, is a core priority.
This cross-pollination and additional support for training comes online from our NP team in Ukraine, who have been offering psychological first aid trainings to Ukrainian communities working on the frontline in Southern Ukraine.
Providing Digital Protective Accompaniment
Just as with physical accompaniment, our teams are working alongside the communities on the ground to enhance their own protection. For many community members who are fleeing the country, our team is remotely/digitally checking in along the evacuation routes. They are collecting and distributing information about what is safe, where to go, and what they can expect when they get there. For many community members still trapped amidst the violence, NP is helping them organize themselves for water, health, sanitation, protection, and other initiatives in between gunfire.
You can protect civilians who are living in or fleeing violent conflict. Your contribution will transform the world's response to conflict.