NY Groups Work to Address Rising Anti-Asian Hate Crimes
Press Clip Source: Public News Service
Link to source: Here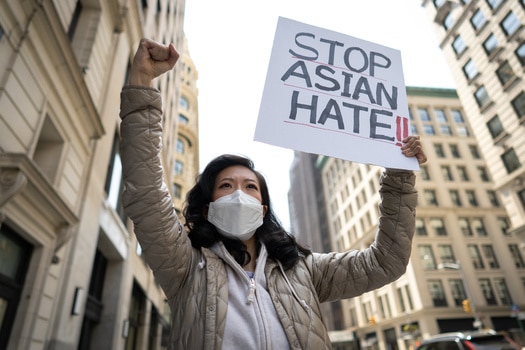 As Asian Americans continue to face discrimination and hate crimes, new funding could aid New York officials in reporting - and preventing - these incidents.

The multipurpose funding, from the Bureau of Justice Assistance, will be used to create grants to help community groups in New York City educate people about Asian American culture. The hope is to alleviate some of the tension that has grown since former President Donald Trump dubbed COVID-19 "the China virus."

Kalaya'an Mendoza, director of mutual protection for the group Nonviolent Peaceforce, said Asian Americans need time to process what has gone on.

"We haven't had a chance to pause. We haven't had a chance to heal. I think we are constantly put into a state of hypervigilance," he said. "I think that there needs to be dedicated spaces, for us and our communities to be able to recognize the trauma that we've experienced."

He said he hopes people can work to create a safer and more equitable world, and added that this mindset needs to be part of the immediate response to the violence. According to Stop AAPI Hate, more than 11,000 hate crimes have been reported in the last two years.

On a state level, Mendoza said he'd like to see this dealt with as a public health issue, with more resources for developing holistic public-safety practices for Asian Americans. On a federal level, his organization wants to see more cooperation between local and national advocacy groups, and a more robust dialogue on how to keep people safe.

"It's important for us to be able to listen to what the direct needs around safety are," he said, "and to be able to tailor and support and provide the resources - whether that's through trainings, whether that's through advisement or supporting the safety infrastructure. "

Until people are better able to address the root causes of racism, Mendoza said, he is worried that little change will occur. However, Congress passed the COVID-19 Hate Crimes Act last year to expedite the review of hate crimes and hate-crime reports.
---
Disclosure: Nonviolent Peaceforce contributes to Public News Services' fund for reporting on Criminal Justice, Human Rights/Racial Justice, Peace, Social Justice. If you would like to help support news in the public interest, click here.
References:
Report Centers for Studies in Higher Education 2022
Grant Bureau of Justice Assistance, U.S. Department of Justice 2022
2022 report Stop AAPI Hate 2022
2021 report (in photo caption) Stop AAPI Hate 2021
COVID-19 Hate Crimes Act U,S. Congress 2021
You can protect civilians who are living in or fleeing violent conflict. Your contribution will transform the world's response to conflict.