Unleashing Community Strength: De-escalation Training for a Safer Sunset Park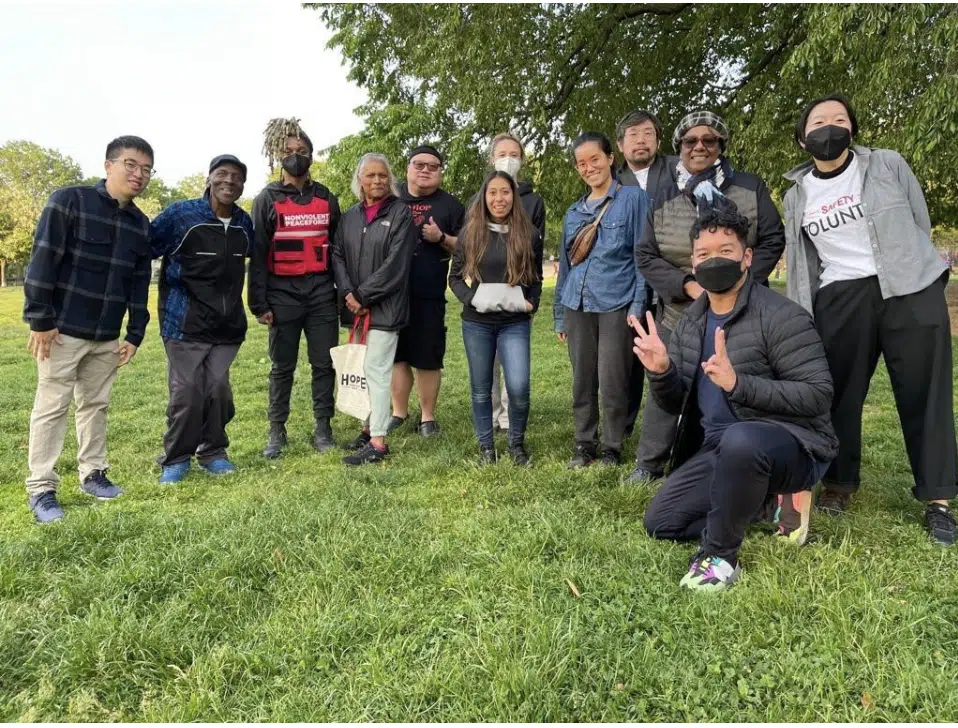 By: Briesha Bell
One bright sunny day, our NY team gathered in Sunset Park to lead a Safety Training. The open and inviting setting of a park lawn, paired with kind, approachable staff added to the synergy of the welcoming environment.
Two Caribbean women were walking through the park when they happened to notice NP and our partners passing out flyers about an upcoming safety training. The women curiously approached staff to learn more about our program. As they listened to Qaaree McDaniel's pitch about NP's work around community-led safety, their faces lit up with interest. "This is exactly what we need! The other day, we saw a conflict happening on the subway and didn't know what to do," one woman exclaimed.
And just like that, the women found themselves signing up to participate in the training that was starting in two minutes! Hate crimes targeted against Asian Americans have spiked significantly. Community members are in search of ways to gain more agency over their personal safety.
These women knew they wanted to be better prepared to intervene during conflicts but didn't quite know who to turn to or what resources to utilize and they're not alone. It's common to be unable to articulate or pinpoint the resources we need to truly cultivate community safety. This is why our NYC team's awareness-raising and trainings on topics like situational awareness and upstander intervention are essential.
When NP holds de-escalation trainings alongside the Asian American Federation (AAF) for the Hope Against Hate campaign, we focus on building community members' capacity to intervene and embody mutual protection. This begins with teaching participants how to identify their bodies' go-to survival response. Next, we go over survival tools, such as recognizing how you react in a potentially dangerous situation. Then, we discuss utilizing de-escalation tactics to build a moment of "pause" through distraction, while supporting the person being aggressed with consent and care.
CW: Simulated Agression. Clip from the training in Sunset Park featuring Kalaya'an Mendoza, Director of Mutual Protection, and Qaa'ree McDaniel, Program Specialist, as they play out a simulated aggression scenario. Simulations provide community members with an opportunity to apply what they've learned and practice upstander intervention in action.
Whether NP is holding a training in the Philippines, South Sudan, the United States, or any other place in the world, participants report unexpected benefits of attending trainings. What makes them so impactful? At these trainings, staff create spaces in which participants are given permission to be vulnerable and often share emotional personal experiences. The simple act of holding space for authenticity tends to evolve into a greater sense of connection and safety.
One training participant highlighted the value of having upstander intervention and de-escalation skills as a first responder with the Academy of Medical & Public Health Services (AMPHS).
"I work as an Emergency Medical Technician (EMT) and I went to one of these trainings last end of summer or fall. While we're trained medically, we're pretty ill-equipped to deal with conflict and crisis, and that's what we're getting called into. There are always police present, always people who are upset or having the worst day of their lives."
"It's been super helpful to get these little like— create a moment of pause— like these chunked up skills or ways to think about it and then to practice it here! I've actively used these skills on my EMT shifts and it has been really helpful. Tactics like, take a little distance or distract, those have been really helpful nuggets and are skills that I've been able to build upon, so thanks." - Kristina EMT, Volunteer on Safewalks with AMPHs
While the NY team has held 90+ similar trainings in the past, this one felt extra special. The attendees left the park with an increased understanding of de-escalation strategies, situational awareness, and upstander intervention. But they also left with a stronger connection to members of their community and a renewed commitment to keep them safe.
* * *
These trainings are conducted in partnership with the Asian American Federation in their #HopeAgainstHate Campaign. This training was held alongside the Academy of Medical & Public Health Services (AMPHS) and UA3.
As always, feel free to reach out to us If you are based in NYC and interested in becoming a community trainer to uplift Unarmed Civilian Protection (UCP) and impact communities.
For question or inquires, contact: [email protected]
You can protect civilians who are living in or fleeing violent conflict. Your contribution will transform the world's response to conflict.