Youths Across 36 States and FCT Trained on Electoral Violence Prevention
Press Clip Source: SharpedgeNews
Link to Source: Here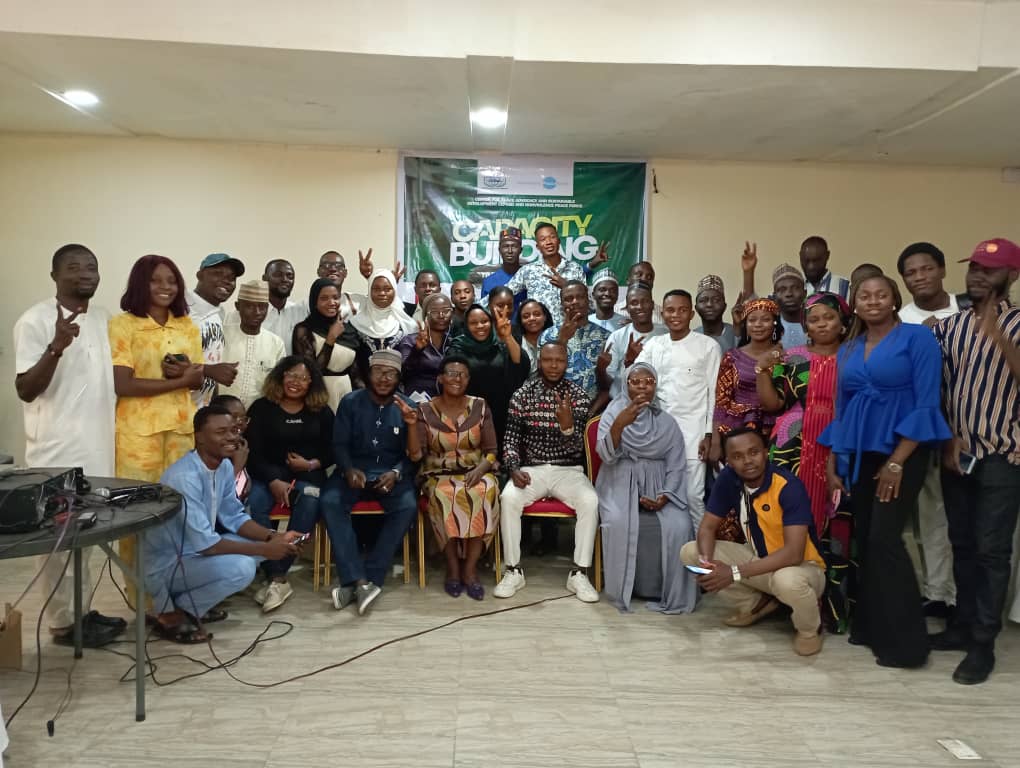 The Center for Peace Advocacy and Sustainable Development and Nonviolent Peaceforce with support from Non-violenceXXI and Canadian Friends Service Committee have organized a 3-days capacity building training to strengthen the resilience of youth on Electoral Violence Prevention ahead of 2023 General Elections in Nigeria.
The Executive Director of the Center for Peace Advocacy and Sustainable Development Mr. Igweshi Augustine stated that the objective of the training is to equip Nigerian youths across the 36 states and FCT with necessary skills to prevent electoral violence and ensure peaceful elections at the February, 2023 General Elections.
Augustine said Participation in elections is an important civic duty and it is important for eligible citizens to exercise their right to vote.
According to him, while the results of General Elections generally determine the composition of a government and the policies that will be implemented, many countries including Nigeria's General Elections are considered a cornerstone of #democracy, as they allow citizens to have a say in the governance of their country.
The Executive Director, however maintained that there is need to set measures and actions to prevent and mitigate the occurrence of violence during Elections.
"These strategies should include: Voter Education; Security Planning; Conflict Resolution and Mediation; Media and Communication Strategy; Monitoring and Reporting and Post-election Reconciliation – etall.
The News Agency of Nigeria (NAN) reports that the training which started on the 18th will ended on 20th which was facilitated by National Coordinator of Canadian Friends Service Committee in Burudu Madam Pastaur and the training Coordinator of Nonviolent Peaceforce Ms. Marion Girard.
Participants were taken through Unarmed Civilian Protection Principles, Unarmed Civilian Protection Strategies to Prevent Electoral Violence, Unarmed Civilian Protection Activities that can be used to prevent Electoral Violence, Empathy Exercise, Crossing the River Exercise, conflict prevention, misinformation and disinformation, group discussion and contribution from the participants on preventing Electoral Violence ahead of General Elections in 2023.
Also a Town Hall Meeting was held as part of the activities to strengthen the resilience of youth to prevent Electoral Violence.
Guest Speakers at the Town Hall Meeting including the Director General Institute for Peace and Conflict Resolution, Executive Director CLEEN FOUNDATION, Mr. Gad Peter and the Country Director Global Peace Foundation who also is the CAN president Kadunna Chapter, Rev John Joseph Hayab.
They encouraged the youths to use the skills and knowledge acquired in the training an advocate against electoral violence also they should transfer the knowledge to other young people in their community. (NAN) (www.nannews.ng)
You can protect civilians who are living in or fleeing violent conflict. Your contribution will transform the world's response to conflict.