A gathering turned into a collective mission
After training with NP, a group of young people in Maguindanao formed an organization to empower youth and increase their participation in local peacebuilding and advocacy initiatives.
The training included youth from the three municipalities of Maguindanao (Datu Saudi Ampatuan, Datu Salibo and Datu Unsay). These municipalities are located in the SPMS Box—a term referring to the adjoining towns of Shariff Aguak, Pagatin (Datu Saudi Ampatuan town), Mamasapano, and Shariff Saydona known to be the stronghold of the Bangsamoro Islamic Freedom Fighters (BIFF) and an area prevalent with horizontal conflict.
The event that brought them together
In June 2021, Nonviolent Peaceforce (NP) organized a training workshop on leadership, peacebuilding and policy advocacy for thirty-three young people representing the three municipalities of Maguindanao province. These municipalities are located in the stronghold of the Bangsamoro Islamic Freedom Fighters and an area prevalent with horizontal conflict.
While it was successfully conducted, the training became essentially the bridge between the youth of the three municipalities to come together for the first time. It has developed their good rapport and started to build promising relationships. Upon returning to their respective communities, they continued to communicate and even created a social media platform solely intended for the group.
The need to advance shared aspirations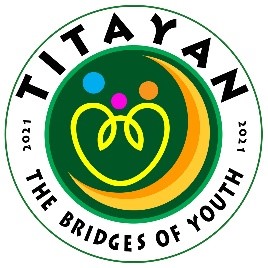 The idea of organizing a formal group was eventually borne when the group felt the need to maintain their connection and put into practice what they had learned and planned after the training workshop. In August 2021, TITAYAN, which literally means "bridge" in local dialect, was formally created consisting of thirty-three youth leaders from different backgrounds who share the same goals and aspirations for the young people. Its mission is to nurture young people to be active, empowered, and resilient especially the out-of-school-youth in their respective communities.
"Now that we have formed, we are very grateful to NP who have been behind it. We have already seen that we need to stand up and make voices for our fellow youth. Our main agenda and advocacy will definitely help our youth who are most affected by war in our areas," says the president of TITAYAN, Jerry Alpa.
Now that their direction is clear, TITAYAN's advocacy will be centered on out-of-school youth. They are planning to conduct mapping of youth in Maguindanao and committed to educate and empower them to participate in local peacebuilding and lobbying initiatives.
Towards its recognition as a local youth organization
Now, TITAYAN working to increase its membership and strengthen their capacity by connecting with other established organizations. The organization officers are also preparing the necessary documents to be legally registered and accredited with the Local Youth Development Council and Bangsamoro Youth Commission.
Now that TITAYAN is organized, the organization has now partnered with NP for coordination and mobilization across Maguindanao. The group helps facilitate activities and organizes community peace monitors trained by NP.
"The Bridges Project has a very important role to us young people in the [area]. We formed this organization because we realized that we need to unite and work together to address the concerns and issues of youth, especially the out-of-school youth. And we think this is timely and we need the help of NP in improving and developing our new organization," added by the Vice-President of TITAYAN, Munaim Gendeng.
* * *
The initial training was part of The Bridges Project, a consortium initiative led by Plan International with NP and Magungaya Mindanao, Inc. as co-implementing partners. The project is funded by the German Federal Foreign Office with the overall objective of strengthening local capacity to resolve conflict through nonviolent approaches and socio-economic empowerment programmes for at-risk and dis-engaged youth in Maguindanao.
You can protect civilians who are living in or fleeing violent conflict. Your contribution will transform the world's response to conflict.