Building Blocks of Peace in Malakal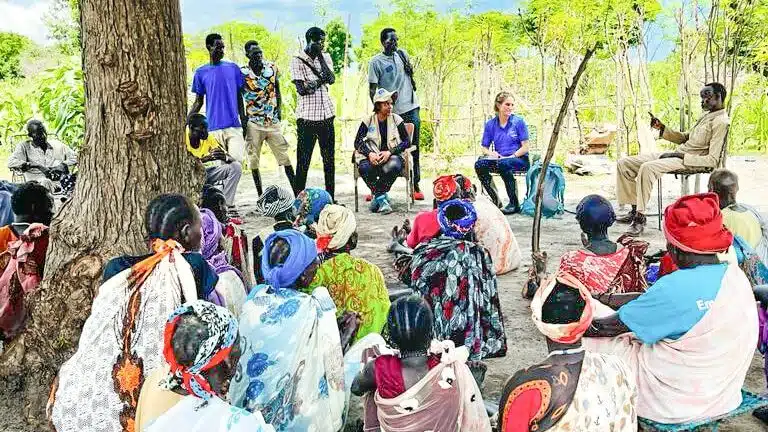 Now that NP's initiative with Solidarités International in Malakal and the Upper Nile has been running for a few months, we are taking a look at some of the approaches our teams have been using to build communal resilience and encourage nonviolent conflict resolution in areas most vulnerable to floods and conflict.
Looking Ahead in Malakal
Across different villages, women, farmers, and youth are leading impactful initiatives to uplift their communities. These combined efforts have led to proactive strategies for addressing a wide range of issues, from domestic violence to food security, and even disaster preparation.
Women-Led Groups Take Action
Women in multiple villages, such as Abwong and Pariak have organized Women Civic Action Groups. The women are looking forward to working as agents of change in their community together with startup support from NP and SI. As members, these women offer protective accompaniment and take part in many activities around peacebuilding. The groups are also striving to decrease incidents of domestic violence.
New Farming Extensionists Grow Food Crops & Communal Safety
To tackle the issue of food scarcity and safety concerns, Farming Extensionists have been assigned. Farming Extensionists are local community members who have undergone specialized training by SI and NP. Now, they will begin teaching others about farming and how to enhance communal safety.
Collectively, they'll work to boost agricultural productivity, enhance food security, and ensure their community's well-being. The latest training discussed Protection Mainstreaming, which taught more advanced skills on civilian protection, violence reduction, and conflict prevention. Recently, community members planted seeds distributed by SI, including maize, sorghum, pumpkin and okra.
Youth Come Together for Early Warning/Early Response
on Climate & Conflict Disasters
Additionally, NP has provided Unarmed Civilian Protection trainings to youth who are leading their local Early Warning/Early Response group in Nyongkuach, Baliet. Next, the teams will work with the youth to put together a contingency plan for preventing and responding to climate and conflict-related disasters in their community.
How it Started: Identifying Communal Strengths and Areas of Support
Initially, establishing trust and close relationships among community members was the top priority. These relationships allowed civilians to grow comfortable voicing their needs to our teams. Many shared concerns over the increase in food scarcity and lack of food sources. Others expressed the danger community members face when accessing food due to the floods and conflict. Through these conversations, the focus areas became clear—civilians needed safer and more secure access to resources like food.
* * *
These activities are a part of our project with Solidarités International (SI) to support community resilience and nonviolent conflict management in conflict and flood-affected areas of Upper Nile and Jonglei States, South Sudan, which is funded by the European Union and supporters like you.
You can protect civilians who are living in or fleeing violent conflict. Your contribution will transform the world's response to conflict.