Inspiration from Myanmar For You
Supporters share their insights on what traveling to Myanmar meant to them.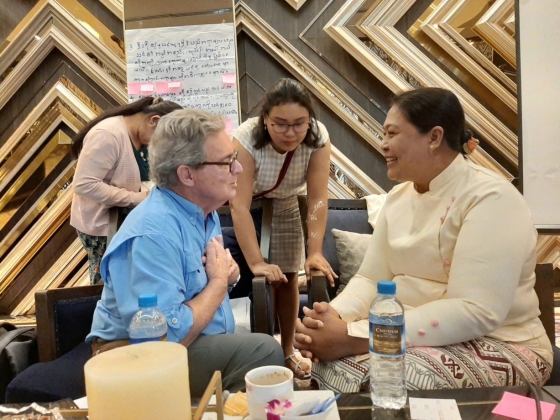 Supporter Nevin Harwood meeting Emerging Woman Leaders
On January 31 of this year I had the opportunity to travel to Myanmar with a group of four other folks who, like me, have done various sorts of volunteering with the Nonviolent Peaceforce "NP" (NonviolentPeaceforce.org). My connection with NP is in Minnesota where, through friends, I have gotten to know some of its leadership over about 10 years.
On the first day of our trip we met with a group of about a dozen "Emerging Women Leaders" who had gone through NP's training on advocacy for human and civil rights. NP has trained over 85 "Emerging Women Leaders" over the past two years, in a country where the culture and the rules by which people live often do not allow women to work outside the home or be involved in decision making about their families or communities. Violence against women is common. They thought of us as "…a group of American supporters." We were extremely humbled by our reception and their appreciation of all supporters worldwide.
We tried to make them realize that we were there to thank them for their hard work and for taking the risks of carrying the messages of human rights and civil rights to their villages and communities. We heard their stories and were able to ask questions back and forth.
My first take-away: violence against women is common. It is brutal and it is hard to comprehend without meeting the victims and hearing their stories.
My second take-away: this issue of violence against women, like an illness, can be treated. NP teaches empowerment and protection. NP is not pretending. NP has proven results and I saw the results in person.
In addition to empowering women, another of NP's missions is to protect civilians in areas of violent conflict through unarmed strategies. Myanmar has more than 21 "recognized" armed ethnic groups of which 10 have signed ceasefire agreements at the Union level with the government. We were able to meet with one of the leaders of one such group to discuss his circumstances and hopes. He knew and trusted the two staff members of NP travelling with us because members of his organization had gone through NP's training on peaceful, unarmed dispute resolution three times in the last five years.
My third take-away, people previously in an armed struggle can be convinced to work toward peaceful solutions. They can even be willing to go through training on unarmed ceasefire monitoring.
My fourth take-away, trust is one of the most important things necessary for all of the above to happen. NP is successful because it builds trust at all levels.
My fifth take-away is that, regardless of how much I thought I knew about NP, I needed to see it in action, see its personal impact on those trained, and to be able to interface with people whose lives have been dramatically altered by going through NP training. To say that I have been personally moved by the work of NP is an understatement. NP's work is incredible. If you ever have an opportunity to go on a similar trip with NP, do not pass it up. I'm forever grateful that I went.
-Nevin Harwood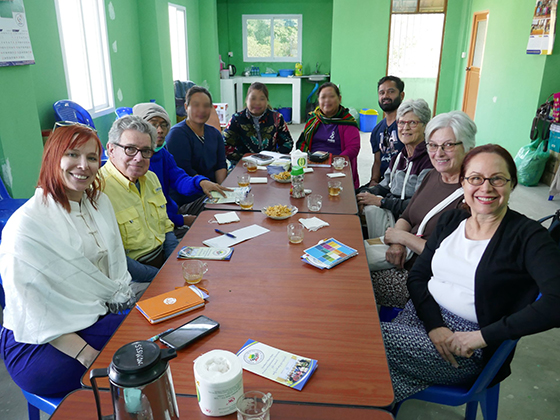 Nonviolent Peaceforce team meeting
Our Nonviolent Peaceforce Myanmar trip was an amazing journey. The most impressive thing to me on our trip was the Nonviolent Peaceforce's talented, dedicated staff and their ability to navigate the complex situation in Myanmar. They are the real peacemakers who work at the community level gaining the trust of the disparate parties involved and training them in the skills necessary to bring about a peaceful resolution to their conflict.
Another highlight of our trip was meeting with emerging women leaders. In a culture that devalues women and girls it was uplifting to see them gain confidence and their own voice. Nonviolent Peaceforce has been instrumental in developing their leadership and peacebuilding skills. As we learned on our trip, ceasefires last twice as long when women are involved in their monitoring.
-Pat Close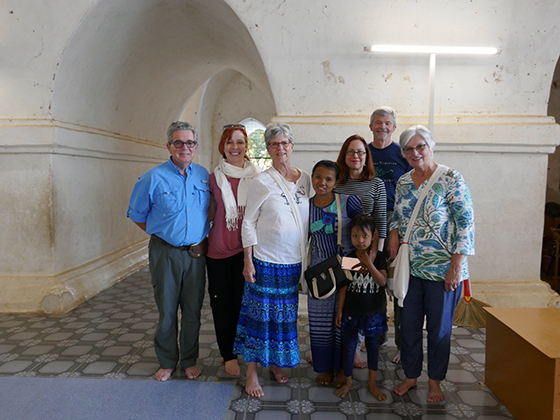 Nonviolent Peaceforce supporters meeting new friends
As supporters and volunteers for NP we are grateful to have had the opportunity to personally see their work in Myanmar. We have always been impressed with their unique approach to preventing and dealing with conflict. Still, this trip graphically demonstrated the impact and importance of their work in building peace and protecting civilians. Groups that have been fighting for generations are learning how to communicate and negotiate while protecting their people.
We were fortunate to be able to meet many women who work in different parts of the country, training others in civilian protection, gender-based violence and peace monitoring. The commitment and courage of these women who work in conflict zones was humbling to observe. Many women (and men) in the country feel leadership belongs to men. These women clearly feel empowered by their work, which is volunteer, and delight in training and empowering other women.
The local staff, working under very difficult circumstances, do an amazing job of problem-solving and supporting the civilian groups. We saw that NP has acted as an incubator for peace when we met with local partner organizations that NP has mentored and trained. These organizations extend NP's reach and it is refreshing to see NP's focus on results and impact, not who gets the credit.
We would encourage others to take advantage of this opportunity to deepen their understanding of NP, which will also deepen their support of this unique and very effective organization.
-Sharon and Rick Slettehaugh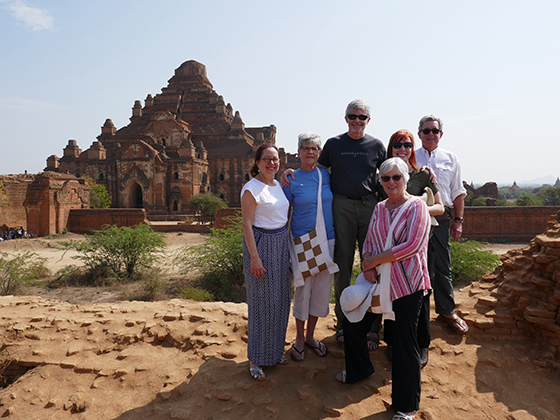 Sightseeing
Promoting understanding between people of different faiths. Supporting women in leadership roles. Assisting those who seek a unifying agreement amongst the many diverse groups within the country. Supporting women who are caught in situations of domestic violence. Training for conflict resolution in myriad situations. All these noble causes and more are the focus of Nonviolent Peaceforce in Myanmar. NP supports projects that are locally based and locally run. The role of NP is critical in supplying training and resources.
On my recent trip to Myanmar I was struck by the relationships that NP staff have formed with local leaders, built on mutual respect and common goals. The NP staff themselves are a diverse, devoted, sensitive and brilliant group. Each of them is outstanding in commitment to the vision of NP and to what often seems like very long processes.
Thank you, NP, for making this up-close view of NP's work possible. The introduction to the country (and the fabulous food!) was so helpful and enjoyable. Most of all thank you for the work you do in Myanmar and other places around the world to give others hope for a better, more just, life.
-Brenda Beitler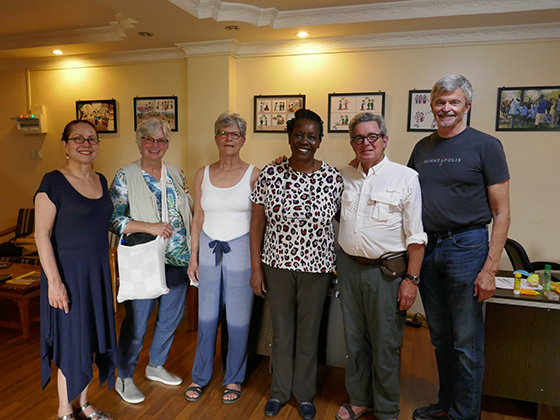 At Nonviolent Peaceforce's office in Myanmar with Head of Mission, Rosemary Kabaki
You can protect civilians who are living in or fleeing violent conflict. Your contribution will transform the world's response to conflict.