New Partnerships in Indonesia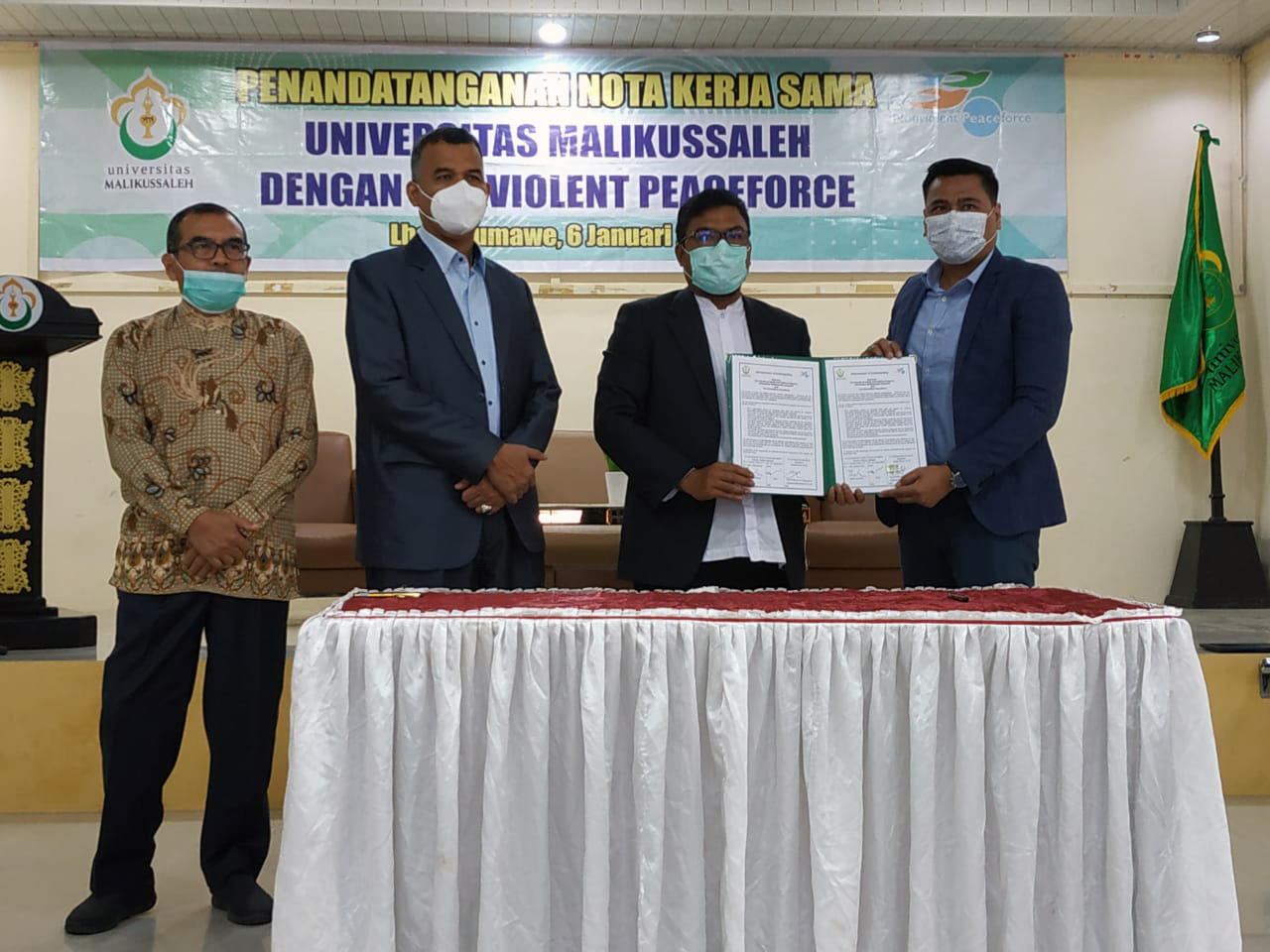 Dr. Delsy Ronnie met with the Chancellor of Malikul Saleh University, Dr. Herman Fithra Asean Eng, and the Dean of the Political Science, Sociology and Anthropology Study Program, Dr. M Nazaruddin
In January 2021, Nonviolent Peaceforce (NP) entered an exciting new collaboration with two Indonesian universities: the University of Malikul Saleh and the University of Al Muslim.
These new partnerships offer exciting opportunities for collaboration in research on peace and civilian protection and will allow students to engage through an internship program and join seminars and lecture series on advocacy and capacity-building. The two universities are located a province that has seen its share of conflict and resolution: Aceh, Indonesia is the site of a 2005 peace agreement following 30 years of armed conflict between the Indonesian government and the Free Aceh Movement.
During his visit, Dr. Delsy Ronnie, NP Head of Mission for the Philippines and Regional Representative for Asia, shared with the students and faculty NP's contributions on the peace processes in Myanmar and the Mindanao region of the Philippines, as well as the work NP has done in the South Sudan and Iraq.
"Through engagement with local students in various locations, we can equip the next generation of practitioners and peace leaders with the theory and practice of unarmed civilian protection," shared Ronnie.
Dr. Herman Fithra Asean Eng (Malikul Saleh University) also expressed excitement that this collaboration would offer students an opportunity to study in the field, in areas that are currently experiencing conflict. When you support NP, you support this important work, in the field and in the classroom.
"I hope that some of our students can take an internship in a humanitarian mission to protect civilians and reduce violence in areas affected by armed conflict," expressed Rector Herman from Malikul Saleh University.
Bringing this work to students and researches at universities is an important part of the work you support at NP. In 2017, NP, in partnership with the United Nations Institute for Training and Research (UNITAR), began offering an online, facilitated course titled Unarmed Civilian Protection through Merrimack College in the United States. Students learned the methods and applications of Unarmed Civilian Protection (UCP) with real examples from the field and practitioners.
Additionally, for the third consecutive year, NP is collaborating with the Institut Catholique de Paris to offer a course in UCP for students and peace professionals alike. Participants will acquire key notions and knowledge of UCP in six modules—four online and two face-to-face. The course aims to equip the next generation of peace leaders with the practical and theoretical knowledge to build lasting peace.
And, NP is developing research networks to establish a set of good practices through a comprehensive global review of the experiences of organizations on the ground in the last decades. This process can strengthen and grow the field of UCP by bringing practitioners, academics, and affected beneficiaries together to reflect on the needs, successes and failure of UCP in these areas and articulate proven, effective strategies methods.
Ronnie explained "Working with universities is one of the ways NP can contribute to a shared knowledge base and support collaboration between practitioners and researchers. It is crucial to our work that we can share knowledge about UCP to both protection specialists and students alike. With the support of universities, we can continue to gather and share good practices and be sure this work makes its way into the field."
You can protect civilians who are living in or fleeing violent conflict. Your contribution will transform the world's response to conflict.