Accompanying People Forced to Flee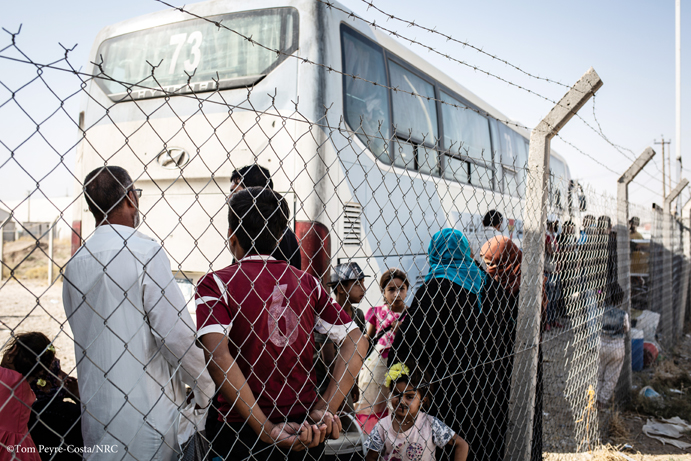 Families lining up to get on the bus
Imagine having to flee your home. To leave with just the clothes on your back. To leave behind your belongings without knowing where you'll end up.
That was the situation in Iraq. Fearing for their lives, nearly 6 million Iraqis fled their homes in 2013 and 2014. According to the International Office on Migration, as of August 31 of this year, 1.6 million people still remain displaced, hundreds of thousands in displacement camps. Declaring victory over ISIS in 2017, the Iraqi government began closing the camps. Since late August, 3,200 civilians were moved, often with little notice and information, from the camps in northwestern Iraq, an area where Nonviolent Peaceforce is working.
Returning people to their area of origin in Iraq is very complicated and can be dangerous. Many of the returnees are not welcome back home. In one village not too far south of Mosul, people stoned a bus full of returnees. The community perceived the returnees who were comprised of mostly female-headed households (widows and children) to have an affiliation with ISIS. The community didn't want their reintegration and the bus had to return to the camp.
The situation can be grim for those who do make it back to their area of origin. Many of the people Nonviolent Peaceforce (NP) has helped to protect report that their homes had burned down. At one point, civilians were allowed to leave with their tents from the camps. Now they are not. Many arrived to the camp with nothing and are returning home to nothing.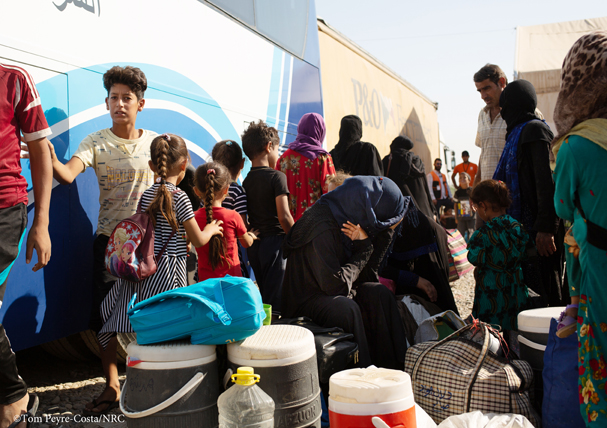 A family gathering their belongings before getting on the bus.
Listening and coordinating
NP's role is to listen to people in the camps facing displacement to find out their concerns and needs, to connect them with the necessary resources and services and to accompany them to their new location. NP teams working in the camps hold focus groups to find out what they can do to provide for their safety.
"The evictions were definitely not voluntary, but they stopped services in the camps, so people were forced to move. Electricity was cut, the tents were really, really hot, and water and food distribution was stopped," said Jackie*, one of our team members in Iraq.
Supporters like you allow NP to protect the most vulnerable people during their relocation. For example, NP staff made sure people with disabilities were given tents immediately when they were relocated and connected them with neighbors who could care for them as well.
NP teams also continue to manage protection cases amidst the chaos. It's important for the team to continue to follow up with people they have helped to make sure they are still safe. Because of the relationships with other agencies where people are transferred, NP staff continue to ensure that people are safe and needs being met.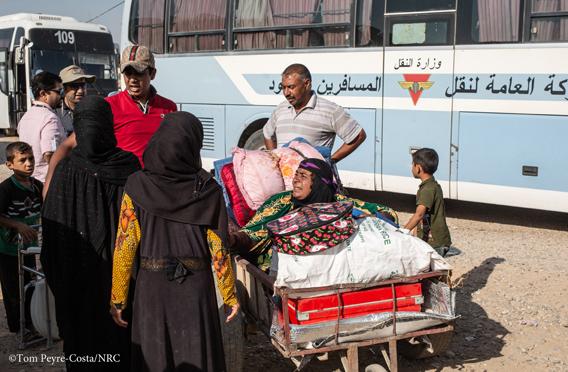 A disabled woman being transported to the bus with a makeshift cart.
Accompanying
"There's little we can do to stop the evictions, but we can make sure people go in a safe and dignified manner," said Jackie.
Our presence alone deters potential human rights violations.
With your support, NP secured the passage for the return of several families to their area of origin in northwestern Iraq. These families were being denied entrance into the city. Because of relationships on the ground and coordination between the teams, the city allowed the returnees to pass the checkpoint and return home.
Leaving the camps and returning to their area of origin is just the first step towards ending displacement. Nonviolent Peaceforce will remain present to bear witness, listen to, connect to resources and accompany people as they begin the process of rebuilding their lives and communities.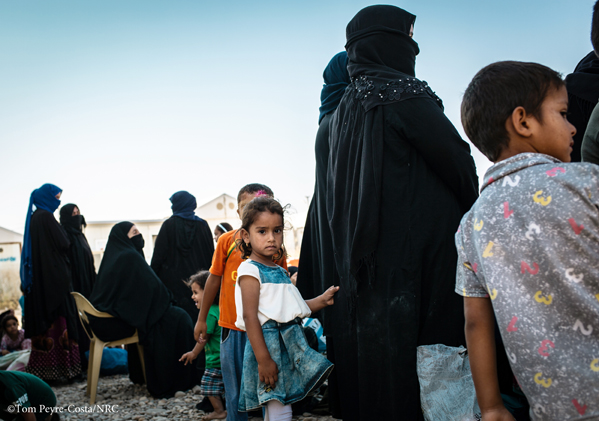 A young girl holding her mothers abaya before being evicted from the camp.
*Name changed
You can protect civilians who are living in or fleeing violent conflict. Your contribution will transform the world's response to conflict.