Celebrate 20 Years With Us!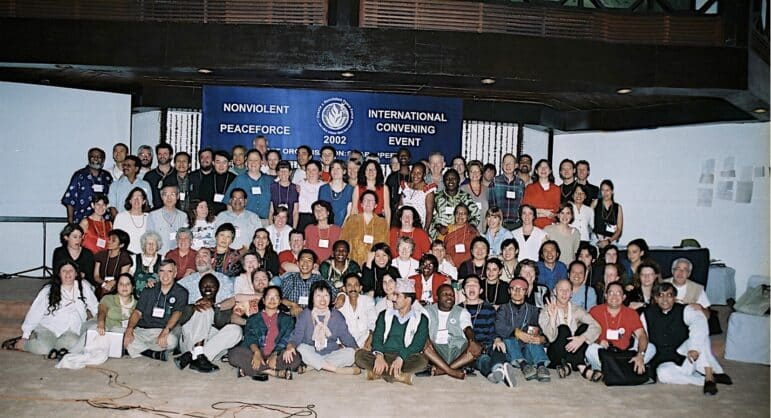 Dear Friend,
In 2022, we celebrate 20 years of NP together. That is 20 years of weaving together an ever-growing community that chooses to meet existential threats with courageous compassion.
We started 20 years ago with a vision. A vision of a worldwide culture of peace in which conflicts within and between communities and countries are managed through nonviolent means.
For two decades now, we have stepped toward that vision of widespread use of unarmed civilian protection. Today in South Sudan, Women Protection Teams decrease gender-based violence in their communities. Former combatants in the Philippines now are leaders in deescalating potentially deadly clan feud tensions. In Iraq, youth build safe spaces for their communities and work on peace initiatives. In two decades we've walked side-by-side with countless communities who now respond to conflict with nonviolence.  
On the global scale, through our persistent advocacy and sustained protection work, there is now greater acceptance of UCP—within the UN security Council and among communities at the front lines of civil wars.
And now we are in an unprecedented stage of growth. In the face of wide-spread violence against civilians, the impending threat of climate chaos, and the rise of authoritarian rulers, we feel called upon to accelerate our efforts by integrating UCP into a global nonviolent movement for change.
You and I are also facing a world where we acknowledge violence harms through new ways – not just at the hands of another individual, but from climate disruption, digital technologies, and power and privilege. UCP can build peace and provide protection in this world, and NP, together with our supporters, is pushing that edge.
Because this is what Unarmed Civilian Protection (UCP) does. UCP isn't just practical tools or a method of our work—it is a paradigm shift. UCP is a world reimagined—one built on nonviolence and deep relationships based on care and equality.
We are so happy you are with us.
Whether you crossed paths with NP just as we were training our first team in Sri Lanka in 2003 … or when we first launched our online course in 2015 … or in the last few years as we've worked through the global pandemic … I am filled only with gratitude for you and all those who place hope and trust in our work. I know we can build a more beautiful future together.
With deep gratitude,
Tiffany Easthom, Executive Director
* * *
See the last 20 years in photos here
* * *
Are you in Geneva? Join us on our 20th Anniversary Celebrations!
Sept 27
University of Geneva, Uni Mail Building, Room M R280 (Auditorium W. Yung)
Film screening, followed by a round table discussion around UCP with the participation of our field teams. Afterwards: aperitif.
6:30pm - 9pm

Sept 5 - Oct 3
Geneva, Parc des Bastions
Free Photo exhibit – 20 years of NP
You can protect civilians who are living in or fleeing violent conflict. Your contribution will transform the world's response to conflict.