Community-Led Launch of a Weapon-Free Zone in Walgak
Press Clip Source: United Nations Multi-Partner Trust Fund for
Reconciliation, Stabilization and Resilience in South Sudan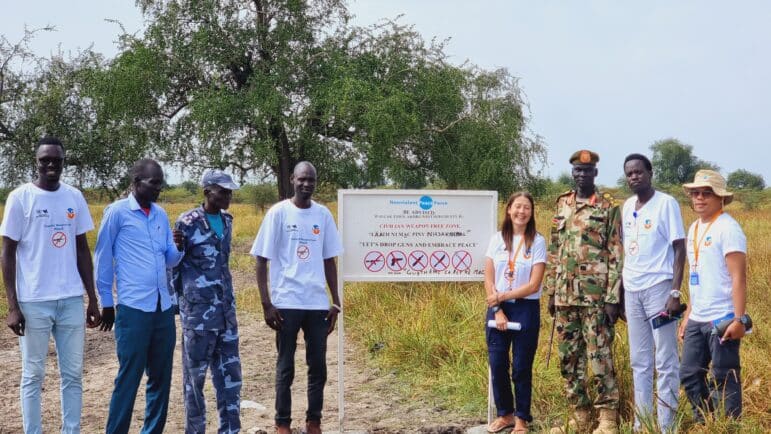 South Sudan's civil war has left weapons at the disposal of untrained individuals in most parts of the country, and Akobo is one of the counties with a high rate of intra-communal violence. In Walgak, the traders, who do not wear uniforms, protect the market. Because they cannot be differentiated from the traders, it is easy for intruders with weapons to enter the market. As a result, many lives have been lost in the market area, including those of humanitarian workers and students, who are unaware of the underlying dynamics with regard to security. In response to this situation, the youth, the local authority and women protection teams came up with the idea of designating a weapon-free zone in Walgak.
Nonviolent Peaceforce conducted several consultative meetings with different stakeholders in Walgak. The authorities lauded Nonviolent Peaceforce and the youth and women protection teams for their idea and supported it, identifying suitable spots for signposts.
Five weapon-free zone signposts were erected. This was followed by a launch event on 30 November 2022. The event was attended by representatives of the humanitarian agencies on the ground, the local authority, women protection teams, the Akobo West women's association, youth protection teams, members of the traders' union, spiritual leaders and chiefs.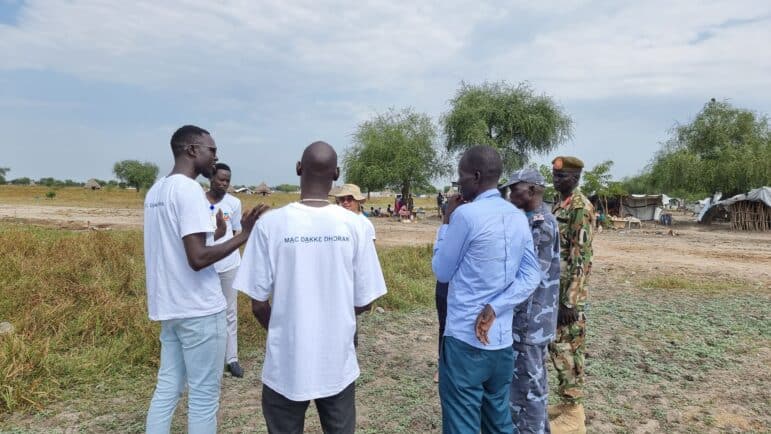 The considerable turnout of community members and leadership for the event indicates their commitment to support the weapon-free zone initiative. The executive director of Akobo West stated that a weapon-free Walgak would be a solution to containing criminal acts in the town, particularly in the market. He urged everyone to cooperate with the police. He reiterated that it is everyone's responsibility to support the initiative and said that those who refuse to do so would be held accountable.
"This initiative is not only beneficial to the community but also
helpful to humanitarians in this area because when there is peace,
we can do our work without fear."

–OXFAM Representative
The event was marked by commitment by the spiritual leaders, who gathered a day later for the ritual slaughtering of a cow to bless the innocent citizenry and condemn those who conspire to hurt others, as well, to mark an end to bloodshed through guns in Walgak.
"Nonviolent Peaceforce came here to bring peace and protect
civilians. If something bad happens, it is not because they failed,
and it is also not the community's fault, but it is part of the process.
It is like walking; if you fall and hurt yourself accidentally, it is
not your fault, and you do not stop; you stand and continue your
journey. This is the same path as taking a journey to peace. Trust
the process."

–Tuak, Walgak Paramount Chief
You can protect civilians who are living in or fleeing violent conflict. Your contribution will transform the world's response to conflict.