Learning to Protect Civilians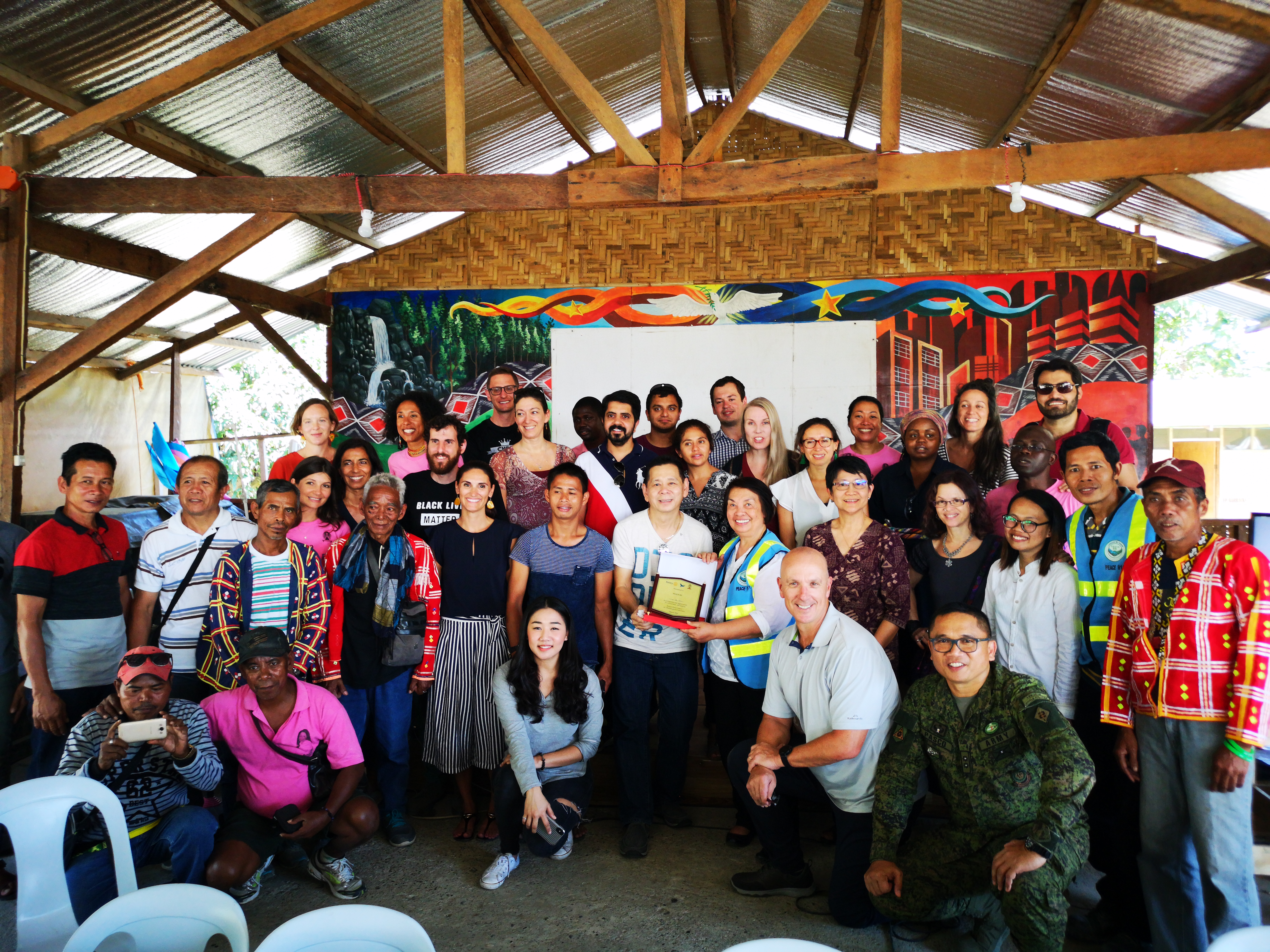 Over the span of several weeks, people from across the globe gathered online to learn about civilians protecting civilians nonviolently. You can meet some of the people who took our course in Unarmed Civilian Protection (UCP): 
Can you tell me about yourself?
| | |
| --- | --- |
| | Peter: I recently started my Ph.D. program in Conflict Analysis and Resolution at Nova Southeastern University. I'm originally from Chile and my background is in organizational communications and management consulting. I've been doing management consulting for about 20 years. It's a conflict field all on its own, but not quite the same conflict field that I think we tend to think about when we think of peacebuilding. |
| | Jonathan: I'm from the eastern part of the Democratic Republic of the Congo (DRC) and I've been working with Model United Nations Educational, Scientific and Cultural Organization, a United Nations peacekeeping mission in the DRC, for more than 13 years now. I've been working in the civil affairs section facilitating conflict resolution strategies with Congolese communities to bring them together for social cohesion and peaceful cohabitation. |
| | Keri: I currently work as a project coordinator for protection at InterAction in Washington D.C. InterAction is the largest alliance of U.S.-based NGOs in the United States. I specifically coordinate what we call the Results-Based Protection initiative. Results-Based Protection is a problem-solving approach with the aim to reduce the risks that people are facing in humanitarian crises. We want to learn what it takes to achieve meaningful protection outcomes. |
| | Rufus: I've been working in South Sudan for Nonviolent Peaceforce for the past few years. I supervise a team that puts Unarmed Civilian Protection into practice within communities affected by violence. I'm also studying for my Master's in Business Administration with my degree being in social work and development with an emphasis on behavioral science.   |
| | Gilda: I help Nonviolent Peaceforce with its development and donor relations in the United States. I've been doing this since 2010 and before that assisted with strategic relations. I worked for the department that was in charge of training our protection officers then. |

What made you interested in peace and/or protection work?
Peter:  Beyond my professional management career, I also teach Communication Theory and Business Communications at one of the local junior colleges here in Virginia. I received an email indicating that school professors were invited to attend a three-day seminar, on how to build a curriculum or add modules to your curriculum that deals with peace studies or conflict resolution, and I thought that sounded interesting. Being in management, I've had to negotiate all manners of things and develop relationships to get things done. After taking the seminar, I completed a one-year Graduate Certificate in Conflict Analysis and Resolution and had the idea of a Ph.D. proposed to me. 
Jonathan: As a citizen of DRC, I suffer along with communities in most of the war scenarios, war events, even this current armed war that involves armed group activists, community conflicts, as well as humanitarian crises. I want to work to help fellow Congolese citizens and violence-affected communities to support themselves in overcoming violence and protecting themselves.
Keri: I interned in the Department for International Protection at the United Nations High Commissioner for Refugees headquarters in Geneva when I was doing my Master's degree and then I did a summer internship in the Sexual and Gender-Based Violence Unit at Africa Humanitarian Action in Uganda. In both of these positions, I learned about the challenges and barriers that exist to doing meaningful protection work. After I graduated with my Master's, the first job that I got was working with a consortium in the Central African Republic, in health and water, sanitation, and hygiene. During that time, I had the realization that protection is not really mainstreamed throughout all sectors and leaving that position I wanted to get back into the protection realm.
Rufus: I was born in Liberia and my family and I became refugees after civil war broke out. We were displaced multiple times and spent years as refugees. During those days, I came to understand the importance of humanitarian work. I saw how humanitarian workers would sacrifice their lives and time to come help us even in the worst environments and locations. My experience of being given hope, love and care from humanitarian workers fueled my passion to protect others.
Gilda: I had been studying nonviolence as a science in general, probably since 1996. However, I took nonviolence much more seriously after 9/11. I was working in downtown San Francisco for the Portuguese Government and I saw how things could go really wrong if we don't improve international relations. After that I also witnessed the invasion of Afghanistan and Iraq and saw a lot of protests surrounding it. At those moments, I was really feeling like we need to think about the entire planet, we need to think about everyone because everything influences everybody else. And we should all influence it for the better. That's when I took that choice to leave the work I was doing and go towards more of what Nonviolent Peaceforce was doing.
What have you learned from this course?
Peter: I was extremely unfamiliar with Unarmed Civilian Protection before the course. I think anytime you can give the theory some life, some practical application where it's been done and someone can tell you about that, that helps tie the concepts together. One of the things the course was really good at was that it taught us to look at a conflict and at least try to figure out, to understand, where it is in its life cycle. Are we early on? Can we do something about it? Is it moving to a different phase in the cycle where we need to now be a little more aggressive? And again, who do we need to talk to? So I think that the whole process was good in the sense that it gives us the framework for the analysis of the conflict.
One thing that was reinforced was the relationship-building process. And to me, that was critical in business, and in management as well. That was critical in dealing with my teams, with my clients, and its critical now, in developing or enhancing conversation when I talk to people, whether it's you guys or any other organization that's out there. Again, life has always been about relationships.
Jonathan: I realized in our armed peacekeeping mission there was a lot of things we could do differently. When people are affected by the conflict, the solutions need to come from them without even using these weapons. When I was taking the course, I found that it was very important for me to improve and increase my knowledge and to see how I can try to help my organization, mission, and communities in changing ways of solving the problems they're facing. Instead of using weapons, instead of using violent means in solving problems, I found that it is better to use nonviolent, unarmed methods. Most of the time, when people try to solve problems with force, they don't end up solving the problem but create another problem. What I found with unarmed strategies is that it is better to show the communities how it is important to understand the enemies' way of thinking and how this enemy can also be influenced to solve the problem nonviolently. That way they can find the solution that helps both sides stay in the community without chasing one side out.
Keri: I learned about Nonviolent Peaceforce's activities while working on the Results-Based Protection initiative at InterAction and I was really looking forward to learning more about the approach.
A lot of Unarmed Civilian Protection methods are directly relevant to Results-Based Protection. One things I really appreciated and shared with our team was the process Nonviolent Peaceforce uses to talk to all parties of the conflict. To have Unarmed Civilian Protection staff dialoguing with relevant people on all of those multiple levels as well as facilitating communication among those people in those levels, is super important and is something that within Results-Based Protection and the protection community more broadly I think that we can learn from. I also liked the emphasis put on the skill of listening when recruiting UCP staff. This is often undervalued or overlooked, yet it's key to placing affected people at the center of response.
Rufus: This course was a really good refresher for me, because I've been doing these things on the ground. I learned a lot from our exchange of ideas and other people's experiences. I also haven't had formal training in Unarmed Civilian Protection that connected topics to examples. I got more clarity on the difference between independence and nonpartisanship. The course has solidified my confidence, knowledge, and skills in working with local and international groups to establish short-term and long-term actions and goals to protect civilians. I understand civilian immunity in war better as well and have continued to research humanitarian principles and civilian immunity in war in my own time. I actually just ordered some books about leadership and the courage you need to have to lead!
Gilda: I took this course to get a solid idea of what our protection officers were learning, so that I would be able to share that with our supporters. And I was really curious to see what little bits I could apply to my life here and now. Considering and reviewing what the protection officers do when they're out in the field, was very helpful, because that is a question I get a fair amount from NP supporters. They want to know exactly how people protect other people. They want to know the day to day, what it's like for a protection officer. The course helped me fill that out a bit more.

How are you planning to implement Unarmed Civilian Protection in your future work? 
Peter: I'm going to Ecuador this summer to conduct a study near Cuenca, a mountainous area where indigenous people are impacted by immigration. Expatriates from the US and EU, who are moving into the area and are changing it culturally, consequently the locals are not feeling at home anymore. So we're going in there, seeing if we can do a study, to better understand the issue, and maybe develop some sort of solution so both sets of parties can more effectively live with each other. More recently, I've had two opportunities over the last month to lecture on Unarmed Civilian Protection, Nonviolent Peaceforce, and the concepts surrounding these principles.
Jonathan: I'm trying to apply some Unarmed Civilian Protection strategies in my daily work. Right now, I'm working in a conflict zone and reaching out to involved parties to listen and dialogue with them. As a team, we are working with these parties on an analysis of the conflict. I learned how important it is to analyze the conflict and its effects before entering a community, throughout our work with the community, and after we leave. We also need to reinforce the communities' autonomy and encourage these communities to contribute to the conflict they are going through.
Keri: I have already presented key learning from the course to my team here at InterAction. I think that we will continue to reflect and discuss the various ways of working that I learned about and draw on these in our work on Results-Based Protection and achieving meaningful protection outcomes.
Rufus: I have seen a lot of success with Unarmed Civilian Protection. There have been challenges, or course, but at the end of the day, Unarmed Civilian Protection is the best approach I have ever seen that works for long-term stability for communities in terms of conflict resolution. You can have sustainable peace if you use nonviolent methods to solve your differences rather than using violent methods to overpower or overcome your opponents. My plan is to stay in the humanitarian sector and continue working to implement Unarmed Civilian Protection. After my MBA, I might decide to do a post-graduate in peacekeeping.
Gilda: When I first started at NP, I knew I couldn't go into the field at that time, but in the back of my head, I always had this idea, well there might become a point where I could go and be of use somewhere. So I always kind of tried to gain enough knowledge in case I choose to make that choice in the future. Taking this course felt automatic, because I will be much better informed and for me the next step would be to attend a training I think.
Also, I noticed that someone is trying to create a program in my neighborhood in San Francisco to look at resiliency after an earthquake or a storm. I want to approach these people, and the people I've trained with, like the SF fire department in neighborhood emergency response, and let them know that Unarmed Civilian Protection exists because one thing I've noticed is that they don't think ahead to human problems that could occur after a big earthquake. Like looting. I would like to introduce Unarmed Civilian Protection to folks who are already thinking about this kind of stuff in San Francisco and see how it's taken.
You can protect civilians who are living in or fleeing violent conflict. Your contribution will transform the world's response to conflict.