Building Peaceful Schools: School Safety Beyond Policing 
Press Clip Source: Friedens Forum
Link to source (German): Here (website here)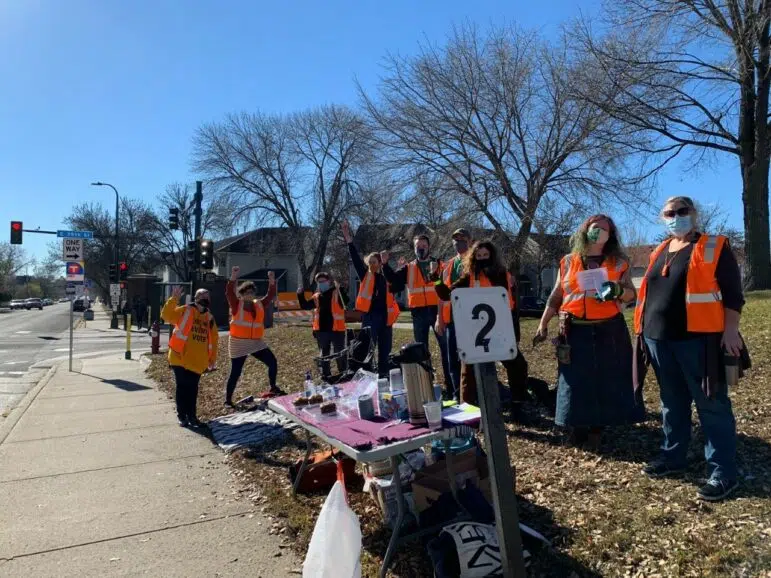 Amid an historic teacher strike and the most recent COVID surge to hit Minnesota, USA, a group of students, administrators, and School Safety Specialists gathered on zoom. The students were reflecting on how the recent circumstances had impacted their feelings of safety and window of tolerance, a tool for understanding how well-positioned we are to navigate stress or tension from a grounded and calm place, rather than from our fight or flight modes.
As the conversation continued, the students voiced concerns with certain teachers and administrators demonstrating racial preferences and disrespecting personal space and student boundaries. But a pervasive question remained: Do these experiences constitute safety concerns? Is there a way to build safer and more peaceful schools for everyone involved?
While the student concerns are unfortunately not unusual in school districts across the United States, this particular group of students is in a unique position. They represent the founding members of a Student Peace Advisory Group, a group of students who will work with school staff and administrators, as well as the international protection agency Nonviolent Peaceforce (NP), to voice safety concerns and co-create the school safety and security system. The new group represents a new vision for school safety that school districts in Minnesota, and around the country, are working to implement—a vision that is not based in the use or threat of force, but rooted instead in relationships.
NP works side-by-side with communities around the world (currently in Iraq, South Sudan, Sudan, Thailand, Myanmar, and the Mindanao region of the Philippines) to guide imaginative conversations and processes around rethinking community safety and security—and often with heavy youth participation. It is not NP's task to prescribe that vision, but rather to work with each community to draw out pre-existing capacities, strengths, and local security practices. NP then supports the communities to develop actionable skills and shared understandings to take security into their own hands and realize a system of safety that does not rely on the threat or use of force.
The Minneapolis Public School District is one of many around the United States where students are leading the way to reimagine[1] school safety. Following a years-long campaign by students and families to remove police from schools, the school district cut its contract with the Minneapolis Police Department (MPD) in June of 2020. In the wake of this historic decision, school districts have a new opportunity to decide what safety means to them, what factors lend themselves to student success and thriving, and who is best situated to cultivate it.
A Brief History of Policing in Schools
Police officers have only been stationed in schools in the United States for the past five decades. Anticipating racist backlash to school integration, officials in Flint Michigan stationed the first School Resource Officer (SRO) to a school in 1953. According to the Center for Public Integrity, such SRO installments coalesced with community policing programs and spawned multiple "Officer Friendly" programs in schools, including D.A.R.E (Drug Abuse Resistance Education) and G.R.E.A.T (Gang Resistance Education and Training) throughout the War on Drugs. By 1970, there were still fewer than 100 police officers in elementary, middle and high schools across the U.S. By 2019, that number had increased to 20,000 to 30,000, with spikes motivated in part by fear following the Columbine High School Massacre and Sandy Hook Shooting.
Minneapolis followed a similar trend in its school policing. Minneapolis was one of the first cities to receive federal funding for School Resource Officers (SROs) under the Law Enforcement Assistance Act of 1965. The federal grant received totaled nearly half a million dollars, adjusted for inflation, for training and program development. In the year prior to the decision to remove police officers from Minneapolis schools, the district had devoted $1.3 million of its budget to contract 16 SROs from the Minneapolis Police Department.
Since the beginning, SROs have been a source of conflict, with students and families recognizing the risk they pose to Black students in particular, in Minneapolis and elsewhere. And Minneapolis had come to be known for its educational inequity especially in terms of discipline; Black students are suspended eight times as often as white students, while nationally, it is three times as often. Both student and racial justice advocates have pointed to the link between these various impacts and the school-to-prison-pipeline,[2] where primarily Black and Brown students in low-income or over-policed schools are disproportionately channeled to juvenile detention centers, and often later to prison.
As recently as 2019, an empirical review conducted by psychologist Shabnam Javdani found that "there is no evidence that school police officer presence is related to a deterrence effect on school violence, gun violence or mass shootings." This conclusion has been echoed in multiple studies and reviews. In fact, Javdani found quite the opposite: that police in schools are in fact related to harmful outcomes, including decreased school connectedness, increased exclusionary discipline, increased arrests of children in schools, decreased educational achievement, increased racial inequities not explained by students' behavior, though students and parents do report police officers allay some of their fears around targeted violence and school shootings.
Reimagining School Safety
In late May of 2020, the city of Minneapolis was rocked by the murder of George Floyd at the hands of the Minneapolis Police Department. The next generation of our society were by no means left out of the heartbreak, outrage and nationwide reckoning with systemic anti-Black racism and state-sanctioned violence. And many of them had taken to the streets and themselves experienced MPD's brutal responses during the 2020 Uprisings, including use of "less lethal" munitions and chemical weapons.
Just as communities are questioning whether police are best situated to respond to instances of traffic infractions and mental health crises, parents, students and school administrators alike are questioning whether police officers are best-suited to cultivate safe school environments. Following a years-long campaign by students and families to remove SROs (School Resource Officers) from schools, the murder of George Floyd became the catalyst the school district needed to seek out a new system of safety. In the wake of the 2020 uprisings, student organizers published a letter explaining that "Black and brown students do not feel safe" with police officers in schools." An online survey immediately preceding the vote showed 90% of Minneapolis students supported terminating the district's contract.
Now, school districts around the country are reconsidering their relationships with police departments. According to a report[3] published by Nonviolent Peaceforce and Nonviolence International, the shift includes districts in Bloomington, Charlottesville, Denver, Los Angeles, Louisville, Madison, Oakland, Portland, Sacramento, Seattle and St. Paul.
Independent and parochial schools have sought new models of security as well. The Ascension School, a Catholic Academy on the Northside of Minneapolis, recently hired several young men, themselves from North Minneapolis, specially trained by Nonviolent Peaceforce in nonviolent, unarmed interventions. The new nonviolent security team has worked to develop safety and security plans rooted in relationships, and early warning systems. Now, they are modeling violence prevention and conflict transformation for the school's students and wider community.
Within Minneapolis Public Schools, the ongoing safety planning is building on work in the fall of 2020. Nonviolent Peaceforce provided foundational training in relationship-building, violence prevention, and de-escalation to the thirteen new Emergency Management, Safety & Security Specialists, hired to cultivate safety in the absence of the SROs.
Now, NP is collaborating with Minneapolis Public Schools and the Minneapolis Department of Health to develop a Student Peace Advisory Group. The students will take the lead in developing new school safety initiatives and co-create trainings and engagement strategies to foster the safety and belonging of all.
Like many projects reimagining safety[4] throughout the United States, the project in Minneapolis aims to build safer, more peaceful schools through developing skills in relationship-building, violence monitoring, and de-escalation among staff and enhancing self-awareness, self-regulation, de-escalation, protective accompaniment and healthy relationships among students. In the coming months and years, students will meet regularly to flag potential tension points and conflicts that could escalate to violence.
Violence in schools does not just stay within schools; what happens at school and in the community influence one another. If conflict in schools is addressed with interpersonal violence, threat of force and potential state involvement, conflict in communities will be addressed with the same tools. Nonviolent Peaceforce, and its partners, are demonstrating that there is another way to build holistic safety for all students. If conflict transformation in schools is rooted in anti-racism, and most importantly justice, conflict in communities can play out in ways that are generative and life-affirming. The students are leading the way to communicate that safety without equity is not really safety and peace without justice is not really peace.
As communicated by an MPS high school principal: "The best way to ensure safety is to create an environment where all are affirmed and belong."
---
[1] https://www.startribune.com/mpls-school-board-ends-contract-with-police-for-school-resource-officers/570967942/
[2] https://www.vox.com//2015//2//24//8101289//school-discipline-race/
[3] https://www.nonviolentpeaceforce.org/wp-content/uploads/2022/04/Alternatives_to_SRO_v9_1.pdf
[4] https://millionexperiments.com/
By: Caro Carty, NP U.S. Program Specialist
You can protect civilians who are living in or fleeing violent conflict. Your contribution will transform the world's response to conflict.