A day in the life of a peacekeeper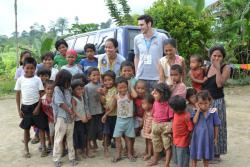 A few months ago, I had the extraordinary opportunity to join Nonviolent Peaceforce's (NP) peacekeepers team on their daily unarmed civilian peacekeeping activities. They have a full time job, working around the clock. In the middle of December 2012, I joined the Socksksargen field team, also known as "GenSan Team," the office is based in General Santos City, the South of Mindanao. My colleague and I arrived there a few days after Typhoon Pablo hit the region and, even with no material destruction, hundreds of fishermen were still missing. Known as the "Tuna Capital of the Philippines," you can only imagine the impact of the typhoon for many families living exclusively from this resource.
One of those days that started pretty early and ended with the dark sky well after sunset included myself and two national peacekeepers, Carrell "Caca" and Jimmy, for their civilian protection mission of the day, for this work is mandated by the peace panel to co-implement the Civilian Protection Component of the Malaysian lead International Monitoring Team (IMT). We planned to monitor the situation of civilians who were displaced by the conflict in September 2012 and verify whether all displaced families have returned or not.
We left the office at 6 am. For me it took time to get used to the long road trip and using our Isuzu Trooper as a second bed in order to catch up with some sleep hours. Our first visit of the day was dedicated to the local Armed Forces of the Philippines (AFP), the detachment in charge of the area of the visit. During the one hour meeting with the lieutenant on duty, he gave us the lastest update of the situation on the ground as well as their observations and projects for the coming days. For our work and also for our security, this kind of coordination visit is very important. While the soldiers are preparing their camp for Christmas, we are meeting the first issue of our long day: apparently the path leading to the village is not easy to reach, even less with a 4x4. In this case, we considered motorbikes and drivers to bring us over the mountains.
It's now 10 am, we are heading to our second meeting of the day with the local Philippine National Police (PNP) representatives. The chief of police showed us the road on a big map painted on a wall while from the other side of the corridor, two prisonners were looking at us from their cell. Finally, we might be able to get to the refugee village near Lake Sebu with our Trooper. He also recommended visiting the Barangay Captain who represents the smallest government unit in town and informed us where we could find him.
It has already been 6 hours since we left the office that morning. We decided to have a quick stop at Palimbang, in a local restaurant. The menu is quite simple: rice with beef and vegetable, rice with tilapia or rice with vegetable and something I thought was meat but actually the skin of the cow. The temperature rose to more than 30°C outside with no air-conditioning or fans available inside. The tissues quickly became sponges and my NP uniform did not absorb the sweat. Twenty minutes later and two liters of water lost, I'm glad we are back on the road, enjoying the coolness of the air-conditioning of the Trooper.
Our third meeting of the day had been with a high school teacher who knows the Barangay Captain. After five minutes, we are all sitting outside her habitation, under a small wood shelter where we introduce NP, our mission and the purpose of the visit. She grabs her mobile phone and calls the Barangay captain who's going to join and guide us to the village in the mountains. It's almost 3 pm and we are finally heading to our objective: Barangay Ned.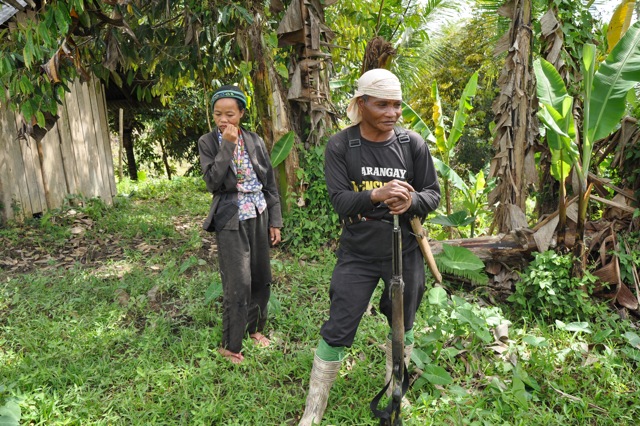 As the Armed forces Lieutenant announced this morning, the place is distant in the mountains and not easy to access. There is not even a road, but more a path to follow, marked by numerous passing of motorcycles. Somehow, I'm glad we've had enough time to digest our lunch. The car is shaking like a rollercoaster and our driver is doing an amazing job not to get stuck in a ditch or, worse, stuck in the mud. We are passing next to isolated houses, countrymen looking at us as we are waving at them. Suddenly we have to stop. There is an old man with a machete and a rifle standing in the middle of our way. He introduces himself as a MILF (Moro National Liberation Front) Commander and wears a t-shirt "Barangay Defense Forces." We are told to introduce ourselves and present the reason of our presence in "his" area. Two minutes later, he nods in agreement, thanks us for coming…...and after noticing my camera, asks for a picture with us.
We are back on the "road" heading to our last stop-over before the final destination, Barangay Tuanadatu. People living here have been extremely affected by the conflict in September 2012. They are curious to hear how we can help them. Quickly a gathering grows around us while we are discussing with the Barangay representatives. It seems like they have an issue with communications, since there is no cellular phone coverage, they can't reach the army when raiders are approaching. We listened to their concerns and promised to report for a quick evolution of their situation.
It's almost the end of the day as we are now approaching our final destination. Barangay Ned has been evacuated by its population back in September 2012 during the worst time of the fighting and plundering. The main "square" is located on the top of the mountain, which makes the temperature cooler here. The head of the village received us in his house to talk about the situation. We are standing in a tiny room with walls made of wood. Our presence isn't unnoticed by the people and we are quickly surrounded by many people from all kind of ages, listening to the discussion between their leader and Carrell. They speak the national language, Tagalog, which I sadly don't understand. But the smile on their faces makes me understand the message before I receive a translation.
The situation is much better than last summer, thanks to NP's coordination work, 1/3 of the refugees are already back to their houses and able to survive thanks to their farming and local business. The work isn't finished yet, 200 people haven't returned yet. But thanks to regular visits and coordination with partners in the field, NP will proactively facilitate the process for these families and, hopefully, in the next months, everyone will be back and safe.
Before leaving the village, we were invited to pose for a group picture. While standing in the middle, waiting for the driver to take the picture, an old woman takes my hand into hers and smile. Thank you very much Sir, you are handsome. We wish you could stay here and keep helping us. I'm affected by her words. I started to realize how my presence here today was a huge positive sign for them. A proof that other people do care about their life, security and future. Something you can imagine through stories and pictures, but you can only imagine it. The feeling you have once you get to be with them, talk, hear their stories and share their feelings is totally different. Only then you understand how unarmed civilian peacekeeping (UCP) has an actual impact, how Nonviolent Peaceforce really makes a difference for thousands of people in Mindanao and other regions in the world.
It's time to leave this place, people waving at us and children running as fast as they can after our car. We are about to drive another 3 ½ hour in order to get back to GenSan. As soon as we reached a "good" road and not a bumpy mountain path, I can't resist and fall asleep, while my colleagues already fell into Morpheus' arms. It's almost 8 pm when we arrive in the city center. There is an electricity black-out in the district of our office, as almost every day, so we have dinner outside. It feels weird to be back in the traffic of a city, surrounded by noisy motorcycles, jeepneys and cars. People here seem to be enjoying their time and the coolness of the night, miles away to think about those refugees living so close by and yet so far away at the same time.
By Simon M.
You can protect civilians who are living in or fleeing violent conflict. Your contribution will transform the world's response to conflict.