Iraq: 10,000 school buildings needed to get education back on track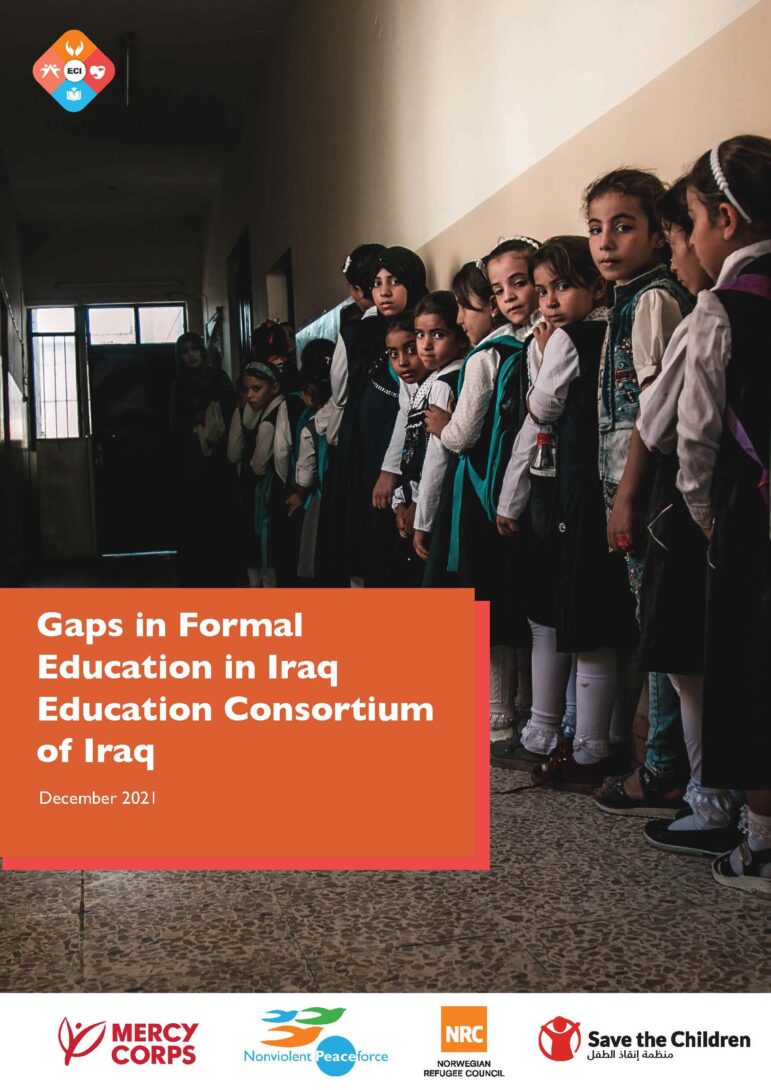 ERBIL – 13 March 2022 – Formal education in Iraq has been significantly disrupted as a result of conflict and displacement. Damaged infrastructure and limited investment have had a detrimental impact, as 10,000 new school buildings are needed to get children back into safe and quality education, a new report reveals.
A research study conducted by the Education Consortium of Iraq (ECI) – comprised of the Norwegian Refugee Council, Save the Children, Mercy Corps, and Nonviolent Peaceforce – has identified areas to improve in education infrastructure, personnel, and reintegration of students into the formal system across six governorates.
Despite ongoing efforts to support education, the report finds additional resources and investment are needed for teacher professional development. Education system necessitate support to administer training as teachers in more than 60 percent of schools in Anbar, Duhok, and Kirkuk have not had sufficient lesson planning and pedagogy courses. Teacher recruitment has also lulled as the student to teacher ratio averages 32 to 1 across many governorates. In Ninewa, there is one teacher for every 57 students, which greatly impacts the quality of learning.
The report also found:
More than half of schools surveyed need to be rehabilitated to meet basic hygiene and safety standards
More than 90 percent of schools surveyed in Kirkuk lack drinking water
92 percent of schools lacked ramps or elevators for children with disabilities
3.6 percent of students dropped out of the 2020-2021 school year, which amounts to thousands leaving their education behind
A mother in Kirkuk told the Consortium's researchers, "My children are not enrolled in formal school because they are too old and they cannot join the morning shift.
"They were transferred to remote evening classes, but the programme did not have teaching staff, which was very difficult for my children. They are now out of school and while they've attempted to take exams, they haven't passed.
"My children have lost their confidence and continue to get older, meaning fewer and fewer options available to them."
The report also identifies the need to bolster reintegration programmes for children not in school or for those that have dropped out. Children who do not meet the age criteria, who have been out of school for too long, or who are outside urban centres face major challenges resuming their education.
The need for teacher training, adequate infrastructure and greater pathways to re-enter the formal system all lead to uncertainty for a generation of young people in Iraq, including refugee and displaced children and children with disabilities, if greater national and international support is not provided.
Lara Lteif, Chief of Party for ECI, said, "These are some striking findings that put into perspective years without education for students.
"Children are passionate about learning. They want to make up for the years lost, but if the right investment and support is not extended, we will be risking a lost generation. The government and the donor community must not forget about the children of Iraq."
ECI is calling for greater and urgent investment on behalf of government stakeholders, donors, and NGOs in education, namely infrastructure and teacher recruitment and professional development, to address both immediate and long-term education needs for vulnerable students in Iraq.
Notes to editors:
- Data collection included a school infrastructure assessment and 39 key informant interviews with local and international NGO and UN staff
- 41 focus group discussions were conducted with teachers, parents and children
- The research covers six governorates: Anbar, Diyala, Dohuk, Kirkuk, Ninewa, and Salah ad-Din
You can protect civilians who are living in or fleeing violent conflict. Your contribution will transform the world's response to conflict.