Your Support Means Mutual Protection & Solidarity
CW: White Supremacist Violence; State Violence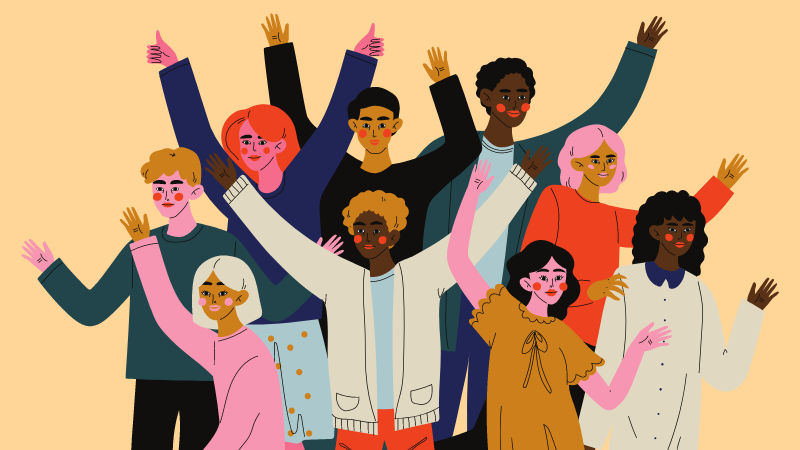 You've seen the headlines from the past year: flooded with white supremacist violence and state/state-sanctioned violence.
In recent months, the United States has seen a continued increase in hate crimes against the Asian American Pacific Islander (AAPI) community, a centuries-old phenomenon that has surged during the pandemic. The violence spans from a massive rise in public attacks (public streets and parks account for 37.8% of incidents, and businesses account for 32.2% of incidents), to a mass shooting at an Indianapolis FedEx facility that employs 90% Sikh workers, an event that Human Rights Watch believes "should be investigated as a possible hate crime motivated by religious bias," although authorities have not stated a motive.
And, on each day from opening arguments to the verdict in the Derek Chauvin trial, at least one person was killed by the police somewhere in the United States. This includes Daunte Wright, a Black man shot by a police officer just miles away from downtown Minneapolis, where there was a heavily-militarized presence in anticipation of unrest surrounding the Chauvin trial. It also includes Ma'Khia Bryant, a sixteen-year-old Black girl who was fatally shot by police in Columbus, Ohio after she called 911 for help. The shooting happened about 20 minutes before the guilty verdict was announced in the trial of Derek Chauvin.
At the heart of each of these incidents is a conflict that escalated to violence, and, in many cases, was met with further violence. But you know that while conflict is inevitable, violence is not. You know a future is possible where conflict is met with nonviolent means to a resolution—a future where we can care for each other because we know our neighbors are caring for us.
When we say #WeKeepUsSafe, it is both a clarion call and a visionary reimagining of safety, grounded in justice, dignity, and human rights. While active nonviolence works, it cannot only be taken up by the "unheard." As Ezra Klein has asked before, "what if nonviolence wasn't an inhuman standard demanded of the powerless, but an ethic upon which we reimagined the state?" And in the meantime, while we are reimagining and co-creating a safe and more just world, "we want to have the tools to navigate the current one," explains Kalaya'an Mendoza, Director of U.S. Programs. Want to reference some of those tools? You can check out some quick tools from Stop AAPI Hate here—which include some key methods of Unarmed Civilian Protection, such as intervention and accompaniment. For more tools, you can check out NP's resource page here.
Violence has the potential to divide communities, but we know that our communities have power, agency, and strategies to protect one another. In these moments of nation-wide trauma and grief, it is crucial that we turn to the core practices and values of community safety and mutual protection. Kazu Haga reminds us that "so much of trauma is rooted in the delusion of isolation—that we don't belong to each other." When you support NP and our work in the U.S., you support an approach to community safety that is rooted in mutual protection as the antidote to the isolation and individualism that divide us.
Mutual protection isn't saviorism. It isn't paternalistic or patriarchal or extractive or transactional. It is recognizing the capacities and power that communities hold, that they already know how to best protect themselves. Kalaya'an Mendoza shared, "mutual protection is an ancestral gift that Black Indigenous People of Color (BIPOC) communities have inherited in order for our communities to survive genocide and colonial violence." You might feel alone right now, and you might not be able to see it, but communities are working together, as they have historically.
This work must be based in solidarity, not charity. One example of solidarity is recognizing that AAPI Safety/Justice and Black Safety/Justice aren't mutually exclusive. "Since the problems that engender crime stem from white supremacy, the solution isn't to implement a white supremacist policing system — it's to destroy the white supremacy that endangers all BIPOC. Disrupting the narrative that vilifies and dehumanizes Black people is one accessible solidarity action everyone can take."
A solidarity framework reminds us that no one is safe until everyone is safe, that our safety and ultimately our ability to live free from oppression and fear, depends on each other. As Dr. Lilla Watson, a Murri (Indigenous Australian) visual artist, activist and academic, is credited with saying, "If you have come here to help me, you are wasting your time. But if you have come because your liberation is bound up with mine, then let us work together." And this means there is a role for each of us—including you—in the process of reimagining community safety based in mutual protection.
You can protect civilians who are living in or fleeing violent conflict. Your contribution will transform the world's response to conflict.